First Coast News' Bethany Anderson set out to verify if the South Georgia sea creature is real. Here's what she found:
Growing up in Florida's panhandle, I'm all too familiar with snakes, gators and the occasional black bear, but sea creatures are definitely out of my wheelhouse.
The great thing about being a reporter is being able to investigate social media phenomenon's, including the latest viral picture that features some sort of lifeless "sea monster," off Georgia's Southern coast.
First, let me address "the blur."
A lot of viewers are seriously so confused as to why we decided to blur the image.
Answer: The guts were allegedly torn out by seagulls and we didn't want to scar your children.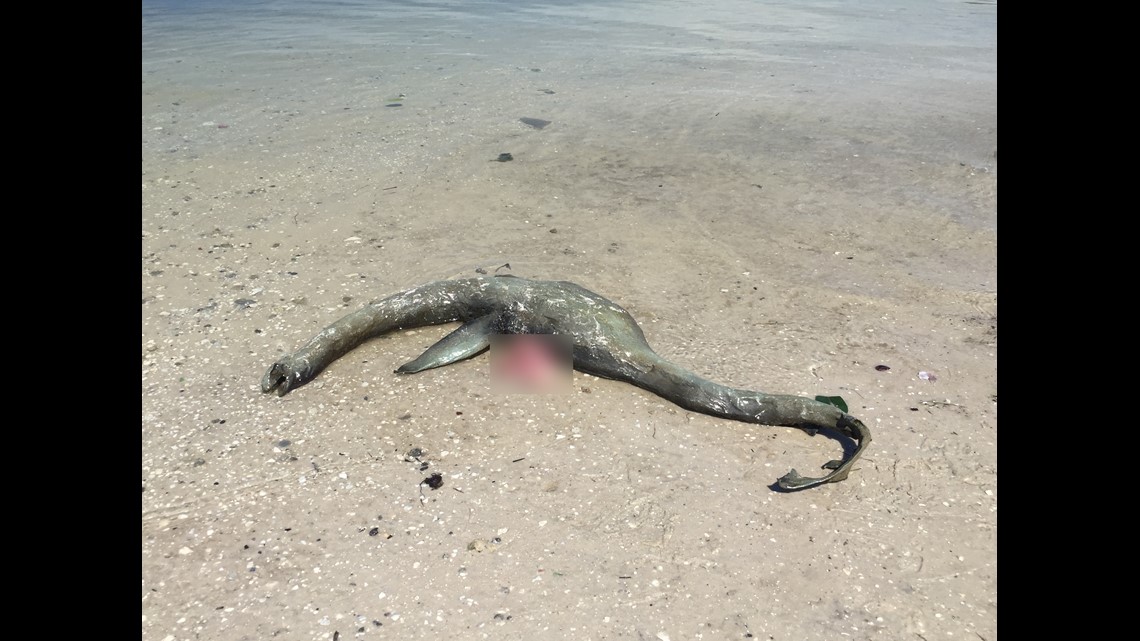 Now I'll admit, I'm a bit of a skeptic when it comes to folklore and "legendary creatures" but this story lead me on an investigation that became less about the sea monster and more about the community of Darien.
It's rare to pull up in a news van and be able to find people that actually want to interview with you on-camera for various reasons, especially in a small town.
However, I was delightfully surprised when the manager at Fishy's Camp immediately directed me to two brothers that sell shrimp at the main corner store.
"If anybody knows anything about what's in those waters, those two will," she said.
Enter Dwight and George Gale, they've been running shrimp boats in Darien for decades and believe in the Altamahaha or "Altie," legend.
According to a local newspaper, Captain Delano first saw the sea monster near St. Simon's Island in the 1830's. Delano claimed the monster was "more than 70-feet long and was gray shaped like an eel—without any visible lines," according to the article.
The story goes on to say that Delano tried to shoot the creature after it hit the side of his vessel and rocked everyone on-board.
Other major sightings were reported in the early 1920's and late 1970's, but according to Dwight, visitors claim to see a version of the sea creature each year.
"It's like Loch-Ness, is it real? What is it? Where is it? People are always convinced they've seen something out in the Altamaha River," he said. "We have local fisherman who have died and gone to the grave, claiming they've seen the great Altie."
"I've seen the Altamahaha but it's not what most people think, there's a lot of different fish with different breeding patterns that look similar to a sea creature when they're near the water's surface," George Gale said.
"That being said, I've been fishing out on this water my whole life and there's no denying that there are things out there that we can't explain."
Cryptozoologist Lyle Blackburn studied the Altamahaha and said recent online photos are strikingly similar to the sea monster renderings created by local artists.
"The remains aren't heavily decomposed, so the creature is highly outlined and similar to what's been described as Altie which is really interesting," he said.
At the Darien Visitor Welcome Center, a life-size statue of "Altie" greets guests as they walk in the door. A woman at the front desk tells me, there's a sense of community that "Altie" brings to Darien and that must make the creature real to a certain extent.
"The people that come to Darien want to meet our "Altie," they want to find him, they want to know more about our town and enjoy our history," she said. "Real or hoax, people have been searching for more than one-hundred years for our sea monster and to me, that makes him family."
There are theories the pictures show an image of a decaying frilled shark, a dead fish floating along driftwood or even a giant salamander.
In my opinion, "Altie" is the mystery, fun and heart of Darien.