JACKSONVILLE, Fla — Hired to teach self-discipline and build self-esteem, a First Coast News Investigation has uncovered that three former karate instructors were not only accused but convicted of crimes against children. Those instructors were part of a popular karate federation headquartered in Jacksonville, The United Tang Soo Do Federation (UTF). It's a group of independently owned schools operating under the name "Pak's Karate". First Coast News started looking into the federation five years ago when an instructor was accused of molesting students. Now a former Pak's Karate school owner is breaking his silence, saying the federation is not doing enough to protect children.
A History of Sexual Abuse
Gerald Ballew, Thomas Ary, and Richard Fatheree II are all former Pak's Karate instructors who worked in Northeast Florida, Southeast Georgia and Louisiana. All three were imprisoned for crimes against children. Those aren't the only three instructors within the federation that have come under scrutiny. Seven men say they were sexually molested when they were children by Craig Peeples, a karate instructor and one of the federation's highest-ranking masters. Peeples runs Pak's Karate Academy in Kingsland, Georgia.
"Once you're aware of something, then I think that you're responsible at that point," said Ernie Johnson.
Martial arts were Johnson's life. The seventh-degree black belt opened Pak's Karate School in Mandarin in the 1980s. He sold the school in 2015.

"I really was pretty-well forced out of the federation," said Johnson. "I wouldn't shut up about the fact that they wouldn't do anything. I wouldn't shut up about the fact that they were just ignoring the situation...I wouldn't shut up about the fact that they were just ignoring what was right in front of them."
Ernie Johnson left the federation after the Brunswick District Attorney Jackie Johnson found sufficient evidence that Peeples committed multiple acts of sexual battery and child molestation. In a 2014 letter to the Georgia Bureau of Investigation, Jackie Johnson wrote: "While there is sufficient evidence to proceed with criminal charges for acts involving multiple victims, the State would be barred by the applicable statute of limitations for those acts alleged to have occurred in Camden County."
More than five years after the allegations were brought to light, Peeples is still coaching children, still taking part in community festivals and there is still no federation child protection policy.
The Head of the Federation's Response
Grandmaster Song Ki Pak declined to talk on camera but told First Coast News he can't implement a federation-wide child protection policy. He says he has no oversight or legal control over the 30-plus academies that teach his karate technique. He says that is because they are independently owned and operated. They don't pay him a franchise fee to use his name. So how does he make money from schools? Pak gets a portion of the student's belt testing fees.
"If you can take somebody's money and provide accreditation or endorsement or legitimacy, you have an obligation to protect their children and he continues to fail even when confronted," said Justin Conway.
Conway is one of the seven men who say in a civil lawsuit that they were molested by Peeples.
In a 2015 interview with First Coast News, Peeples was asked if he has ever molested a child.

"No. Never. That's ridiculous. It makes me sick to know my name is on that paper at all. It makes me nauseated. I can't describe how bad that hurts me because my whole life has been nothing but trying to help people, children and adults, improve their lives through the martial arts," said Peeples.
The seven accusers are suing Peeples under Georgia's 'Hidden Predator Act'. Their lawsuit claims he used sleepovers and out of town trips to sexually abuse them.
A psychologist who evaluated all seven accusers and reviewed depositions in the case, including Peeples', wrote a report filed with the court that said: "Not only does Mr. Peeples display characteristics and behavior consistent with that of a child molester, he displays specific characteristics of a certain subtype of child molester who is at significantly higher risk for sexual reoffending."
While that civil lawsuit is still making its way through the court system, Peeples is facing another lawsuit that also names Pak and his federation. It was filed in December 2018 by the parents of a former student who was eight-years-old when Thomas Ary, an instructor at Pak's Karate Academy in Kingsland started molesting her.
That suit alleges Peeples and Pak's Karate "failed to implement even the most basic institutional safeguards which could have prevented the devastating sexual abuse." Ary was convicted in 2015 of three counts of child molestation that happened at summer camps at Pak's Karate.
Peeples calls the allegations against him and Pak's Karate "unfounded."
"There was no set program that pointed out what will and will not be tolerated. The expected behavior, how to protect children," said Ernie Johnson.
Past Crimes Involving Former Instructors
Our On Your Side investigation looked at the crimes against children by those in positions of power in the Pak's Karate Federation, including Gerald Ballew.
"Master Pak introduced him to us as a master and told us that we were to treat him with the respect of any other master, which we did," said Ernie Johnson.
Ballew was arrested in 2002 for impregnating a 12-year-old. He was convicted of sexual battery and is now a registered sexual predator.

In 2009 Richard Fatheree was charged with molesting a student in Louisiana. He pleaded guilty to a lesser charge of indecent behavior with a juvenile and is now a registered sex offender.
As for Thomas Ary, he is serving a 19-year prison sentence.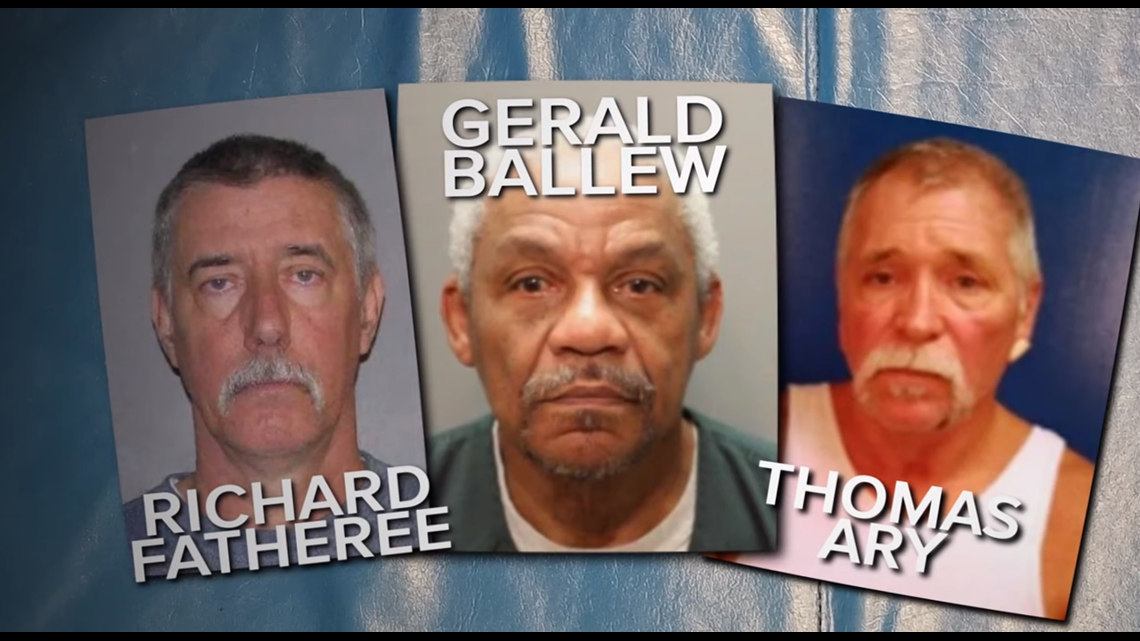 "How many instructors have to be arrested and sent to jail before something is done?" said Conway.
"It's unreasonable for a family not to take this seriously when you have seven men coming forward as adults to say that they were abused as a child, you really need to take that seriously," said Nancy Hogshead-Makar.
Hogshead-Makar, a civil rights lawyer, Gold Medal Olympic Swimmer, and CEO of Champion Women has become one of the nation's preeminent advocates for protecting athletes from abuse. She says Pak's is an object lesson in community complacency, and that she says needs to change.

"So please pay attention to these seven men who have the bravery to be able to come forward and come together and say that they were sexually abused and overcome that shame of having been abused and learn from it," said Hogshead-Makar.
"They've failed over and over and over again. Even after allegations have come to light, even after instructors have gone to jail for offenses of raping children, they still allow instructors with allegations to be around other children," said Conway.

The lawsuit filed by Conway and six other men is scheduled to go to trial in July.
A spokesman for Immigration and Customs Enforcement, Bryan Cox, confirmed to First Coast News that its Homeland Security Investigations Division is actively investigating Peeples. The division is responsible for looking into crimes that cross international borders including internet-based crimes.
In a statement to First Coast News, Peeples said: "Their claims are without merit. I have said so repeatedly, but unfortunately, they keep attempting to try their case with false accusations in the media. They have caused great harm to my business and more importantly to me personally. I have spent a career building a strong reputation and they as an organized group of seven have attempted to destroy everything we have accomplished. Since this group of seven came out with their allegations, no other students have come forward to support their outrageous allegations. Once they came forward you would have expected others to come forward if their allegations had any merit. No one has. What you see in the "Me Too" movement is people coming forward once these types of allegations are made. That has not happened and that speaks volumes about their allegations. These are not seven different people who did not know each other with independent stories. These are seven friends who discussed and coordinated their stories among themselves before they made a media circus out of it. Just contemplate the harm someone suffers when these kinds of allegations are made, when the allegations are not true. Unfortunately, once the allegations are made in the public as they did, even though false, the harm has been done, and I'm not sure I will ever recover from these false allegations."
As to the safeguards in place at Pak's Karate Academy in Kingsland, Peeples says students are never left alone with the staff.
"No student is left alone and unattended at the Kingsland School. Cameras are in positions in the building to protect all the children and students at the Kingsland School. The school has large commercial front windows and windows located in other locations of the building which allow the children and students to be seen," said Peeples. "The allegations as to me, my brother, and Song Pak and our respective studios are completely unfounded and without merit. Parents of my students feel very safe having their children in our school, because they understand who we are and how we help their children. It's truly a shame that innocent people and schools have to endure these types of allegations. People do not seem to appreciate the harm caused to innocent people by baseless allegations."
Statement from Grandmaster Pak's Attorney
Grandmaster Pak's attorney, Scott Schuler, reiterated that each school is independently owned and operated.
"The business model is much different from school to school and all schools are under complete control of whoever are the local owners of that particular school without control by the UTF over the employees or business practices or income of each school. The UTF and Grandmaster Pak do have a level of input over martial arts forms and fighting techniques," said Schuler. "There are strengths and weaknesses of this business model. Discussions have been ongoing for a long time about whether the UTF should be given a level of control over not just the fighting techniques but also the business practices of the schools in the UTF. Ultimately, this would require a significant change in the relationship between the UTF and the schools that follow the techniques of the member schools."
Each Pak's Karate School Implements Its Own Policies
Some of the Pak's Karate schools do have child protection policies in place. The owners of the Mandarin Pak's Academy invited First Coast News to tour their facility. They explained that their instructors go through the Darkness to Light sexual abuse prevention training. They also have an internal written policy spelling out proper and improper behavior. They are now in the process of rebranding their karate studio to Tershak Family Martial Arts Academy in part because of the Pak's scandal.
Charles Chapman, Senior Master Instructor with Pak's Karate in Louisiana where Fatheree used to work, says his academy took multiple actions to improve the school.
"First, we expanded our camera system...The system was expanded from 12 to 37 cameras and multiple microphones to monitor all public areas of both schools. Second, we hired a risk management specialist to review our policies/procedures and evaluate where we are lacking. As a result of this review, our employee handbook was rewritten, mandatory annual training was implemented through a third-party specialist, employee screening and background checks were instituted, and volunteer instructors were added to the list of personnel requiring annual training," said Chapman. "Finally, we are continuously reviewing our policies and procedures to ensure compliance with Louisiana standard practices for student protection."
Chapman's academy also has a "no-alone" policy restricting employees from being alone with any student, not just children. Employees are not allowed to use personal vehicles to transport students and are forbidden from "giving rides" to any students. They are also restricted from contacting minors on any social media platform outside of the school.
Preventing Sexual Abuse - The Steps Parents Can Take
Hogshead-Makar says it's imperative that parents talk with their children about boundaries.
"A good coach and ethical coach will never try to be alone with you. They are not going to close the door. You're not going to get in the car with them. And unless it's an emergency, you're, you're not going to be alone with them," said Hogshead-Makar. "A good coach and ethical coach is never going to give you a gift. They are not going to be friends with you on social media. They're not going to text just you individually. They're going to either include the parents or the rest of the team, but they're not going to be in communication with you generally because you want the kid to have the hair on the back of their neck, go up when one of those boundaries is broken, not by the time they've gotten to be touched."
"If you can't get them alone...If you deny them access, then a, you're going to do a much better job of protecting kids," said Hogshead-Makar. "By the time you get to good touch, bad touch, the kid has already been groomed."