ST. LOUIS — St. Louis and St. Louis County are taking a joint move to loosen restrictions related to the COVID-19 pandemic.
Lifting the mask mandates
"The message is, if you're vaccinated you don't have to wear a mask," Mayor Jones said Friday, echoing the CDC's updated guidance.
"If you have not been vaccinated, you should continue wearing a mask," Page added.
The guidance still calls for wearing masks in crowded indoor settings like buses, planes, hospitals, prisons and homeless shelters, but it will help clear the way for reopening workplaces, schools and other venues — even removing the need for social distancing for those who are fully vaccinated.
Those who haven't been vaccinated need to continue wearing masks around others to protect themselves from COVID-19.
Enforcing CDC guidance -- or not
Leaders said this shift means the St. Louis community will need to "lean more heavily on personal accountability" and continue wearing masks when necessary, as outlined by the CDC.
"We don't want this to turn into a 'show me your papers' moment, we'll just have to trust what people tell us," Mayor Jones said.
The local leaders also stressed that not everyone will feel comfortable removing their masks. They asked for patience and understanding for individuals and businesses that are choosing to keep mask mandates in place.
"You have to respect the business owners, especially the restaurants, who want to keep their employees safe and the businesses who want to know if you've been vaccinated or not," Page said.
He stressed that employers have the right to ask you if you've been vaccinated.
"The EEOC has been very clear about that," Page said.
New health order
St. Louis acting director for the Department of Public Health Dr. Fredrick Echols also announced the city is rescinding health orders 1-17, which includes all of the safety initiatives that were issued by the city during the pandemic.
"Individuals, academic institutions, religious institutions and places of worship, government offices and businesses operating in the City of St. Louis should comply with Centers for Disease Control and Prevention (CDC) guidance to continue to slow the spread of SARS CoV-2 and communicable diseases, and protect the health of our communities."
Is the end in sight?
Jones, Page and Echols all reiterated that the easing of restrictions does not mean the pandemic is over.
"The City of St. Louis and St. Louis County are simply at a place where a new strategy can be implemented," Dr. Echols said. "The pandemic is far from over."
Page added that cases and trends are going in the right direction and that it's time for the area to take the next step.
"But from the president, from the CDC and from our public health experts, it's time to take this next step, which is to reinforce the message, 'Get vaccinated and you have the ability to shed your mask,' reinforce the message that businesses have the right to continue to require masks if they want to and that it's time to get vaccinated," Page said.
Vaccination rates in the St. Louis region
A third of St. Louis County residents are fully vaccinated; the statistic is slightly lower in the city with about a quarter of city residents fully vaccinated, according to Missouri's vaccine dashboard.
St. Louis: 26% fully vaccinated, 33.1% initiated vaccination
St. Louis County: 33.2% fully vaccinated, 41.9% initiated vaccination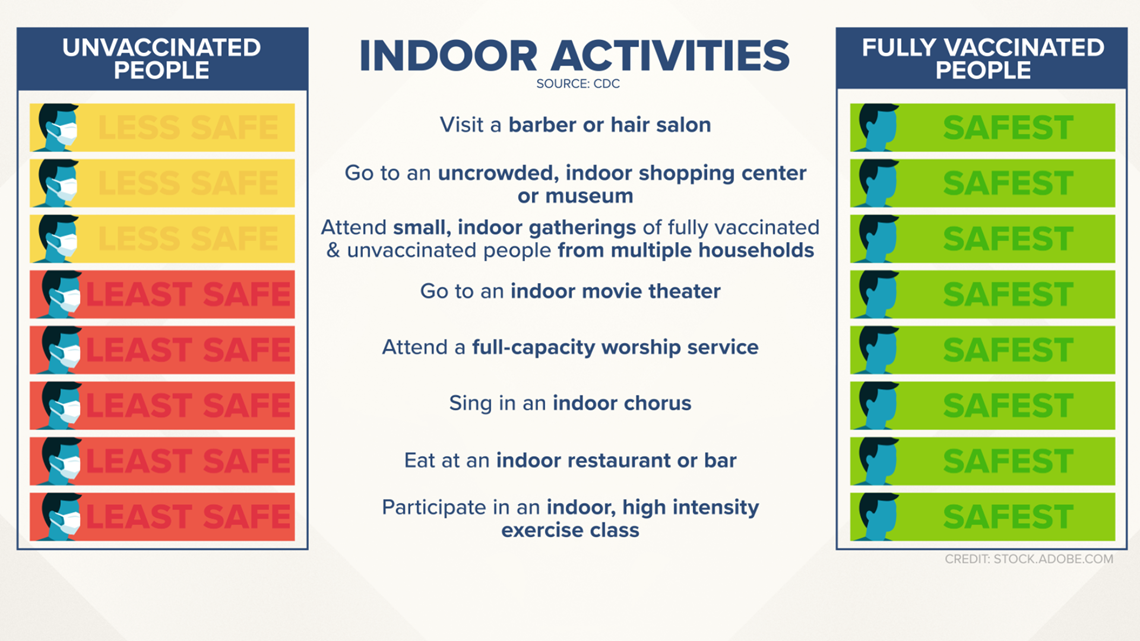 Mayor Jones will hold a solo press conference at 1:30 p.m. Friday The press release said she will discuss "COVID-19 updates, the status of the City Justice Center and Workhouse, new members of her administration, and other topics."
"This is a big step forward. And we're going to continue to move forward," Page said.
This is a developing story that will continue to be updated. You can watch the full joint news conference in the video below.
The announcement comes less than a week after Jones and Page announced the loosening of capacity restrictions and curfews for restaurants. On May 3, they announced restaurants would be able to reopen at full capacity after more than a year of coronavirus-related restrictions on capacity and hours of operation.
The capacity limit was lifted for businesses in both the city and county. However, all businesses must still allow for social distancing. At restaurants, for example, tables and parties need to be separated by 6 feet of distance. So, the business capacity is no longer limited by a percentage but is based on social distancing.
Large events, including those where more than 500 people will be involved, are still required to submit safety plans before getting approved by the local health department.
The midnight curfew for businesses also was lifted.