FLORIDA, USA — Florida's newly-reported COVID-19 cases appear to be trending down. They're coming off a spike that was fueled by the more transmissible, yet seemingly less severe, omicron variant.
Hospitalizations
Data from the Centers for Disease Control and Prevention shows that hospitalizations experienced an increase this winter but appear to be decreasing.
The number of people being admitted has not reached the level of the delta variant's summer surge.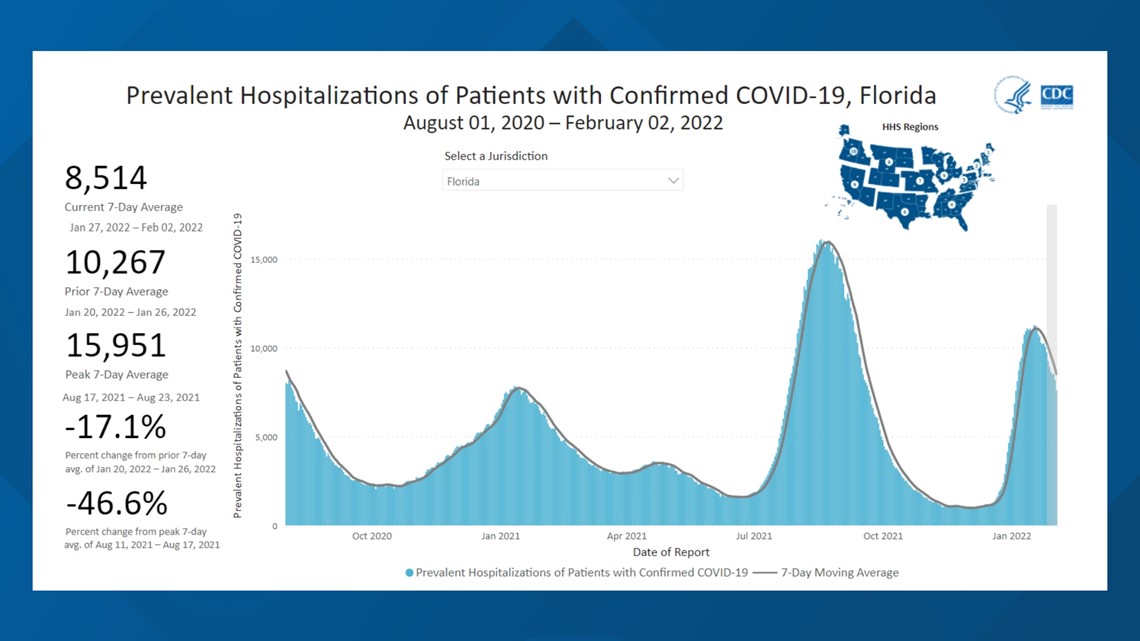 Cases
In total, the CDC says Florida has reported 5,610,464 cases since March 2020.
Deaths
According to data from the CDC, Florida reported eight new COVD-related deaths for Feb. 3.
Percent Positivity
Doctors say the focus should be on hospital admissions. Dr. Anthony Fauci has said with omicron infections causing few or no symptoms, "it is much more relevant to focus on the hospitalizations as opposed to the total number of cases."
The main difference between January's rise then fall in cases, when compared with previous peaks, is the availability of COVID-19 vaccines and booster shots.
The CDC says vaccines teach our immune systems how to recognize and fight the virus that causes COVID-19, which helps to limit the spread of the virus and reduces hospitalizations and deaths.
People 5 and older are eligible to receive the two-dose Pfizer COVID-19 vaccine, while a third booster dose is recommended for people 16 and older five months after receiving the second dose. Moderna and Johnson & Johnson vaccines are authorized for people 18 up. A third dose of the Moderna vaccine is recommended for people 18 and older six months after the second dose.