In recent years, craft beer brewers have taken yeast to a whole new level.
Some probably remember when Rogue released the news that they would be brewing a beer with wild yeast found in Brewmaster John Maier's beard. Next, came Saint James Brewery in New York who decided to brew an ale using yeast found in a 133-year-old sunken shipwreck.
Now, First Magnitude Brewery in Gainesville has teamed up with researchers to brew a beer made out of butterfly yeast. Yep, seriously.
Dr. Jaret Daniels is the director of the McGuire Center for Lepidoptera and Biodiversity at the Florida Museum of Natural History where more than 20,000 butterfly species are represented.
"We wanted to make the connection between the beer and the butterflies as intimate as possible," says Daniels. "We're collaborating with First Magnitude Brewing as a way to outreach to the public about many of these really rare butterflies that probably most of the general public probably knows nothing about."
You got that right. When's the last time you heard of Frosted Elfin? It sounds more like breakfast cereal than a butterfly. But don't underestimate this small creature. It turns out the Frosted Elfin can make some pretty great beer.
These Elfin butterflies are only found in Florida's panhandle, specifically the Tallahassee area which makes this beer even more unique.
"We all went up, we took a field trip up to the Apalachicola Forest," explains Daniels. "Folks from the lab, First Magnitude and people with the U.S Forest Service all went. We went in and we gently collected the butterflies and we held them with forceps. Then we swabbed their head and crevices for yeast."
The team had to lure the butterflies in using Gatorade and then gently swab them to get enough 'good' yeast to brew the beer with.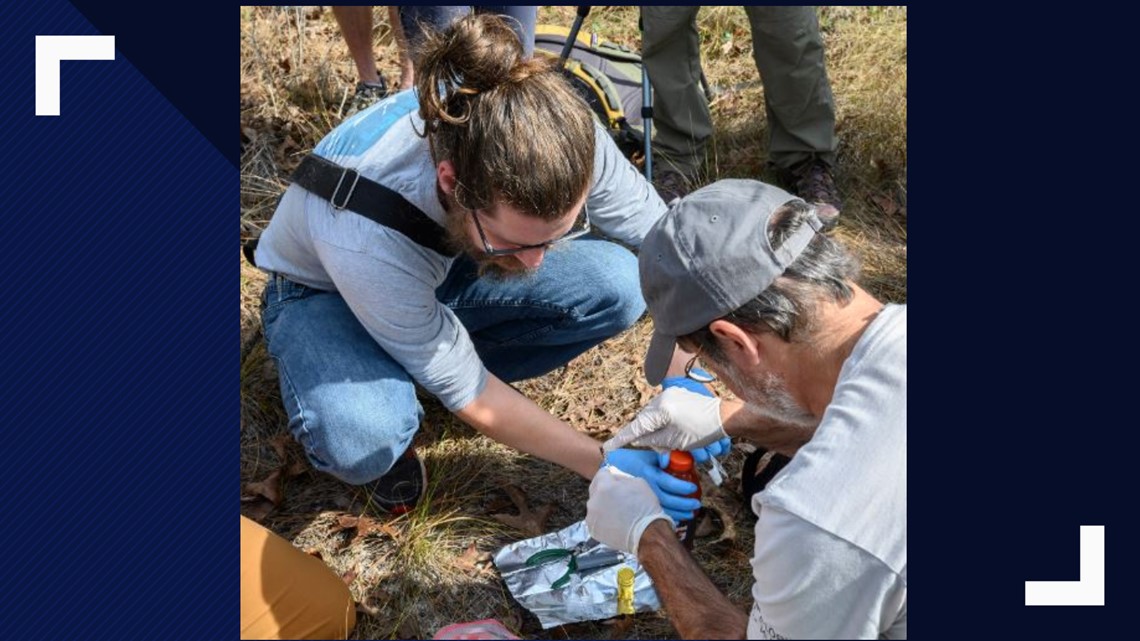 Dr. Arthur Rudolph is the quality manager at First Magnitude and just finished his Ph.D. at the University of Florida in the Biology department.
"We're interested in yeast," he says."Particularly because the butterfly is going from flower to flower. Typically they will live in floral nectar."
Rudolph says that after they collected the samples, he took them back to the lab and spread them out on plates. He then had to pick out single cells of the yeast and start growing them up in a mixture of wort and malt sugar.
"A lot of things will live on butterflies and on flowers and we want to make sure they don't get any bad ones," Rudolph says. "We'll run individual colonies through several rounds of selection using the acid in hops alcohol to weed out the bad stuff."
The end result? A beautiful new England style pale ale brewed with Warrior, Mosaic, Cashmere, Lemondrop, and Citra hops. The brew has a ton of floral notes and a refreshing finish.
The frosted Elfin beer is the first beer that First Magnitude ever brewed that's fermented with yeast collected from the wild, but the 7th beer in a series that features a different or rare butterfly.
Other brews they've worked on include the Monarch Milk Stout (Featured at Epcot), Bartram's Blonde Ale, Migration Marzen, Atala Pale Ale, Schaus' Stout and the Miami Blue Bock
A portion of the beer sales and all the proceeds from their launch events in Gainesville and Tallahassee will support imperiled butterfly recovery efforts in Florida. You can find the Elfin Pale Ale at the First Magnitude brewery in Gainesville or attend their Tallahassee release May 25 at the Brass Tap.
To help support butterfly programs at McGuire Center for Lepidoptera and Biodiversity at the Florida Museum of Natural History, click here.
Follow First Coast Brews on Facebook, Twitter and Instagram to stay up to date about the latest beer and craft cocktail news.