MEXICO BEACH, Fla – As Hurricane Michael was approaching Mexico Beach, Mishelle McPherson took shelter inside a home a few miles from the beach with her family and friends.
"We didn't think it was going to be this bad," said McPherson.
As 155 mph winds wiped homes off their foundation, she felt the house she was in start to shake.
Hurricane Michael leaves behind devastation in Mexico Beach, Florida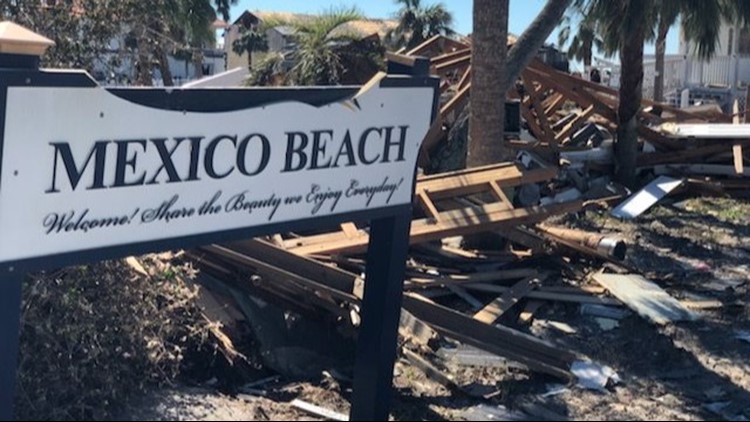 "It just started getting worse and worse and worse," recalled McPherson. "We filled the bathtub full of water so we could have water afterwards, and the house was shaking so bad all the water came out of the bathtub onto the floor and the wind didn't stop for two hours straight. Everything was horrific. Worst thing I've ever been though in my life," said McPherson.
Her daughter, Nicole Spilve, broke down as she described what it was like surviving Hurricane Michael with her toddler and baby.
"Just the feeling of almost losing my kids. I mean I would never put my kids through this again in my life. It was two hours straight of crying because you know you made a bad decision and it could take you and your kids' life. If a storm ever comes again, I would never stay. I would never do this again," said Spilve
When the category four storm had passed their quaint beach town looked like a bomb had exploded.
"Everything is gone," said McPhearson. "We have nothing, and I mean if there was a nuclear bomb this is what it would look like."
Her business, the Fish House Restaurant, was destroyed. What she and her daughter say they now need the most right now is food, water, gas for a generator, cell service, and sunscreen as they work to rebuild.
"Thank God we are alive. We can rebuild. It's going to be a long time before we recover. None of us have jobs. We don't have a restaurant. I don't have a house. I just canceled the insurance on my house because it had skyrocketed to $6000. I just paid it off, and I said I'll take the chance, but you know what I can rebuild. We're alive," said McPhearson.
While bulldozers plowed pieces of people's homes and their belongings out of the street to clear the way for first responders, urban search and rescue teams went structure to structure looking for any survivors or victims.
"If anyone ever tells you to evacuate, evacuate. Don't be stupid like us. If they say a storm is coming, leave," said McPhearson.