JACKSONVILLE, Fla — The Duval County School Board voted Tuesday night to change the names of six district schools named for Confederate figures, as recommended by Superintendent Dr. Diana Greene.
The board passed each of the total of nine recommendations made by Greene, including recommendations to not change the names of three other schools in the district.
The schools Greene recommended to change the names of were:
Joseph Finegan Elementary Schoo to Anchor Academy: Passed by 5-2 vote
Stonewall Jackson Elementary School to Hidden Oaks Elementary School: Passed by 5-2 vote
J.E.B. Stuart Middle School to Westside Middle School: Passed by 5-2 vote
Jefferson Davis Middle School to Charger Academy: Passed by 5-2 vote
Kirby-Smith Middle School Springfield Middle School: Passed by 5-2 vote
Robert E. Lee High School to Riverside High School: Passed by 5-2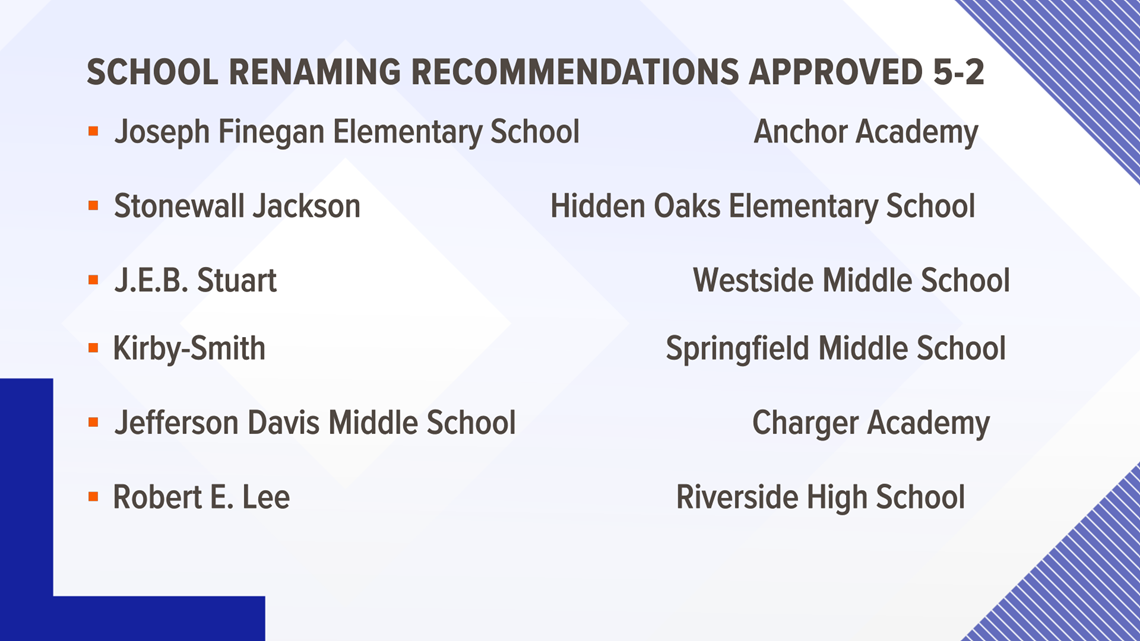 The district also voted to approve Greene's recommendations on not renaming Andrew Jackson High School, Jean Ribault Middle School and Jean Ribault High School.
During the part of the hearing, an amendment was suggested to rename Andrew Jackson High School. However, the superintendent would have time to come up with a recommended alternate name. However, the amendment failed by a vote of 3-4.
Ultimately, the school board voted to approve Greene's recommendations to keep the names of all three schools. Both Jean Ribault High School and Jean Ribault Middle School were passed unanimously, while Andrew Jackson High School passed by a 4-3 margin.
During her comments prior to the vote, Greene said after the name of Nathan B. Forrest High School was changed to Westside High School, graduation rates went from 62% to 90%.
"I say it because really, the reason it is 90%, it's about the people," Dr. Greene said. "The students, whether it was called Nathan B. Forest, or when it was called Westside, somebody had to make an impact on those children to ensure that they would graduate."
"This is a very brave decision that this board chose to initiate," Greene continued. "And a very tough decision."
As many as 60 people signed up to give public comments in support or against the name changes. There were a handful of students to speak, as well as alums and community organizers.
One of the speakers was Atlantic Beach Mayor Ellen Glasser, who spoke in support of changing the name of Joseph Finegan Elementary School specifically.
After hearing from parent organizations, the board themselves offered their views on the name change debate.
Those in favor of the name changes mentioned the importance of the district's schools to be more inclusive for all students. Those opposed brought up the financial costs of changing the schools' names and what they said was an untransparent process.
"It was clear to me that with the removal of Confederate monuments in Jacksonville that the focus return to the school board," Board Member Warren Jones said. "From time to time, school boards must grapple with difficult and controversial issues, but these discussions can lead to a better understanding and a better accepting community."
The decision many years ago to name so many of our schools after Confederate leaders and to continue to maintain the names of those schools has understandably caused a tremendous amount of emotional pain to a large segment of the Jacksonville community," Board Member Dr. Kelly Coker said. "We have the duty and responsibility to correct past actions that may degrade or demoralize the many children who we serve."
Board Member Charlotte Joyce said she would vote against the recommendations, saying the process was not transparent. She said she was concerned about students who did not attend Robert E. Lee High School were allowed to vote as community members.
"My observation leads me to question the usefulness of taking the community vote at Robert E. Lee," Joyce said. "From the beginning, I promised my constituents transparency. In my opinion, I do not believe that has happened."
One of the more passionate supporters was Vice-Chair Darryl Willie who said the board had a responsibility to make history by removing the names of Confederate soldiers from the district's schools. He also mentioned there needs be a further discussion on Andrew Jackson High School as well.
"I hope for our kids' sake, we are better every single day moving forward," Willie said. "At the end of the day, when I think about our young people, we have an opportunity to make a choice today that's going to help right the history they are going to read. And I want to be a part of that history."
The name-change issue has been going on for months. The community votes were reviewed by Duval County Public Schools Superintendent Dr. Diana Greene, who recommended changes to the board.
The name change process and the overall issue have brought in crowds of people for and against it.
Retired business lawyer Howard Dale told First Coast News these school names could affect the economy if they are not changed.

"Think about the many companies that are considering coming to Jacksonville," Dale said. "What do they think about when they realize that we have named our public schools after Confederate generals? They think we're stuck in the 19th Century."
The Northside Coalition has been a loud voice in favor of the changes. "We've got to work together now to make this happen," said Ben Frazier, Northside Coalition President. "We say one city, one Jacksonville. Let's work together."
Civil Rights leader and historian Rodney Hurst says the school district is heading in the right direction.
"One of the problems in Jacksonville has been our inability to face up to the racist history of the city," Hurst said.
The changes approved on Tuesday won't happen overnight.