As she sat down, she unpacked a glass jar, a plastic bag, and her notes, which she set down with shaky hands.
Alexis Bailey was the first of the Bailey 7 to speak.
She gave the court a small, polite smile before introducing herself and her family. Then she began.
"One hundred and fourteen," was all she said before placing aqua stones, Tristyn's favorite color, into the jar.
The courtroom was silent as everyone listened to the clinking of the stones against the glass.
Each of the 114 stones represented a stab wound that her little sister had to endure. Bailey did not rush as she dropped each stone, placing them with intention.
It took about three minutes.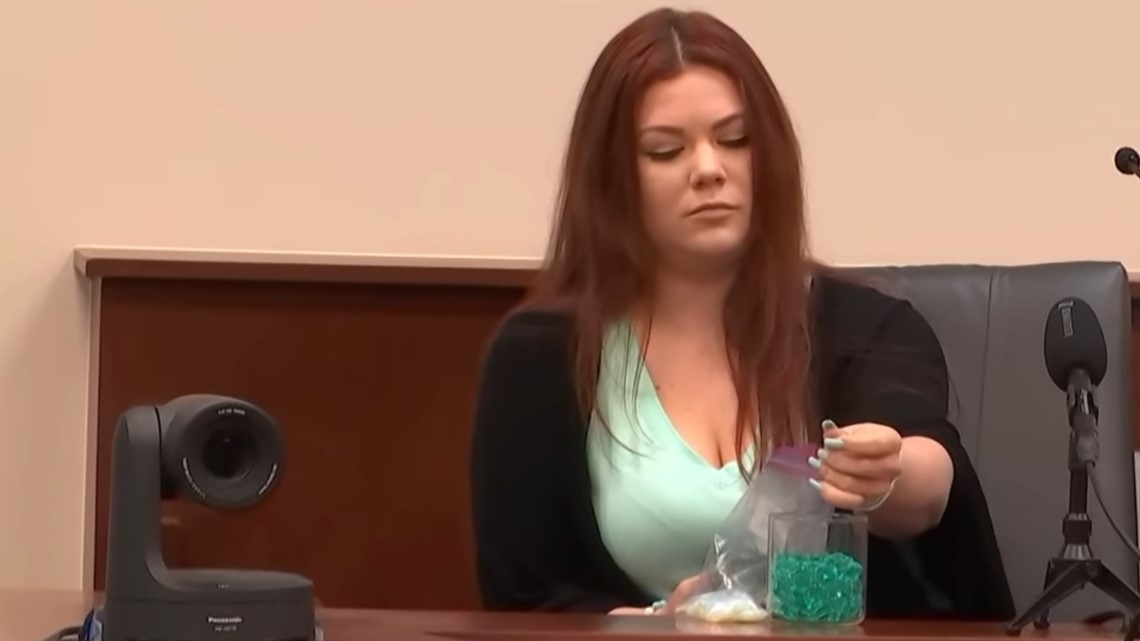 Bailey then listed the questions about her sister's murder that she said plague her mind. All of these questions were hurled directly at Tristyn's confessed killer, Aiden Fucci.
"Did she cry for my mother? Did she beg you to stop? Did you hear her lungs gargling with blood? Or did you see it in her face when she realized she could no longer breathe due to her collapsed lung? How long did she suffer? Did you watch the life leave her eyes? Do you know the answer to any of these questions? Or were you too caught up in the thrill of the kill?"
Bailey went on to recount the details of May 9, memories which she said will forever be ingrained on her "mind body and soul."
She explained how she vomited when she heard Tristyn's body was found; a detective held her hair back as she was sick. She recalled how her father lay on the floor "screaming in a way no human should ever be able to produce."
Bailey spoke about how their family had been transformed by anger and guilt, asking themselves if they could have done anything differently. In fact, all the family members said something similar in their testimony.
Additionally, she explained the painful responsibilities which fell to her after her sister's death.
"I am the one who had the responsibility of speaking with the funeral home...I was the one who had to pick her up...and make that long drive home with her ashes."
Her siblings and parents followed her with their own statements, asking that Fucci receive a life sentence for Tristyn's murder.
The oldest sister, Brittney Bailey, spoke for the family when she said, "We are forever Tristyn Bailey strong."
Photos | Remembering the life of Tristyn Bailey
Photos: Remembering Tristyn Bailey, St. Johns County teen killed over the weekend