JACKSONVILLE, Fla. — One of the teens charged in the killing of a Nassau County High School football player was in court Thursday.
The judge accepted Gaven Smith's changed pleas to guilty for third degree murder, possession of weapon by juvenile in connection to the shooting death of 16-year-old Trenton Fort.
Fort was shot to death in Callahan last year, allegedly by Smith and Ashton Riggs. Smith is charged with third-degree murder and Riggs is charged with accessory to murder.

A sentencing hearing is scheduled for Oct. 29 where the judge will determine whether to sentence Smith as a youthful offender, juvenile or adult. Each carries a different level of penalties.
If he's sentenced as an adult, the maximum sentence on the murder charge would be 30 years, and the maximum sentence on the weapons charge is 15 years. Prosecutors said they were not pursuing a minimum mandatory for either charge because Smith has been cooperating since his arrest.

There will be a status hearing Oct. 28 to make sure the sentencing hearing can move forward the following day. A time for the sentencing hearing will also be set that day.
Fort's mother, Paige Hall, who watched the Zoom hearing live Thursday, said sentencing Smith as a youthful offender or juvenile wouldn't feel like justice to her.
"They need to sentence him as an adult, this needs to happen," Hall explained. "Talking about sentencing him as a juvenile, that's unbelievable to me. You did the maximum crime, you took a life."
This Friday marks 19 months since Fort's murder. She says it's been the darkest 19 months of her family's life.
Thursday was an especially difficult day for Hall and her two other children – seeing the, now, man accused of murdering her son in Feb. 2020.
"When Gaven [Smith] stood before the court today and they asked him his age, and he said, 'I'm 18," she said. "The tears just started falling, because it flashed in my mind: Trenton should be 18. He should be here, he should be living."
Fort was supposed to turn 18 in two weeks.
His mother says he had big dreams – to go from #21 on the West Nassau High School football team to #21 on Florida State University's roster.
"He would be a senior this year, I still get multiple emails from colleges asking about 'What are you doing in football? Come visit us,'" Hall explained. "And that's hurtful, because I know that he would be so excited for that."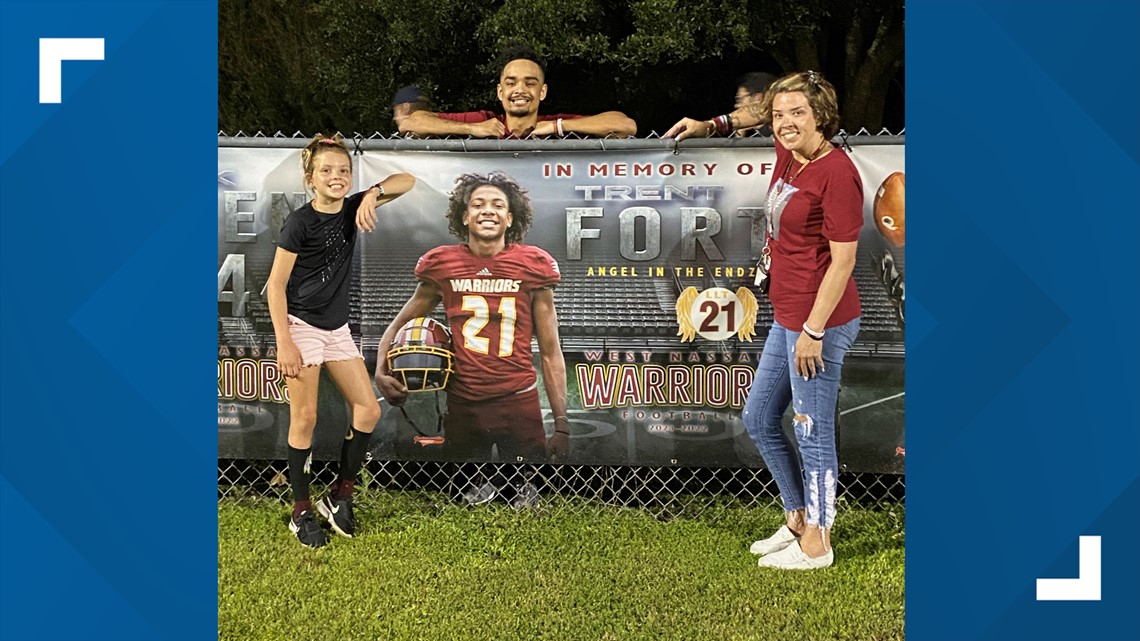 Instead, #21 will remain at his high school field, as Hall and her family prays for justice for Fort.
"I'm very anxious, very anxious because the decision is ultimately up to the judge. It's not in my hands. I can't control what's happening regarding my child," she said.
The two teens were initially charged as juveniles. Nassau County Sheriff Bill Leeper announced upgraded charges in a recorded video release on Facebook.