ST. JOHNS COUNTY, Fla. — Aiden Fucci is expected to be sentenced this week in St. Johns County for the murder of his 13-year-old classmate.
Fucci pleaded guilty in February to stabbing his classmate Tristyn Bailey, 13, on Mother's Day 2021. Fucci, who was 14 years old at the time, is now 16.
He faces the possibility of life in prison. The minimum mandatory for the crime -- first-degree murder -- is 40 years.
His mother, Crystal Smith is also charged in connection to the crime.
She has pleaded not guilty to evidence tampering. Deputies say surveillance video shows her washing blood out of her son's jeans.
Her next court date is April 4 for a pretrial hearing.
According to deputies' reports, when Smith was with Fucci in the Sheriff's Office interrogation room, she advised him to "find his story and stick with it." Reports say she also "attempted to convince him" he was wearing khakis the night of the murder, rather than the allegedly bloody blue jeans.
The report said Smith whispered the word "blood" to him as if to remind him the pants were not clean.
In letters obtained by First Coast News this week, Smith explains that her son is not beyond saving.
"As a mother, the love you have for your child is difficult to articulate to others, unless they're a mother themself," she writes. "To be helpless to protect your child is a mother's worst living nightmare. To cope with such a loss is unimaginable."
Smith's letter continues, "Your Honor, nothing can measure the depth of despair caused by Aiden's crime and the inability to help your child when they need you the most. From a mother pleading on behalf of the life of her adolescent son, please show my Aiden mercy; he is not beyond saving."
(Read the full letter below)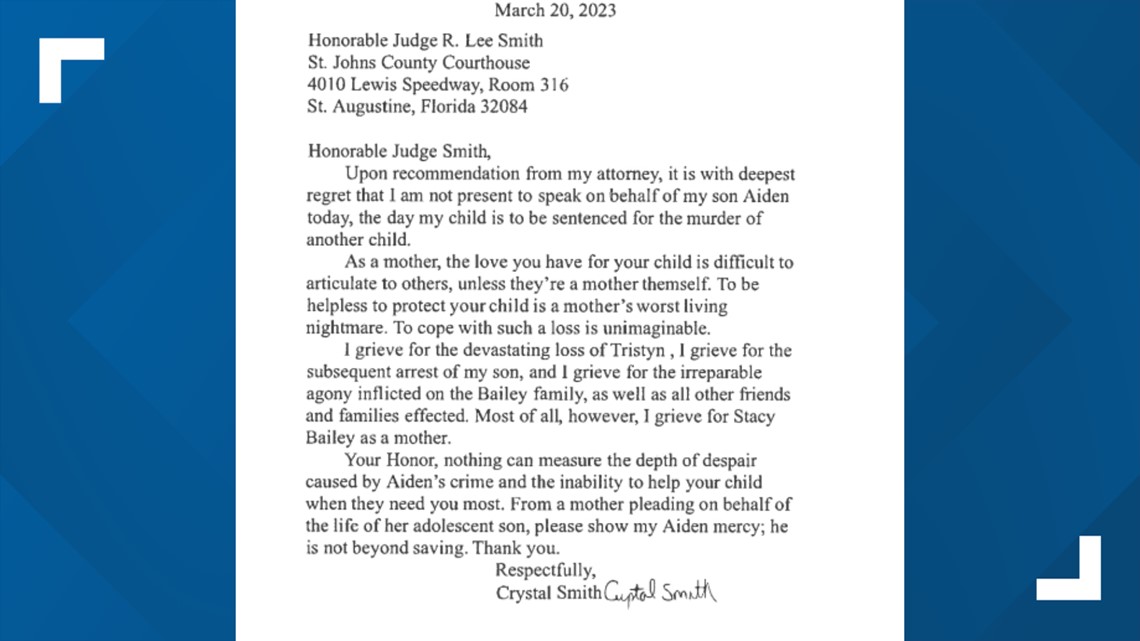 Smith also wrote a letter to the Bailey family expressing her condolences for the loss of Tristyn.
"I have thought about Tristyn every day since her death," she writes. "I know my words cannot undo anything and I know you will experience the grief you are suffering for the rest of your lives."
She continues, "As parents when we hold our newborns for the first time, we begin to understand the unconditional love, and we begin to dream of our child's future. I understand Aiden robbed you of that future. He also robbed himself of that future. As his mother I cannot and have never stopped loving Aiden, but I understand that my love for him cannot change what happened."
(Read the full letter below)