JACKSONVILLE, Fla. — The video above is from a previous report.
A man has been arrested in connection to a June double murder. A man and a woman were shot and killed off Bowden Road near the ATM in the Bowden Corners Shopping Village parking lot.
On Monday, June 20, around 9:30 p.m., officers responded to a reported shooting at the intersection of Bowden Road and Spring Park Road. Two people, later identified by loved ones as Jamarion Barnes, 21, and Tyniya Powell, 20, were found shot several times. According to JSO, Barnes was pronounced dead at the scene. Powell died at the hospital.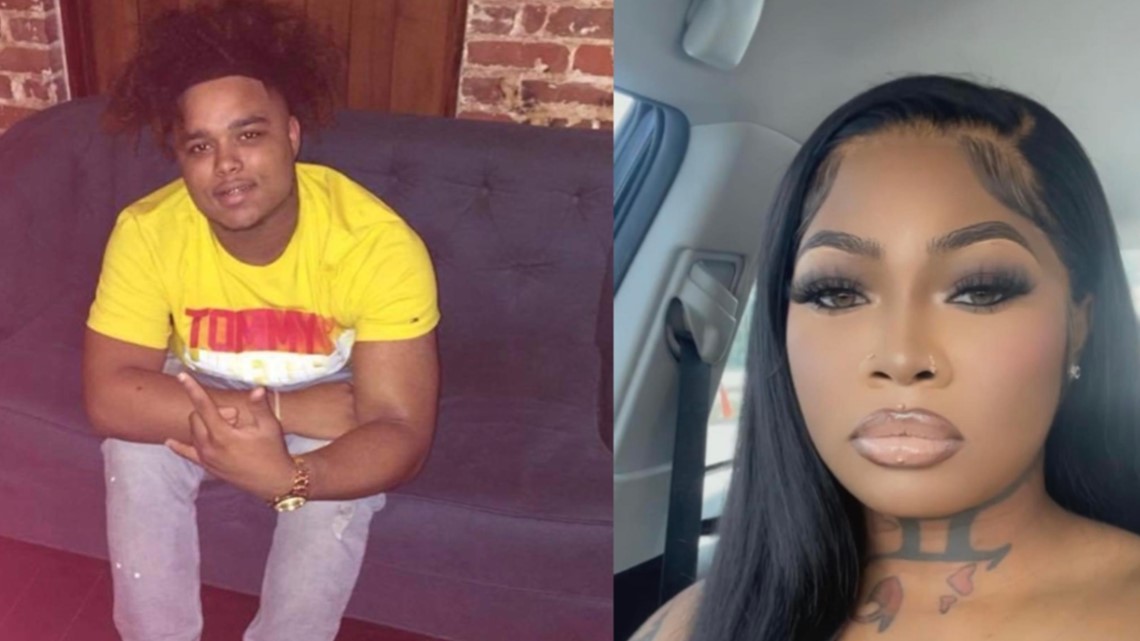 Following an investigation, a warrant was issued for 20-year-old Raishion Gist's arrest. Officers and the United States Marshals Fugitive Task Force arrested Gist Wednesday afternoon. He is facing two counts of murder in the shooting deaths.
JSO credited the community's crime tips with helping lead to Gist's arrest. According to his arrest warrant, one of the victims, whose name is redacted, talked with Gist through texts and FaceTime calls earlier that day. They coordinated with Gist to pick him up close to his home, which is less than a mile from the scene. One of the victim's phones was left in the car and collected as evidence then reviewed.
According to the warrant, Gist texted one of the victims, whose name is again redacted, earlier in the day, "Aye I need a p cuz my plug still in Texas." The warrant said that's a term used in dealing with and manufacturing drugs.
The warrant also said when they pulled up next to the ATM, Gist, who was in the back seat of the car, killed the couple and stole a gun from one of the victims. Surveillance video shows the victims being shot seconds after driving up, the warrant said. The video then shows someone, later identified as Gist, get out of the back seat, run away, come back to the car and grab a red bag from the driver's side and then run towards his home.
Loves ones confirmed Barnes and Powell were dating. Barnes has a nine-month-old daughter who friends said was his world.
"They were both amazing people, always positive, always willing to help anybody if you need it, even if they don't know you," a friend of the victims' told First Coast News.
"He has a nine-month-old daughter that he adores. She's his life. His family is already mourning the fact that his brother died a few months ago. It's sad what Jacksonville is coming to because you can't even simply go to an ATM anymore," the friend said.
A.J. Jordan, an outreach coordinator with MAD DADS Jacksonville Chapter, a group that supports victims of violent crimes, spoke to Barnes' mother the day after the shooting. He said Barnes' younger brother was shot and killed in March.
According to Jordan, Barnes' mother talked to Barnes on the phone about an hour before the shooting.
"She's just devastated," Jordan said. "She has lost another son due to senseless violence. Her other son was lost back in March due to violence, so she just she's devastated."
Jordan said Thursday this case shows if the community speaks up, arrests can be made. He said MAD DADS received a lot of tips. You can anonymously submit a tip about any incident to MAD DADS by messaging the group's Facebook page, or calling 904-705-2914. You can also call Crime Stoppers at 1-866-845-TIPS and remain anonymous.