CAMDEN COUNTY, Ga. — In less than a week, there have been three local educators accused, and arrested, for crimes associated with sexual misconduct with students. The latest was a former Camden County School teacher Monday.
Steven Rayle, 58, of Waverly, Georgia, was arrested on four counts of felony sexual battery. He was previously a teacher at Camden Middle School.
On Feb. 16, the Kingsland Police Department requested Georgia Bureau of Investigation to assist them after a report was filed alleging sexual misconduct by Rayle against students.
These incidents occurred since school resumed in January 2021 after Christmas break and during the performance of his job at Camden Middle School, according to the GBI.
The accusations against Rayle came as a shock to several parents Tuesday. They told First Coast they believe the school district could have been more transparent.
A Facebook post of the Camden County Jail records is how one mother said she found out her son's former Language Arts teacher had been arrested for sexual misconduct against students.
"I broke down crying when I read it, because I'm sitting here as a parent – you want to protect your kids from everything," the mother of the 6th grade student explained. "But how do you protect them? When you're not even being told what's going on?"
The parent, who asked to be anonymous, said she received a letter from Camden Middle School Principal Heath Heron last week stating Rayle had retired.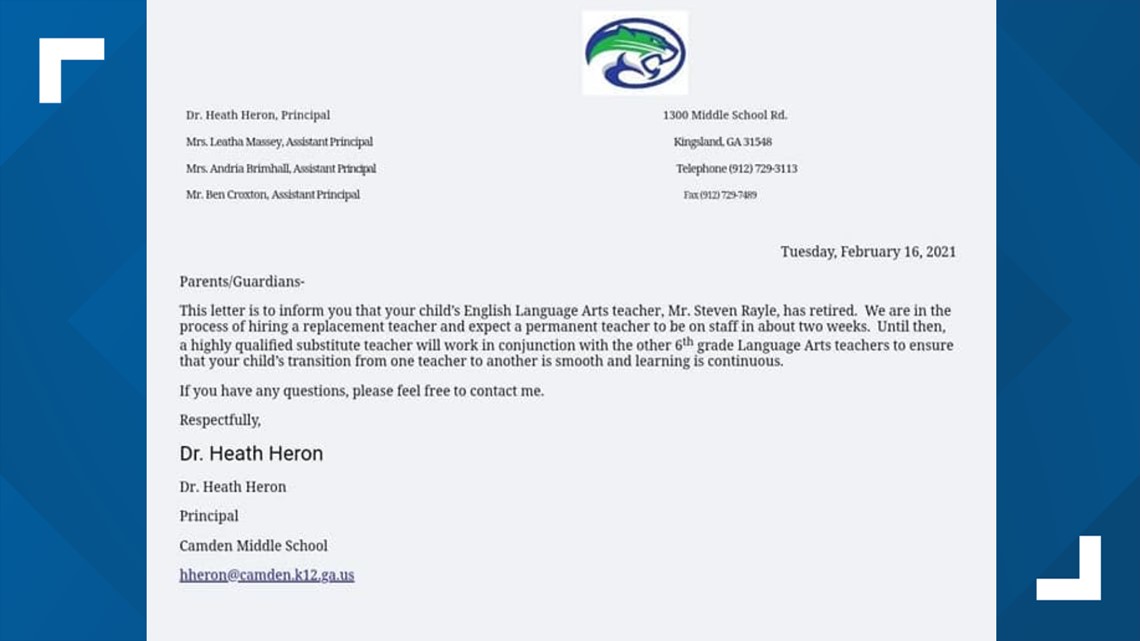 It went on to say there would be a substitute teacher covering his class until a replacement is hired, but there was no mention of an investigation into the serious allegations against Rayle.
"It seems like we protected the teacher over our children," the mother said.
According to a Kingsland Police report, an investigation had first been initiated by the school.
Then on Feb. 13, officers were "provided copies of multiple hand written statements from juvenile students," which "include juvenile eyewitness accounts, multiple statements of juvenile students being touched by their teacher."
Camden County Schools sent First Coast News the following statement:
"Mr. Rayle is no longer an employee of Camden County Schools. Our School System takes any allegations of misconduct very seriously. School and district administrators have offered our full cooperation and assistance to local and state law enforcement in this matter and we will continue to fully support their continued investigation. Camden County Schools has no greater priority than the safety of our students. We remain committed to creating a safe and nurturing environment where all students may reach their full potential."
However, the middle school mother thinks more could have been done to notify parents and give them a point of contact for their concerns.
The investigation is ongoing and anyone with additional information can contact the Georgia Bureau of Investigation at 912-729-6198.
Upon completion of the investigation, the case will be provided to the Brunswick Judicial Circuit District Attorney's Office for prosecution.