A young life violently cut short and a long-awaited trial
Cherish Perrywinkle was only 8 years old when her life was cut short. In 2013, police say she crossed paths with a serial sex offender. Donald J. Smith, who had been in and out of jail for preying on children, is now behind bars. He's accused of kidnapping, raping and killing Perrywinkle before dumping her body in a creek. Nearly five years later, his death penalty trial starts on Monday.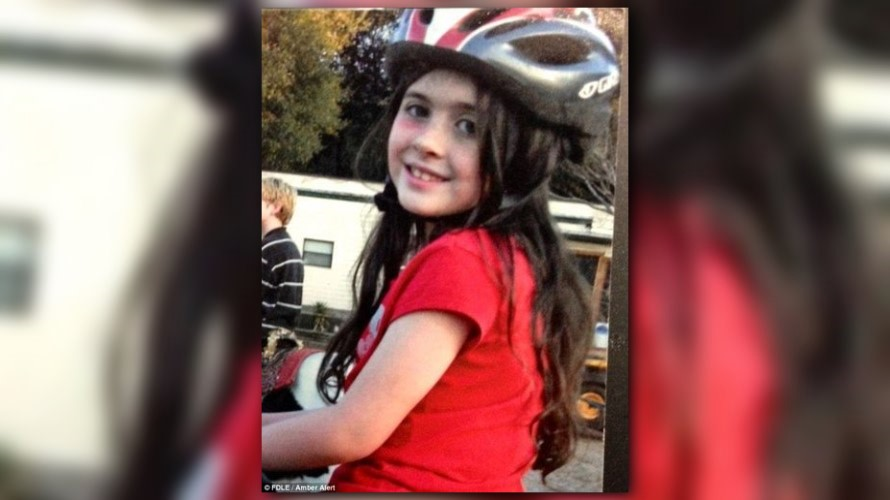 She had big eyes and a smile that was contagious. Her family said she was full of life, full of love and full of smiles. Cherish Perrywinkle was only 8 years old and in the second grade when her life was cut short in 2013. The man accused of kidnapping, raping and killing her: Donald J. Smith, a serial sex offender.
"He was scoping for a child," Rayne Perrywinkle, Cherish's mom, told First Coast News in 2013. "If it wasn't my child, it would have been someone else."
CHERISH'S DISAPPEARANCE
:
It was nearing midnight on Friday, June 21, 2013. A frantic Rayne Perrywinkle called 911 from the Walmart on Lem Turner Road and told dispatchers that her 8-year-old daughter was missing.
"He took her, he took her away," she said, crying.
She told dispatchers that she'd searched the store for half an hour and couldn't find Cherish or the man they'd met earlier that day.
"He said his name is Don," she said. "He saw that I was struggling to buy them some clothes. He brought us here to buy some clothes."
Rayne Perrywinkle explained that she and her children met Don -- later identified as Donald James Smith -- outside the Dollar General Store on West Edgewood Avenue. She told dispatchers Smith claimed he was waiting for his wife. She never showed.
Instead, Smith suggested they meet his wife at the Walmart. He offered to take them there and buy the kids clothes with a $100 gift card, she said.
"The only reason I went with him because he said his wife was gonna be here, because I told him I don't take rides with strangers," she said in the call. "I had a bad feeling ... cause this is too good to be true."
Rayne Perrywinkle said the family and Smith were at the store for two hours. While browsing, she said she noticed that Smith acted fondly toward her daughter.
"He took her to the dressing rooms twice [and] I was hoping she would be okay and I was looking at the shoes. And I didn't want him to think I was overly protective, freaking out, but now ... they're not here," she said at one point during the call.
"He wanted to buy her these really tall shoes that were women's shoes and I told him 'no.' He was grooming her," she said later during the call.
While shopping, she said Smith offered to buy the family burgers from the McDonald's inside the store. Rayne Perrywinkle said in the call that despite her gut feeling, she let Cherish go with Smith and agreed to meet them at the checkout line. But they weren't there -- and van they arrived in was gone.
"I don't understand why he would leave right now unless he was gonna rape her and kill her -- that's the only reason," she said.
THE SEARCH
:
About 20 minutes after Rayne Perrywinkle called 911, the Jacksonville Sheriff's Office issued an alert for officers to be on the lookout for Cherish and Smith, according to JSO's timeline. Baker, Nassau and Clay County authorities were also alerted.
However, police did not notify media of a possible child abduction for more than six hours. It was another hour before an Amber Alert was issued. An internal report issued by JSO later revealed officers were initially skeptical of Rayne Perrywinkle's story.
During the hours after her disappearance, JSO's Homicide Unit looked at surveillance video from Walmart and confirmed that Cherish left the store with Smith in his white van.

Authorities began to search the area, including nearby motels, RV parks and the homes of known white sex offenders.
At 8:30 the following morning, someone called 911 to report a van that matched Smith's vehicle description. She told police dispatch it had been parked near the Highlands Baptist Church on Rutgers Road about an hour earlier, according to police records.
"It was a white van, it isn't there anymore," the caller told police. "We don't know if he dumped anything, 'cause we heard a girl just got abducted from Walmart. Right so, we're not sure but the van was pushed all the way back to the bushes this morning."
While JSO responded to the area, officers saw Smith's van driving on I-95 southbound and pulled him over near Forest Street. Police searched the van and arrested Smith. But Cherish was nowhere to be found.
Officers canvased the area the tipster reported with a K9 unit. Police noticed tire marks in the grass and found a ripped Walmart bag that appeared to be new and unweathered, according to police records. About 20 feet north of the bag, reports say, branches were broken and the grass was compressed.
Around 9:20 a.m., Cherish's body was found in a creek off Broward Road, wedged underneath a tree, covered by brush. The lower half of her body appeared to be naked, according to police records.
Less than 12 hours after she went missing, the search for Cherish became a murder investigation.
GATHERING EVIDENCE
:
JSO took Smith into custody without incident, just about 10 hours after Rayne Perrywinkle called 911.
He was seen wearing the same clothes he wore at Walmart. However, his clothes and shoes were soaked in "what appeared to be water, and were dirty" with "vegetation on them," according to police records.
When police asked Smith where Cherish was, he refused to answer. He told officers that he'd used drugs all night and that he wanted a lawyer, according to police records. When Smith was in the interview room, he invoked his right to remain silent, according to JSO.
Photos after Donald Smith's arrest
Police proceeded to take photographs of Smith, and obtained a warrant to perform a sex assault kit on him. They collected DNA, including swabs from his fingernails, mouth and penis. Police also performed a rape kit on Cherish's body.
They also photographed his penis. At a hearing in January 2018, Medical Examiner Valerie Rao testified she found bruises on it that were "consistent with somebody being forcefully asked to do oral sex." Investigators also took photos of cuts and bruises found on his body.
According to investigators, FDLE found Smith's semen and DNA on Cherish's body. An autopsy report found that Cherish suffered trauma to her face, head, and genital area, and showed signs of strangulation. Her cause of death was mechanical asphyxia, or strangulation.
Smith was indicted for kidnapping, first-degree murder and sexual battery.
Donald Smith's mugshots throughout the years
SMITH'S HISTORY AND A FAILED SYSTEM
:
Three weeks before Cherish's murder, on May 31, 2013, Smith was released from jail. He'd been in jail since a 2009 arrest for allegedly posing as a Department of Children and Families worker and asking a 9-year-old girl sex-related questions. It was not his first sexual offense, and he could have faced at least 20 years in prison, according to our news partners, the Florida Times-Union, but he was released early as part of a plea deal.
The newspaper's timeline of Smith's criminal history ranged from burglaries and theft to drugs, but it also showed Smith began preying on children in the 1970s. Court records show he committed his first crime against a child when he was 17 and masturbated in front of girls ages 5 and 8. In 1992, he tried to lure a 13-year-old girl into his van, then chased her into a park when she ran away. He then tried to lure two other girls into his van with pornographic images that same day, according to court records.
Smith went to jail for those offenses, but he was never indefinitely detained, even after doctors deemed him a violent sex predator in 1999. In response to a 1999 arrest, he spent three years in an involuntary civil commitment facility, but a judge released him and ordered him to undergo treatment.
Following Cherish's death, Florida legislators filed harsher sexual predator laws, which were signed by Gov. Rick Scott in 2014. They upped the minimum prison sentence in child sex crimes from 12 years to 50 years and required sexual predators to provide information like address changes to police for registration.
DEATH PENALTY: UP IN THE AIR
:
Smith's death penalty case was delayed seven times before a final trial date was set for Feb. 5, 2018. Most of the holdup resulted from changes to Florida's death penalty law.
Prior to 2016, Florida's legal system was one of three states that allowed judges to impose the death penalty without input of the jury. In Hurst v. Florida, the U.S. Supreme Court ruled that was unconstitutional. As a result of the ruling, the state held off roughly 400 execution cases, including Smith's.
Shortly after, Florida Gov. Rick Scott signed a bill into law that required at least 10 out of 12 jurors to vote for the death penalty to impose it. However, the Florida Supreme Court struck that law down as unconstitutional, and recommended that the state require a unanimous jury.
In 2017, the Florida legislature adopted a new sentencing law that requires a unanimous vote from a jury before a judge can impose the death penalty.
Other delays in Smith's trial have revolved around what evidence should be allowed. Smith's attorneys have argued to exclude secret jailhouse recordings between Smith and another inmate, convicted killer Randall Deviney. They allegedly include clips of Smith and Deviney talking about young girls and Smith referencing Walmart. This week, Judge Mallory Cooper ruled the recordings will be allowed.
Smith's attorney Julie Schlax has asked for a change of venue for the high-profile case, but Cooper denied the request.
Schlax and her co-counsel Charles Fletcher also tried to block 30 crime scene and autopsy photos, saying they were unnecessary and would shock jurors. The medical examiner said they were "essential" to show jurors the kind of injuries that Cherish received. The judge agreed to allow the photos to be shown to jurors, but they will not be visible to media or those in attendance in court.
Smith's trial begins on Feb. 5, 2018 with jury selection. First Coast News will livestream the proceedings daily, beginning with opening statements which are expected to begin Thursday.