CHARLOTTE, N.C. — The Charlotte community gathered, singing Amazing Grace and holding candles in the parking lot at Brooks' Sandwich House in NoDa Tuesday night. Hundreds joined to mourn the death of Scott Brooks, co-owner of the beloved restaurant.
Shock and grief are still gripping the tight-nit NoDa neighborhood.
Lauren Brooks, David's daughter, said in addition to being family, Scott Brooks was one of her best friends.
"It's going to be really hard coming here and not working with him anymore," she said. "He was a good man, good husband, good dad, good everything."
The restaurant and its benches have been covered in flowers, candles and cards from community members mourning the loss of a neighbor and friend.
Candlelight vigil for Scott Brooks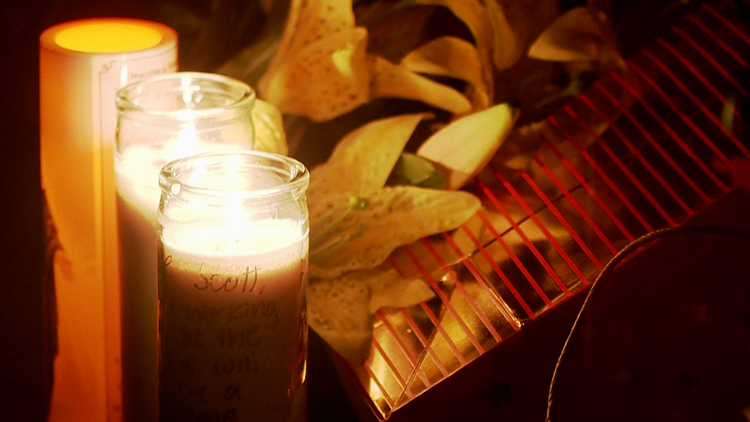 The sandwich shop started in 1973 before NoDa transformed into the arts district that it is today. For decades, many in the Charlotte community have seen the Brooks family as more than just good business owners.
Members of the Charlotte-Mecklenburg Police Department attended the candlelight vigil on Tuesday. In a Facebook post, CMPD said in part, "Many of our officers dropped in on this spot to have lunch or dinner while on patrol. It was a known eatery among police officers. We send our condolences to the Brooks family."
Dozens lined up to hug family members at the candlelight vigil, many telling them "I love you" or "I'm sorry."
Troy Graham was among those in attendance. He said he's been coming to Brooks' Sandwich House since long before NoDa is what it is today. He remembers riding his bike over when he was 12 years old.
"They treated you like family," Graham said. "They called you by your name."
He said he wasn't surprised to see how many people gathered to mourn. Lauren Brooks said they knew the community loved the sandwich shop, but they didn't realize just how much.
"It's crazy, I'm just so blown away by the support of the city of Charlotte," Lauren Brooks said. "It's crazy. I really appreciate it all. I'm going to keep Brooks' going as long as I can. I love Scott and I love my grandpa and they're here, they're flipping burgers in heaven."
In just one day, they raised over $27,200.
"Scott would not believe me if I told him that we could raise that much money for him in 16 hours," Lauren Brooks said. "His family really needs it. We're going to take care of them, they need us right now."
Lauren Brooks said she believes Scott Brooks is seeing now that he made a big difference to those in the community.
"He would be proud," she said.
MORE ON WCNC: