PORTLAND, Ore. — A nasty email scam is using sexploitation and stolen passwords to try and get victims to pay a ransom.
The crooks claim they've taken control of your computer's webcam. If you don't send them money, the criminals claim they will share videos of you watching pornography.
The email uses stolen passwords to get the victim's attention in the subject line and first sentence of the email.
"I was shocked because they had my email address and they had a password that I'm still using," said Caryn Drake of Oregon City.
Several people in the Portland metro area received the threatening email, although none of them reported losing any money.
"It caught my eye because part of what was included: a password that we had used in the past," said Casey Milne of Portland.
In the emailed threat, crooks claim they downloaded malware on the victim's computer and took over the webcam. The criminals claim they captured video of the victim watching pornography and threatened to send the compromising images to others.
"I will, no doubt send out your video recording to all your contacts including close relatives, coworkers, and many others," read the scam email.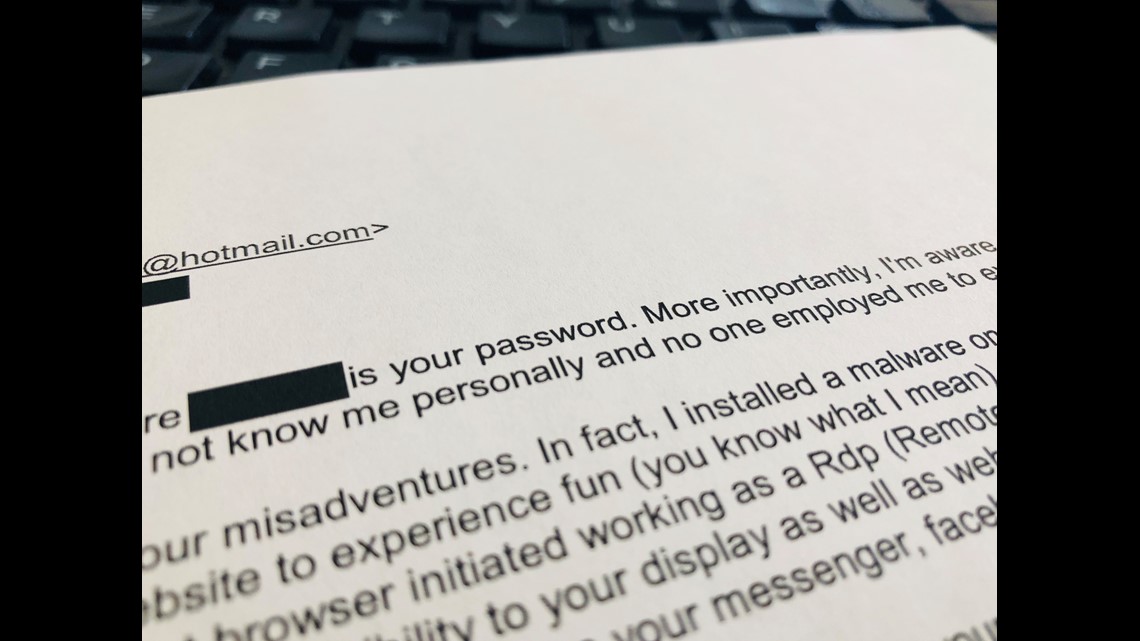 The hackers demand anywhere from $1,000 to $8,000 in Bitcoin electronic payment to destroy the video.
"Your dirty secret remains private," read the email. "I'll delete the videotape."
Malware that could grant someone access to a computer webcam does exist, but this specific email scam doesn't have any malware connected to it that would allow someone to access your contacts or webcam.
"They're relying on a lot of fear," explained Ken Westin, a cybersecurity analyst based in Portland. "One of the primary goals is to have people have an emotional reaction, don't think logically and do whatever the scammers tell them to do."
Westin said the stolen passwords likely came from compromised websites or large data breaches. Names, emails and passwords are often sold or traded on the internet's black market.
If you receive this scam email, don't pay the ransom. Delete the email and change your passwords.