JACKSONVILLE, Fla. — Unemployed Floridians are claiming the computer system used to claim their benefits is riddled with glitches as they try and prove to the Department of Economic Opportunity they are looking for work.
"People are spending hours, even days, trying to claim their weeks because of the work search requirement," unemployment expert Vanessa Brito said.
Claimants say they're getting kicked off CONNECT when trying to submit their work search information.
Brito said the system is overloaded with claimants, as many are spending so long on the website to submit their work search. This traffic causes claimants to be kicked out.
"Claim either really early in the morning, or claim after 5 p.m.," Brito said. "That way there aren't so many simultaneous users, and it won't kick you off so often."
Brito said there's another way to out-smart the glitches.
"If you right-click on the link, it will populate properly in a second window and you can continue claiming without getting kicked off," Brito said.
Brito said those who haven't been able to submit their work search are receiving an email from DEO.
"DEO started sending out fact finding requests via CONNECT and emails in order to have people resubmit their work searches," Brito said.
In some cases, claimants are getting both emails, and a fact finding request on CONNECT, while others aren't.
"It's confusing. Some people think, should I complete both? Do I need to just complete one?" Brito said.
Brito said it does not hurt to fill out both.
The good news is, the website doesn't have set Monday through Friday hours like CONNECT does. You can beat the traffic and submit it over the weekend if needed.
Plus, there's a new question on the work search only some people who are self-employed are seeing.
"Those who are self employed and are looking for clients or gigs or whatever the case may be, and answer yes, are not being prompted to enter a work search," Brito said.
Yet, DEO's guide shows this is the screen they should be seeing: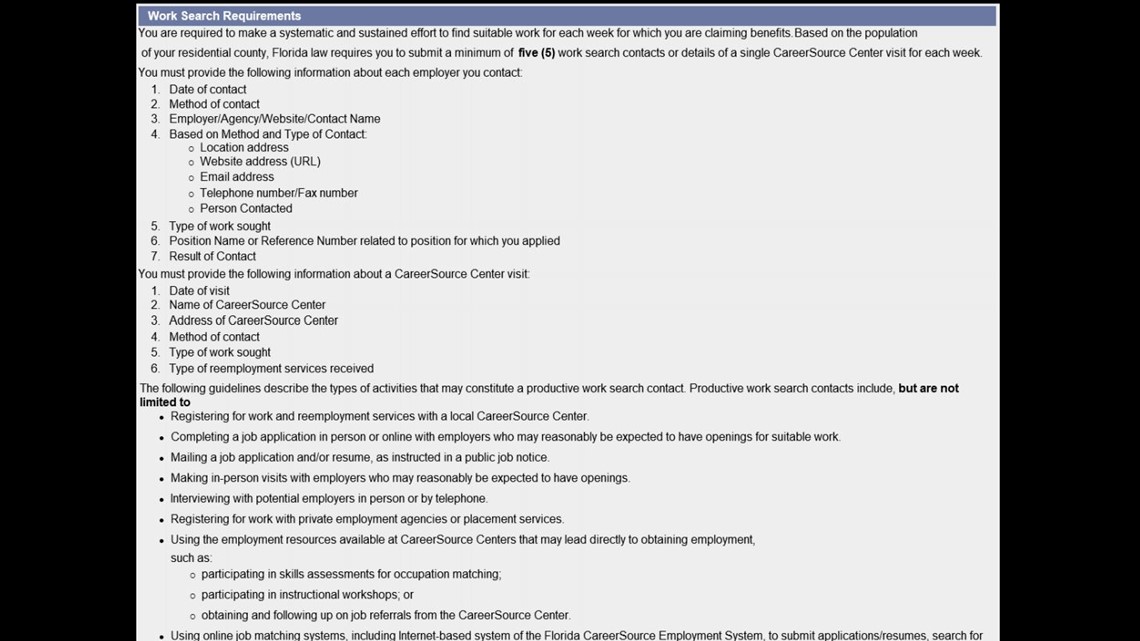 "The work search isn't processing properly with people," Brito said.