'Unique & traditional to the South': Clark's Fish Camp offers full smoked gator
Clark's Fish Camp is known for three things: 1) Having the largest personally owned taxidermy collection in North America; 2) Having a pet alligator and 3) Serving exotic foods like full smoked alligator.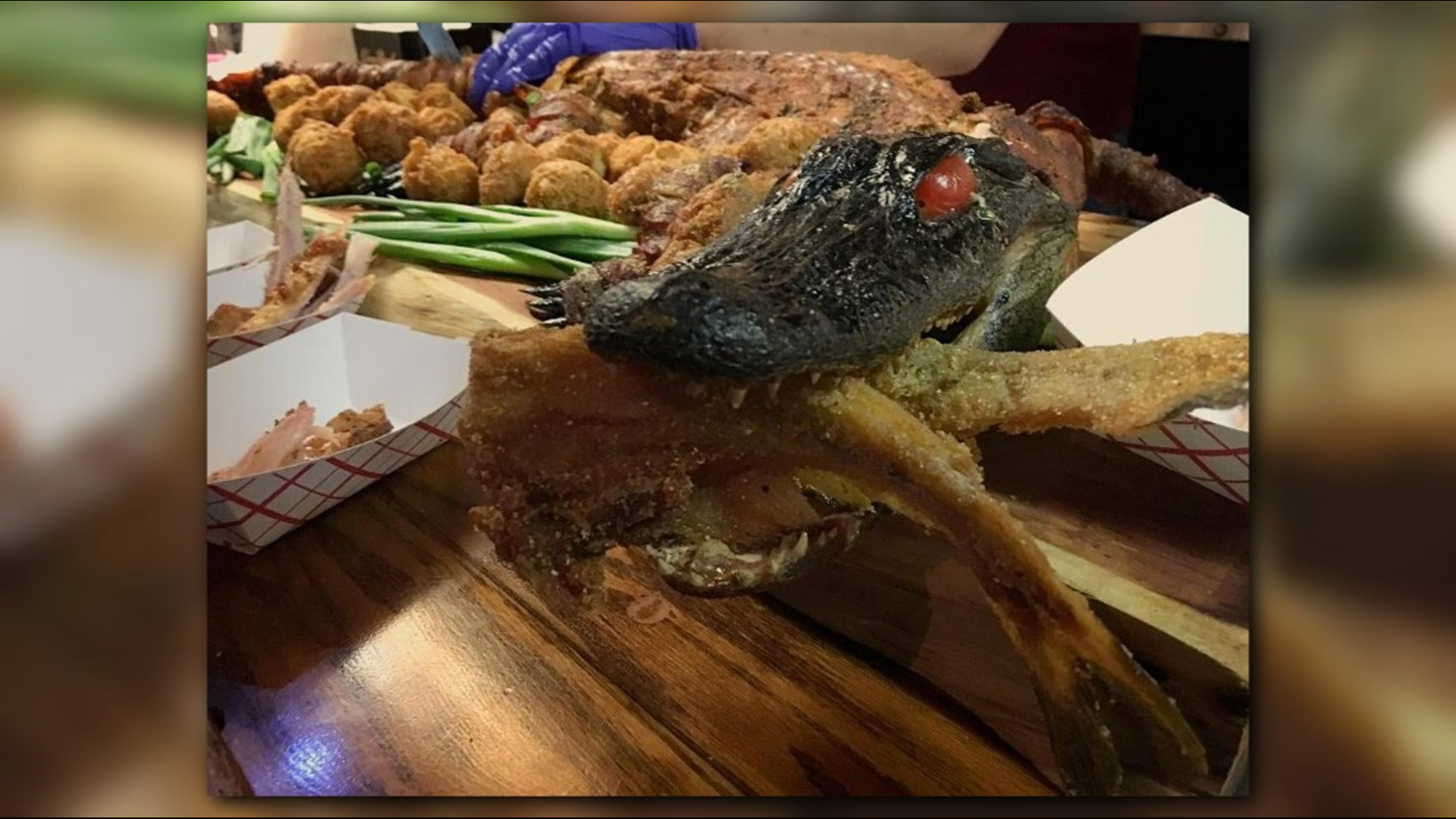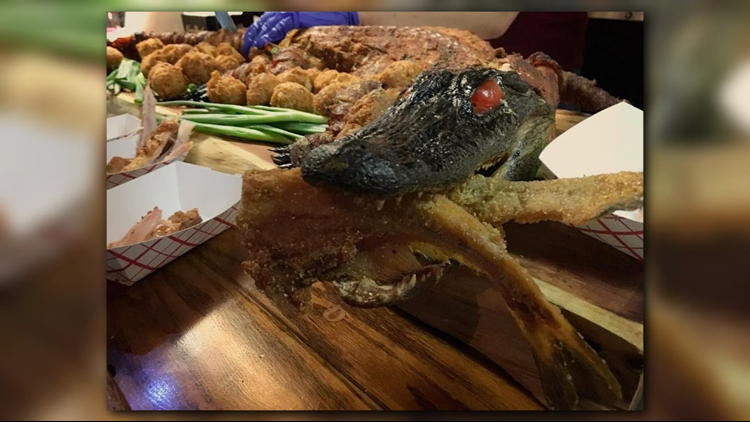 JACKSONVILLE, Fla. -- Living on the First Coast, you've likely tried alligator at one point in your life.
Chances are though, you've only had the ever-popular Southern dish: gator tail. But given the opportunity, would you try a full smoked gator? What about a full smoked gator wrapped in bacon?
If you answered "yes" and "yes," then you should head over to Clark's Fish Camp & Seafood Inc. on Julington Creek in Mandarin.
Though the 44-year-old seafood restaurant filed for Chapter 11 bankruptcy back in April due to the damage caused by Hurricanes Matthew and Irma, staff said they are fully open and still offering customers their unique and exotic dishes, like a full alligator.
Ashlee Peoples, manager and granddaughter of the founders Jack and Joan Peoples, said the idea to serve full alligator started about three years ago following a huge response from folks on social media.
"Our family, on special holidays, would smoke [a full gator] for family events," Peoples said. "We would post pictures of our gators and customers would comment, 'How do I get one of these?' 'That sounds awesome.' 'You should offer this to your restaurant.'"
At the time, Peoples said they only served their ever-popular gator tail dish, as well as gator ribs and gator wings, "so it only made sense," she said.
"Because we are so unique in the restaurant industry to begin with that it made sense to go ahead and smoke the whole gator for folks to enjoy, just like our family did," Peoples said.
And that tradition also included wrapping the tail and legs in a few pounds of bacon.
"Everyone loves bacon," Peoples said with a laugh. "No one really opposes that."
Peoples also described that the bacon is needed because an alligator is considered to be a lean protein, especially when the gator is smoked.
"When you're smoking an animal, you're not getting a lot of moisture that's getting put back into the animal," she explained. "So the bacon helps preserve some of the moisture in the meat of the animal and it also adds good flavor."
THE PROCESS
:
FROM THAWING TO SERVING
The whole process of thawing the gator to serving it on the dinner table takes about six to nine hours, depending on two things: the size of the gator and the weather (because their smokers are located outside), Peoples said.
She also described the process of prepping and smoking a gator similar to prepping and serving a turkey.
"You smoke 'em low and slow," she said.
Thawing the gator could take up to two to three hours, but once the gator is thawed, prepping it only takes about 30 minutes.
Peoples explained that the first step they do is give the animal a whiskey bath, usually with Jack Daniels or Jim Beam. After, she rubs the gator down in their homemade barbecue and mustard sauces, as well as their special house seasonings.
"Anywhere from six to seven blends of seasonings, and it's all house seasonings, all personal secret sauces," Peoples said.
After its seasoned, Peoples said they pull out the bacon! Usually, a single gator uses up to two pounds of bacon - one on the tail and one on its legs and arms - but they could use up to four pounds of bacon if a customer requests the whole gator be wrapped in it, she said.
Peoples said they also coat the bacon with brown sugar and more seasoning for extra flavor, which makes it like "smoked Cajun candy bacon wrapped around the gator."
"Then we stuff the gator with Andouille sausage that we also wrap in bacon because, as I said before, everything is better with bacon," she said with a laugh.
After adding the sausage, Peoples said they put the alligator on the smoker, which is set to 250 degrees, for four to six hours.
Once it's done, the alligator is put on a wooden serving tray, then it's onto the presentation.
She said they usually place hush puppies by its stomach to represent the animal's eggs as well as scallions to represent the grassy parts of Florida's swamps. Peoples said they also put fried catfish in its mouth as if it caught them. Finally, as a personal touch, two cherry tomatoes are added for its eyes.
"My grandmother came up with the idea," Peoples said. "Some find it fun, some scary ... it's kind of a gimmick."
Then, you serve, Peoples said.
She compared carving an alligator to like carving into a turkey on Thanksgiving or even slicing through pork or beef ribs during barbecues.
She said they first cut off the two pieces of loin right behind the head and near the shoulders ("where the dark meat is located") before they work on the tail (where the white meat is usually located).
"Gators store their fat in their tails ... you get a lot of meat on it," she explained.
After cutting the tail, they cut off the four legs "just like you would a turkey or chicken," before they finish by cutting up the ribs.
"You slice those down the middle and eat those like a regular pork or beef rib," she said.
Step-by-step process of smoking a full gator
EATING THE GATOR
:
The gator's tail will always be the most popular part of a whole gator, Peoples said.
"The crème de le crème is the tail," she said with a smile. "That's the most popular, a lot of meat on the tail, easy eating."
Though it's the public's most popular part of the alligator, it's not Peoples' personal favorite.
"My favorite part of the gator is right behind the back of the head between the neck and shoulders," she said. "There's what we call the 'oyster' of the gator, just like you would have the oyster of the chicken. That's two little loins of meat that are super tender and it's the dark meat, and to me, it tastes like really good smoked turkey.
"That's my favorite part, but majority rules that the tail is the favorite part," she said with a shrug.
Overall, Peoples said all of the gator is delicious to eat. She also said that if you're hesitant to try one, you shouldn't be.
"Smoked gator is actually delicious and a lot of people who are taken aback by seeing a whole smoked gator actually taste it, they go 'Wow, that's pretty good,'" she said. "It tastes like smoked turkey. It has a turkey flavor to it, but you can definitely tell after that it has a slightly different taste than turkey.
"It's unique and traditional to the south," she said. " ... It's something I grew up with and it tastes really good. I haven't known anyone who hasn't liked it."
Q & A:
:
What is the cost of a full smoked alligator?
"The gators run anywhere from $120 to $160 depending on size," Peoples said. "We do wrap the tail and forelegs in bacon, but if you want the gator completely wrapped in bacon, that's an additional cost."
How much bacon do you use?
"We use roughly anywhere from 2 to 4 pounds of bacon on the animal, depending on the size or what you want done with it," she said.
Peoples said customers need to call and place their order days in advance, due to the amount of time it takes to order, prep and smoke a full gator. (Their number: 904-268-3474)
Where: Clark's Fish Camp Seafood Restaurant, 12903 Hood Landing Road, Jacksonville, Fla. 32258.
Hours: Monday to Friday from 4:30 p.m. to 9 p.m., Saturday from 11:30 a.m. to 10 p.m. and Sunday from 11:30 a.m. to 9 p.m.
Melissa Guz is a digital producer for First Coast News. You can contact her by email or follow her on Twitter @mguznews.