JACKSONVILLE, Fla. - Mayday Ice Cream, a fairly new ice cream shop from St. Augustine, is officially celebrating the grand opening of its second location in San Marco on Thursday.
The celebration will be from 5 p.m. to 10 p.m. at 1432 Hendricks Ave. It will offer free ice cream and chances to win Mayday swag. (Click here to RSVP to the event.)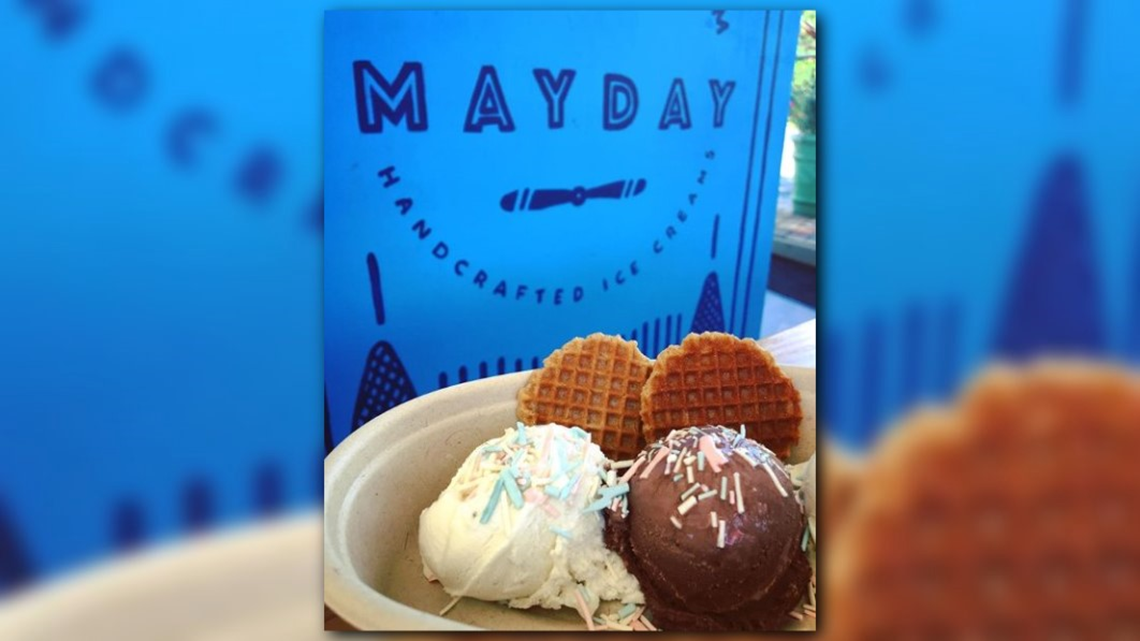 Mayday Ice Cream is the sister company of the Hyppo Gourmet Popsicles, which is also based in St. Augustine. In fact, its location sits at the former Hyppo shop.
"The idea of making ice cream has been a part of the Hyppo for awhile," said Chris Fair, the production manager Mayday Ice Cream. "The idea was to continue making desserts and tasty treats in a different market than ice pops and ice cream was the next step for us."
Mayday Ice Cream officially opened its first store back in May, located at 1835 U.S. 1 South Ste. 127 in St. Augustine. Five months later, it is now expanding to Jacksonville with its second location at the former Hyppo shop in San Marco. It had its soft opening a few weeks ago.
It currently offers 24 different flavors, ranging from traditional flavors like chocolate and vanilla to some of their more unique flavors like Coffee and Donuts. It also offers a few non-dairy and gluten-free options.
It is also starting to offer seasonal flavors as well. Its current seasonal flavor is the Great Pumpkin, which is a pumpkin cheesecake ice cream with fudge ripple.
Fair said Mayday Ice Cream is unique when it comes to other ice cream shops. He said they make everything in-house. This includes making the ice cream from scratch, as well as the waffle cones, cherries, sprinkles and French galettes offered with every scoop.
He also said, similar to the Hyppo, they experiment when it comes to their flavors. For instance, two of the more popular unique flavors offered are Lavender and Blackberry Earl Grey.
"A lot of people don't associate lavender with ice cream," Fair said. "When you think lavender, you think scent or fragrance. But this is really surprising ... very nice flavor, very subtle."
He said the lavender is made with lavender extract, honey and lemon. When it comes to Mayday's Blackberry Earl Grey, it's made of a blackberry ripple infused ice cream with an earl grey tea base.
"With ice cream, you can't add water," Fair said. "So instead of brewing tea, we broke down what actually makes earl grey tea."
Mayday's prices range by the scoop. It offers single scoop, double scoop and triple scoop options. It also offers a dish called the "flight," which lets you try six smaller scoops of ice cream in case you can't decide on a flavor.
Parent Trap -- peanut butter ice cream with Oreos and peanut butter ribbon
Coffee and Donuts -- coffee-based ice cream that uses kookaburra coffee from St. Augustine and cut up donuts from Fiction Donuts, also in St. Augustine
Strawberry Fields -- St. Germain Elderflower Liquer and strawberry ripple
Almond Butter Chip -- (non-dairy) chocolate coconut ice cream with almond butter and non-dairy chocolate chips
Small -- pick two flavors, $4.50
Triple -- pick three flavors, $5.50
Flight -- six small flavors, $8
Kids scoop -- $3.5
Pints -- to go, $8
Sundae treatment -- fresh whipped cream, hot cherry, homemade chocolate sauce, + $1.50
Sundae of the week -- $8
Mayday also sells espresso, coffee and affogato (a scoop and shot of espresso)
Melissa Guz is a digital content producer at First Coast News and content creator for First Coast Foodies. You can follow her on Twitter. Be sure to also follow the First Coast Foodies page on Instagram and Facebook.