JACKSONVILLE, Fla — What toppings typically create a Hawaiian pizza? Pineapples and ham, right? Well… not for one Southside restaurant.
The franchise, Pierre's Eatery, located at 7159 Philips Highway, has a 100 percent "no pork" motto, meaning all of the Italian-style foods it serves does not contain pork products.
And yes, that includes its Hawaiian pizza. The slices of meat on the pizza may look like ham, but it's actually turkey.
"If you put it side-by-side, you won't be able to tell the difference," said franchise co-owner, Cecilia Gibson.
WTLV
My Review, 👍 or 👎?
To my surprise, Gibson was right; I couldn't taste the difference. From the very first bite, it was hard for me to believe that what I was eating wasn't real ham.
"That's the impressive thing behind [Pierre's Eatery]," Gibson said. "There are things that we can have that aren't pork, but the flavor is certainly there."
Gibson told me that the turkey substitute was actually turkey-ham, usually ready-to-eat meat made from cooked or cured turkey. Prior to this experience, I always perceived turkey-ham to be rubbery -- in both taste and texture. That wasn't the case for what I was chewing on.
The turkey ham had a kick of flavor that was simple -- in a good way. You can taste the mix of seasoning, but primarily the pepper with every bite. It was very similar to the taste of smoked black forest ham.
The turkey ham was also divvied up into thick chunks, almost like the chunks cut up from center ham slices.
"We have a team that researches these products," Gibson said. "They are tasting it, testing it ... It tastes better. It feels better. And that's where the 'treat your soul' [sign] comes from. You can feel the difference when you eat."
Even though I am a simple person and I'd happily choose a plain cheese slice any day, I give this a 👍!
If I didn't eat pork and I was craving a Hawaiian (or even pepperoni) pizza slice that tasted like the real thing -- this is the place you have to go!
WTLV
Popular Eats
Overall, there are five Pierre's locations in Florida with the Southside location being the newest to the area.
The pizza and stromboli are popular eats at this pizza and pasta bar, thanks to the freshness of the handmade dough.
Other popular eats include pasta dishes like ravioli, baked-chicken parmesan and spaghetti and meatballs.
'No pork' at Pierre's Eatery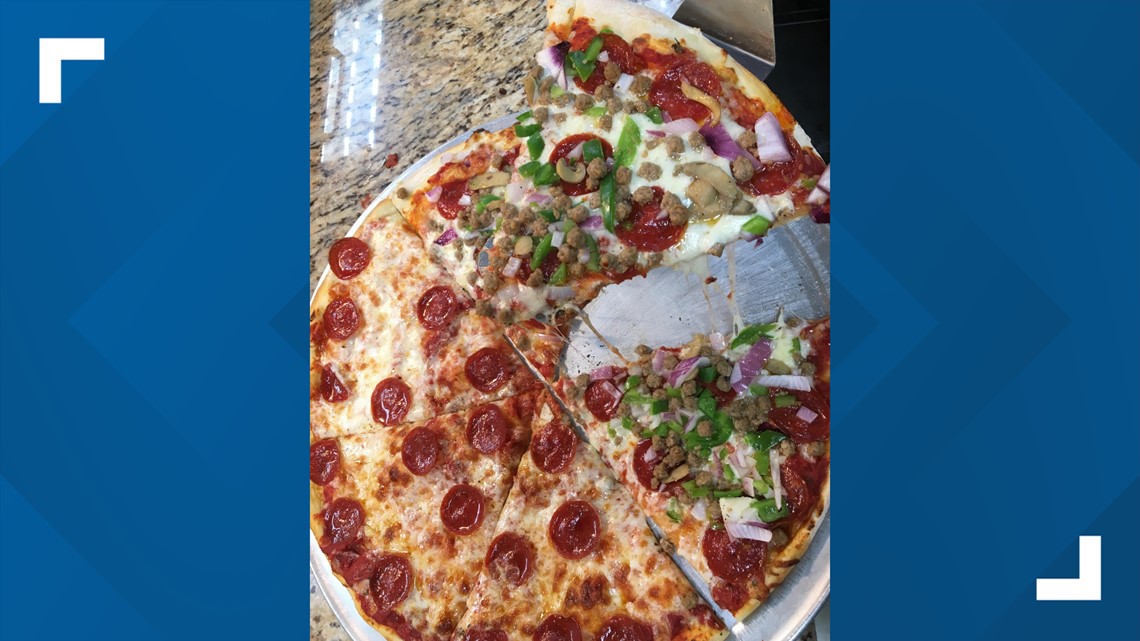 Gibson said what makes the location that she runs with her brother, co-owner Miguel Armado, the most unique is because "we are the only combo store with [desserts] from Three Layers Cafe."
That's right -- the popular Springfield Three Layers Cafe may be closed down, but their desserts live on at Pierre's Eatery.
Every day, you can find fan favorites like their triple chocolate brownie, strawberry and cream cake, cookies and cream cake, pound cake to red velvet, buttercream and chocolate cupcakes.
Pierre's Eatery also offers catering.
Location: 7159 Philips Highway
Hours: Monday to Saturday - 10 a.m. to 9 p.m., closed Sundays