Since the beginning of Pride Month, companies are flying their rainbow flags. Top brands like Levi's, Target, H&M and Converse are targeting the LGBTQ+ and their supporters with Pride merchandise.
But is it all for love?
While some companies are known allies of the LGBTQ+ community through supporting youth centers, promoting inclusive policies and donating to the cause, others seem to have money on their mind.
H&M, for instance, has partnered with various celebrity members of the LGTBQ+, including Lavern Cox from "Orange is the New Black" for its latest campaign "Stay True, Stay You," which will donate 10 percent of sales to the United Nations' Free & Equal campaign.
Even on H&M's parent company's website, the H&M Group states that "inclusion is diversity in action."
However, The Human Rights Campaign Foundation (HRCF), which puts out a Corporate Equality Index each year to rate companies on LGBTQ+ efforts, rated the H&M group 45 out of 100.
H&M celebrates Pride with 'Stay You, Stay True' campaign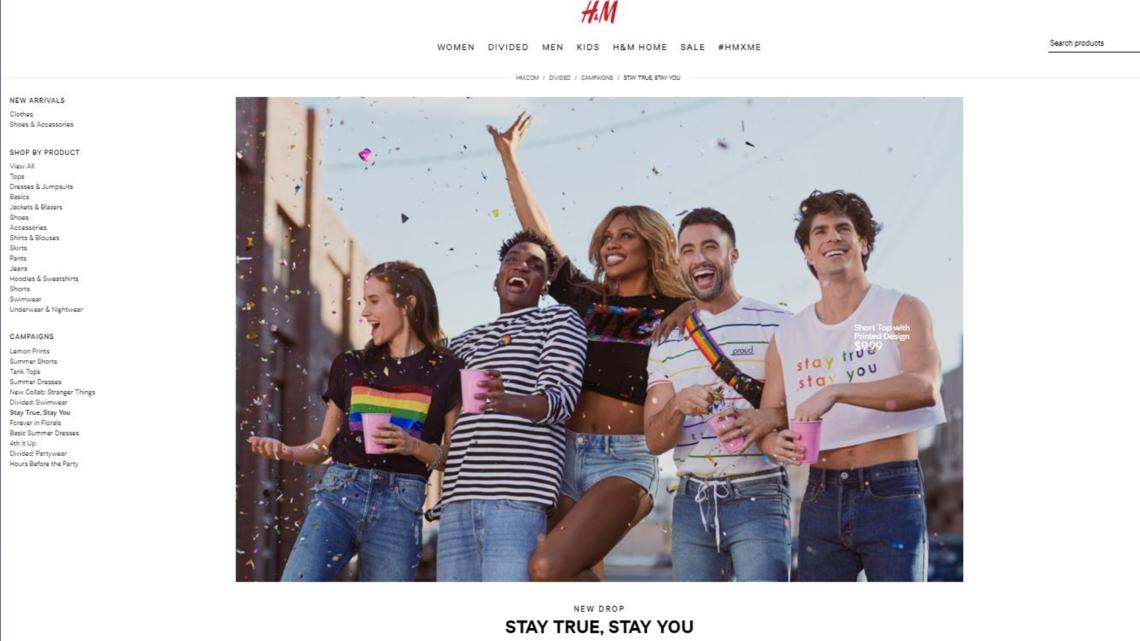 Despite H&M's "Stay You, Stay True" campaign, which features a diverse cast of LGBTQ+ influencers covered in rainbows, HRCF's Corporate Equality Index report for this year says the company lacks:
"Equivalency in same-and-different sex domestic partner medical and soft benefits
Three LGBTQ internal training and education best practices
Employee group or diversity council
Three distinct efforts of outreach or engagement to broader LGBTQ community, and if supplier diversity program is in place, must include LGBTQ suppliers
Contractor/supplier non-discrimination standards and philanthropic giving guidelines"
First Coast News has reached out to H&M for comment, but we haven't heard back. We are waiting for a response.
Converse is leading the way as an example for how inclusion and action is achievable. It has put out a Pride collection every year since 2014.
A portion of the proceeds from its 2019 Pride collection will be donated to OUT MetroWest and the It Gets Better Project, both which help LGBTQ+ youth. Converse has also previously partnered with Miley Cyrus's Happy Hippie Foundation last Pride, which focuses on homeless, LGBTQ+ and other at-risk youth.
In addition to its campaigns, Nike Inc., the parent company of Converse has perfect 100 on the HRCF Corporate Equality Index.
Overall, the public has taken notice of more companies promoting Pride and inclusion, but there are some folks like Twitter users @whereisuki and @peachcovery who are left wanting action in support of the community as well.