CLEVELAND -- Rock 'n' roll has honored its newest members of music royalty.
For those of you who didn't have a ticket to the induction ceremony in New York or to attend the simulcast in the Rock Hall, we've got you covered.
Below you will find a complete time-stamped breakdown of all the things that happened during the 2017 Rock and Roll Hall of Fame induction ceremony back on Friday, April 7 at the Barclays Center in Brooklyn, New York.
HBO will air the induction ceremony at 8 p.m. Saturday, April 29. While the ceremony itself took almost five hours, HBO shortened it to three hours for their televised version.
Need a reminder of who was inducted this year? CLICK HERE for their bios.
Rock on and read on to see a minute-by-minute play-by-play of what went down at this year's induction!
12:06 a.m. That's a wrap! The 2017 Rock and Roll Hall of Fame induction ceremony is now done. It ran nearly five hours long. Next year, the 2018 induction ceremony will return to Cleveland. Good night, everybody!
12:05 a.m. Eddie Vedder of Pearl Jam gives Cleveland a quick shout out as the induction ceremony comes to a close. "Hello, Cleveland!" he shouted as the folks watching live here at the Rock and Roll Hall of Fame cheered in response.
12 a.m. We've reached the midnight hour! The induction ceremony has now been going for four hours and 45 minutes. Tired yet?
11:58 p.m. Many of the night's inductees join together on the stage for one last jam session. They chose to perform Neil Young's 1989 hit Keep On Rockin' In The Free World with Pearl Jam's Eddie Vedder leading the lyrics.
11:47 p.m. 1994's Better Man was next up on Pearl Jam's set list.
11:44 p.m. The second song of Pearl Jam's set is 1998's Given To Fly.
11:39 p.m. Pearl Jam starts performing their first song: 1991's Alive.
11:37 p.m. Pearl Jam wraps up their induction acceptance speeches. They spoke for 24 total minutes.
11:30 p.m. The induction ceremony has now been going for four hours and 15 minutes. Are you still with us?
11:24 p.m. Pearl Jam's members are each taking their moment to accept their induction trophies. Eddie Vedder gets loud applause when he steps up to the microphone. "Climate change is real. That is not fake news. We cannot be the generations that history will look back upon and wonder why they didn't do everything humanly possible to solve this biggest of crises in our time. Anything can be obtainable. The Chicago Cubs winning the World Series (boos here in Cleveland). ... I'm just grateful to be alive."
PHOTOS | Rock and Roll Hall of Fame 2017 induction ceremony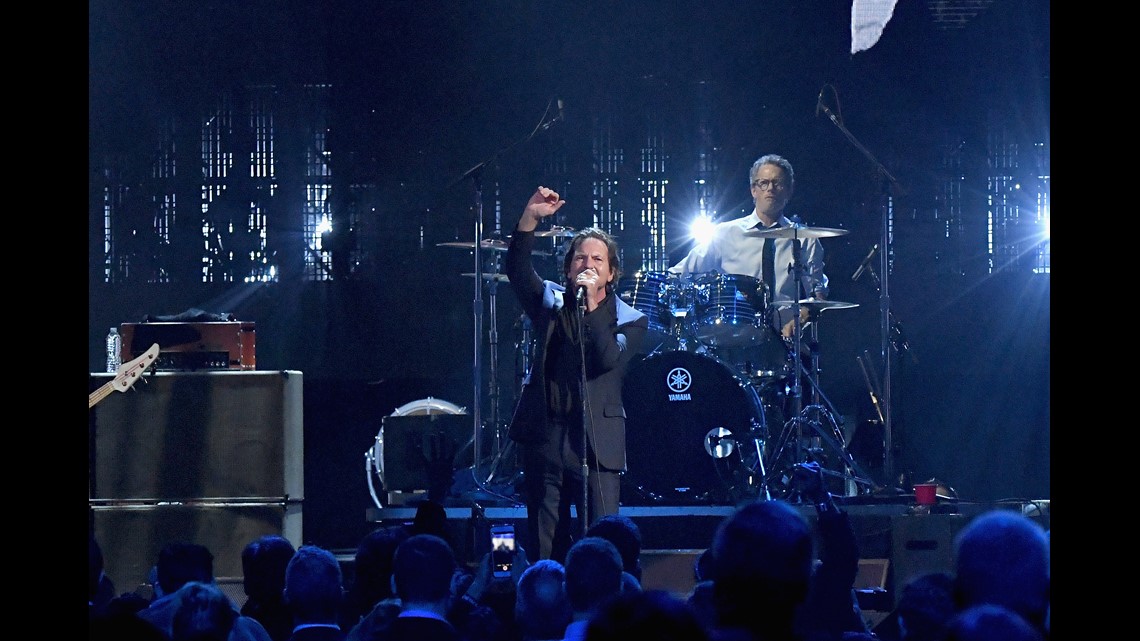 11:13 p.m. After David Letterman's 15-minute introduction of Pearl Jam, the group finally hits the stage to accept their induction.
10:58 p.m. David Letterman -- still with his big beard -- takes the stage to formally induct Pearl Jam. It was supposed to be Neil Young taking the honors of inducting them, but he was sick and did not attend.
10:55 p.m. It's the final inductee of the night: Pearl Jam!
10:48 p.m. Lenny Kravitz is on stage with a special Prince tribute. He begins with 1984's When Doves Cry. Kravitz follows up with a performance of 1987's The Cross.
10:45 p.m. An "In Memoriam" segment is displayed across the screen in remembrance of all the rockers who recently passed away. The crowd gets extra loud when George Michael and Prince are featured.
10:44 p.m. Six inductees down... One to go: Pearl Jam!
10:43 p.m. Nile Rodgers fights back tears during his induction speech. "This award, which is amazing to me, is really because of all the people that have allowed me to come into their lives and just join their band."
10:39 p.m. Nile Rodgers gets on stage to formally accept his induction in the "award for musical excellence" category. "My life has been so amazing," he said.
10:34 p.m. Pharrell Williams takes the stage to formally induct Nile Rodgers.
10:31 p.m. Nile Rodgers is the sixth inductee of the evening.
10:30 p.m. The induction ceremony has now been going for three hours and 15 minutes. There are still two more inductees to honor, including Nile Rodgers and Pearl Jam.
10:29 p.m. Journey is done performing. Steve Perry did not participate. Many fans turned to Twitter to express their disappointment.
10:25 p.m. When Journey starts singing 1981's Don't Stop Believin' -- their final song of the night -- Steve Perry is still absent from the performance stage.
10:20 p.m. Journey's second song of the night is 1978's Lights. Guitarist Neal Schon asked the crowd to shine their cell phones throughout the performance in honor of Steve Perry. Perry is still absent from the performance stage.
10:15 p.m. Journey begins their first song without Steve Perry. Current lead singer Arnel Pineda takes the mic to perform 1983's Separate Ways.
10:13 p.m. Five minutes passed with a dark stage before Journey took their turn to perform. Will Steve Perry going to join his band?
10:08 p.m. "You are the rock and roll hall of fame. You put us here," Steve Perry said of the fans. "Your tireless love and consistent devotion, you never have stopped. ... I love each and every one of you! Thank you so very much!"
Steve's speech, part 1 #RockHall2017 #StevePerry #Journey pic.twitter.com/EXhDlr9wri

— Jasparina (@Jasparina1) April 8, 2017
10:06 p.m. Steve Perry tells current Journey front man Arnel Pineda that he loves him.
10:02 p.m. Steve Perry takes the microphone to accept his induction with Journey. The crowd goes bonkers as he shouts, "Hello, Rock and Roll Hall of Fame! You sure look good to me tonight!"
9:51 p.m. As various members of Journey speak, repeated shouts of "Steve!" bellow out of the crowd. We're still awaiting comments from Steve Perry.
9:45 p.m. Journey -- including Steve Perry -- joined together on stage to accept their induction trophies as Lights played loudly. The crowd here at the Rock Hall simulcast couldn't stop cheering as Perry waved to the crowd.
9:44 p.m. Pat Monahan said it's blowing his mind that he will get to hear Journey's music live tonight.
9:41 p.m. Pat Monahan of Train takes the stage to formally induct Journey into the Rock Hall. He points out that Journey has sold more than 100 million albums worldwide, making them one of the best-selling bands of all time.
9:40 p.m. Will Steve Perry perform with his band? It's the moment everybody is hoping actually happens!
9:37 p.m. Four inductees are done. Three to go. It's now Journey's turn! The crowd instantly erupted when their highlight reel flashed onto the big screen.
9:31 p.m. Snoop Dogg is performing now in Tupac's honor.
9:25 p.m. Alicia Keys is on stage by performing several Tupac songs in his honor. She highlights his hit California Love.
9:24 p.m. Snoop Dogg accepts Tupac's induction on his behalf by exclaiming, "Thug life!"
9:17 p.m. Snoop Dogg is the first person to drop an "F bomb" while describing Tupac as gangster. He labeled him as "the greatest rapper of all time" and a "homeboy." Snoop Dogg also explained that Tupac is actually the person who got him "smoking blunts" while growing up. Snoop then brought the house down with laughter when telling a story about the time he went parasailing with Tupac and Suge Knight.
9:15 p.m. Snoop Dogg is now on stage to formally induct Tupac. This September will mark 21 years since Tupac was murdered.
9:13 p.m. It's Tupac Shakur's turn. He's the fourth inductee of the night.
9:07 p.m. The anticipation is heavy here after conflicting reports on whether or not Steve Perry will be performing with Journey. Our fingers and toes are crossed! Arnel Pineda, the current lead singer of Journey, posted an incredible photo on Instagram that shows him hugging Perry. Maybe this is a good sign?!?!
One the sweetest hug you can ever get from one of my heroes and silent mentors..it means the world to me..waited 35 years for this moment..thank you Almighty God!! #TheVoice #StevePerry #oneofthemostmemorable #maximumblessings Thank you so much Mr Steve Perry for your priceless words and graciousness.. @taratogs @curachalang @yulsession @journeymusicofficial
A post shared by arnel c. pineda (@arnelpineda2007) on
9:05 p.m. Yes starts their second song. This time it's 1983's Owner Of A Lonely Heart. At one point in the song, Rick Wakeman goes out and performs in the crowd.
8:56 p.m. Yes begins their first song of the night with a performance of 1971's Roundabout.
8:53 p.m. Rick Wakeman of Yes crushes the comedy with tons of sexual jokes during his induction acceptance speech. He began by saying his first sexual experience actually happened decades ago just a few miles away from where the ceremony was taking place at the Barclays Center in New York tonight. He admitted it wasn't very good -- especially because he was by himself. Most of his other jokes, including one about visiting the doctor, we can't print here. Sorry.
8:46 p.m. We're now more than 90 minutes into the induction ceremony. As we cover the induction live from the simulcast at the Rock and Roll Hall of Fame in Cleveland, security is keeping a watchful eye over the guests to make sure nobody is photographing or taking videos of the broadcast. HBO has exclusive rights to everything seen on the screens here as their edited version of the ceremony will air April 29 at 8 p.m. We've actually witnessed people getting removed from the building for breaking the no video rule.
8:45 p.m. Yes lead singer Jon Anderson said it was 49 years ago tonight that he met his eventual band mate Chris Squire in a bar. Squire died in June 2015. Anderson added that he had toured the Rock Hall in Cleveland about four years ago, and is so honored to be a part of such an incredible group of musicians.
8:43 p.m. Yes walks to the stage to accept their induction as the crowd climbs to their feet. Their 1971 hit I've Seen All Good People is played.
8:36 p.m. Geddy Lee and Alex Lifeson of Rush take the stage to formally induct Yes. Rush was previously inducted during the 2013 ceremony.
8:33 p.m. Two inductees down... Five to go. Up next is Yes!
8:30 p.m. Joan Baez belts out her third song. The Indigo Girls and Mary Chapin Carpenter join her again for this performance of The Night They Drove Old Dixie Down.
8:24 p.m. Joan Baez invited the Indigo Girls and Mary Chapin Carpenter to join her on stage. They sang Woody Guthrie's Deportee. For those of you keeping track, Guthrie was inducted into the Rock Hall back in 1988 under the "early influence" category.
8:22 p.m. After finishing her acceptance speech, Joan Baez took about two minutes to grab a guitar for an on-stage performance. She began with Swing Low, Sweet Chariot.
8:18 p.m. "We the people must speak truth to power and be ready to make sacrifices," Joan Baez urged the crowd to help make change. "I fought against an evil tide and had the masses by my side."
8:11 p.m. Joan Baez is now on stage to accept her induction. She called it a "prestigious and very cool award." She also thanked the Rock Hall for her "somewhat unlikely induction." She also acknowledged that without her induction into the Rock Hall that many people wouldn't even know who she is. She told a hilarious story about her own granddaughter not knowing who she is. That all changed when she took her backstage at a Taylor Swift concert. The crowd erupted in cheers.
8:04 p.m. Jackson Browne takes the stage to formally induct Joan Baez. He said the first album he ever bought with his own money was her second album. He was 14 years old.
8 p.m. We're 45 minutes in, and only one of seven inductees have been recognized. Next up, Joan Baez. A highlight reel of her career hits the screen. While ELO's induction captured every eyeball here at the Rock and Roll Hall of Fame in Cleveland, this is the first time anybody rose to their feet for a restroom break or quick concession stand visit.
7:57 p.m. "Thank you very much indeed. It's been a long road, I'll tell you that," ELO's Jeff Lynne said while accepting his induction. He went on to tell an endearing story about how hard it was to convince his mother that music was the career choice for him.
7:55 p.m. ELO gets a standing ovation as the band is officially inducted into the Rock and Roll Hall of Fame. The group takes the stage as 1976's Telephone Line blasts through the theater.
7:54 p.m. Dhani Harrison takes a jab at the 2016 presidential election hinting people would probably rather be on ELO's alien spaceship than here on earth.
7:52 p.m. Dhani Harrison has been speaking for 10 minutes now as he continues honoring ELO for the induction. He's killing it with the crowd as laughter bellows out from his constant comparisons to hearing their music to being abducted by aliens.
7:45 p.m. Actor Michael J. Fox is among the stars spotted in the Barclays Center crowd.
7:42 p.m. Dhani Harrison takes the stage to officially induct ELO into the Rock and Roll Hall of Fame. Cue the music reel!
7:37 p.m. ELO plays their second song of the night: Mr. Blue Sky from 1977. Here's their a video to that song.
7:36 p.m. Is your favorite band already inducted in the Rock Hall? CLICK HERE to see the full list.
7:32 p.m. ELO jams to their 1975 hit Evil Woman. Seriously, you can never get that awesome chorus out of your head.
7:28 p.m. Buckle up for a long night, music fans! With seven total inductees, the ceremony will likely stretch well beyond midnight. We're in it for long haul, and we hope you'll stick with us for every magical moment.
7:26 p.m. ELO, one of this year's inductees, hit the stage to blast out Roll Over Beethoven in tribute to Chuck Berry.
7:21 p.m. Chuck Berry, who passed away on March 18, gets huge applause with his name honored in the opening comments. He was inducted during the first ceremony back in 1986. A video reel of his career's highlights flash across the screen with some of his biggest hits echoing in the theater.
7:20 p.m. The crowd at Barclays Center is erupting in cheers -- as is those here in Cleveland watching the simulcast -- as each of the 2017 inductees name's are briefly mentioned.
7:17 p.m. We're offering these updates live from inside the 4th floor of the Rock and Roll Hall of Fame within the Foster Theater.
7:15 p.m. Induction ceremony gets a later-than-scheduled start at the Barclays Center in Brooklyn, New York. It was slated to begin at 7 p.m. Hey, it's rock 'n' roll... Nobody expected this to actually start on time, right?!?!
6:30 p.m. The Rock and Roll Hall of Fame in Cleveland opened its doors to those with tickets to watch the induction simulcast. It's the only other place in the world outside of the Barclays Center to watch the ceremony live and uncut. An edited version will air April 29 at 8 p.m. on HBO.