JACKSONVILLE, Fla. —
*WARNING: The following report contains language some may find offensive.
Tyrese Powe's story should be that of a Jacksonville success. Rags to riches. Local guy makes good.
He made music for just over two years, but in that time he surpassed many of his counterparts producing music videos and songs clocking views and streams that took the city and industry by surprise.
His rapid success even shocked him.
"I ain't ever think this would play out how it is," Powe said last year during an interview on Fucious Tv, a YouTube channel that features interviews with entertainers. "When I used to tell people Imma rap, they would start laughing. So I ain't ever take it serious 'til it was my only option."
Unfortunately for Powe, his fall was much quicker than his meteoric rise.
Powe's manager, Bruce Black, testified at his February 2023 trial saying Kshordy spent his last months of freedom traveling between, Los Angeles, Atlanta, New York, and Miami. The young phenom had proposed record deals ranging from $60,000 to $2 million from labels such as APG, Atlantic, Alamo, Interscope and Slip & Slide, Black testified.
All of that interest dried up after Powe's February 2021 arrest on a firearms charge and a subsequent charge of murder in November 2021 in a separate case.
The recent trend in Jacksonville, and in other cities around the country, are crime investigators and prosecutors using the lyrics of drill rappers against them in court. Lyrics, often denoting what happened on the streets, are being used to convict rappers suspected of crimes.
"I always said if I'm going to be a rapper, Imma always tell about shit that I do, or get into, or what happened around me," Powe said in the Fucious Tv interview.

"There ain't really shit else for me to do"
He never set out to be a rapper. Growing up in the notorious Hilltop Village Apartments on Jacksonville's Northside, Powe said his mother provided for all of his needs.
The interview with Powe has over a million views.
"I had the basic stuff that I needed," he said. "Shoes on my feet, clothes on my back, hot meals every day, and a bed to lay in. That was enough, but when I was growing up, you couldn't tell me that.
"All these kids over here got golds in their mouth ... They're in middle school and they got gold chains on and getting all the girls."
Powe wanted what they had. Nothing was going to stop him from getting it.
"My momma got five kids. She ain't finna' cater to me and give me everything I want so I went and got it on my own," Powe said. "However I had to get it, I got it on my own.
"That's what landed me in jail when I turned 16," he recalled.
A documented member of 6-Block, a Northside Jacksonville gang, Powe's first charge was a big one. Four counts of attempted murder and armed carjacking. Powe was in a fight with someone he said attempted to take his gun away from him.
Powe fired the gun into a crowd striking the person. When he was arrested, he was in a stolen car.
"When I got in the detention center, my momma just cried and cried," Powe said in the Off the Porch interview. "I'm 16. I'm not going to see daylight no more. It's over. I got a blessing though."
Powe caught a big break and was charged as a juvenile escaping a possible life sentence if he were charged as an adult.
He was released when he was 18 years old.
Powe's best friend was Foolio's younger brother, Adrian Gainer, nicknamed Bibby. The two used to talk about becoming rappers. Powe said he initially took the name Herbo after one of his favorite rappers, G Herbo. Gainer took the name Bibby, after G Herbo's partner also called Bibby.
While he was locked up in the juvenile detention center, Powe said he often talked to Gainer on the phone.
Foolio, also a suspected member 6-Block and KTA, was in constant battle with another gang called ATK, led by another prominent Jacksonville rapper from the city's Westside - Yungeen Ace.
Much of this war was playing out in Foolio's and Yungeen Ace's music. It was also playing out on the streets of Jacksonville with many gang-related killings.
Powe said he talked to Gainer about these dangers.
"I called him on the jail phone," Powe said in the Off the Porch interview. "I said 'I see you're out there, I see you with Foolio, but don't get caught up. You know how bad they want him. They'll get anybody just to hurt him.'"
Hakeem Robinson, a close friend of Yungeen Ace and an ATK member who performed under the name Ksoo, regularly posted memes and posts on social media bragging about "smoking Bibby" as well as releasing numerous songs about the 16-year-old's death.
"It hurt me so bad because I know he didn't deserve that," Powe said about the death of his friend. "All he wanted to do was hang. He used to look up to Foolio."
Powe memorialized his friend by tattooing "Bibby" on his neck.
As he finished his 18-month sentence, Powe said he took on the name Kshordy and was determined to be a rap star when he was released.
"I feel like this (music) is my only option. I can't do nothing else," Powe said in the Fucious TV interview. "I can't get a job. There ain't really shit else for me to do."

'I got dragged back into that shit'
When Powe was released from juvenile detention, Jacksonville's drill rap scene was going full tilt and getting attention nationwide as gang beefs played out in viral music and senseless bloodshed on city streets.
"When I came home, I was trying to get a job and chill out," Powe says in the Fucious TV interview.
The first verse of his first song made it pretty clear what his music was going to be about."
"N***as must not be tired of dyin', Well, I don't get tired of shootin.'; If he ain't talkin' bout no homicides, then none of my n***as ain't do it.; Rappin' that n***a want smoke with me?, f**k n***a must be stupid.; I just bought a brand new MAC today, I already can't wait to use it."

Kshordy was an instant hit on the drill rap scene doling out disrespectful lyrics, dissing "opps" and rivals killed in Jacksonville area shootings.
His newfound notoriety made him a favorite topic of hip-hop bloggers and fans, but it put him in the crosshairs, literally, of rival gangs.
Powe said he turned to music as a way out, but it just pulled him in.
"Somehow, someway, I got dragged back into that shit," he said. "Some shit happened to me, I ended up getting shot," Powe told the Fucious TV interview. "Something happened to my girlfriend. It just put me right back in that shit."
A trip to the store can be deadly
On March 19, 2020, a couple of weeks after he turned 19, Powe was on a date with his girlfriend. Inandi Wyche, 17, was a popular cheerleader at Ribault High School.
She was driving her new car and was in the process of dropping Powe off. When they reached the Sherwood Forest community on Jacksonville's Northside, a gray vehicle pulled up in front of Wyche's car. Two males got out and opened fire on the couple.
Jacksonville police were called to the scene for a report of gunfire. They arrived and found Powe injured in the vehicle. He was rushed to the hospital where he was treated and released.
Wyche was pronounced dead at the scene.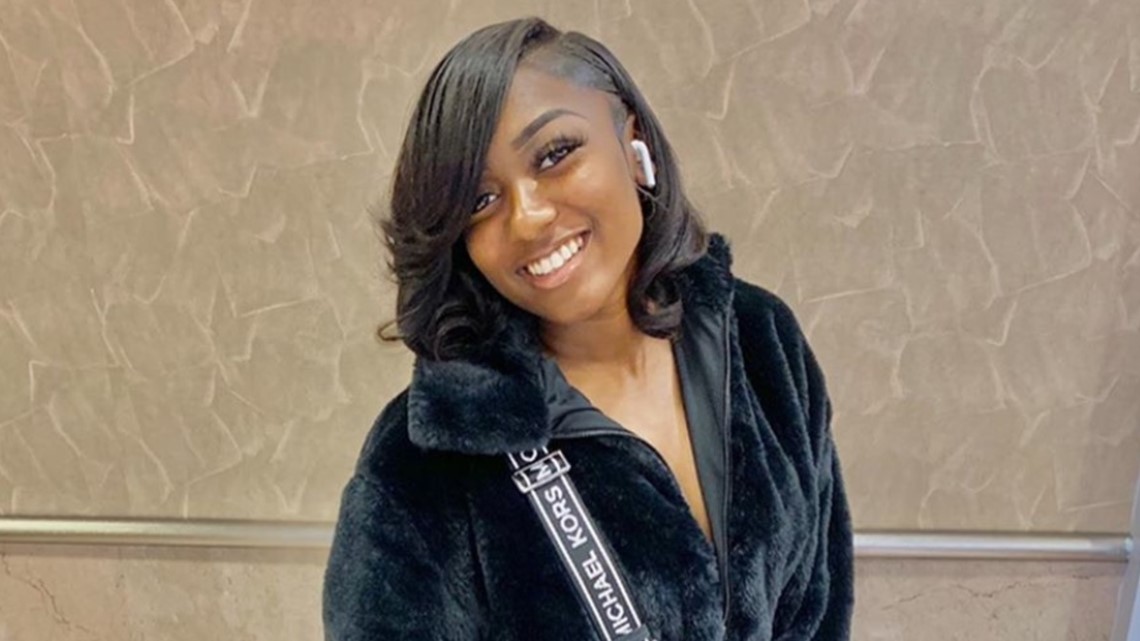 Ten months later, police arrested two people, Roland Ball Jr. and Xavion Porter charging them with the shooting. Ball, who was 21 when he was arrested was charged with second-degree murder and aggravated battery. Porter, 16 at the time of his arrest, was charged with conspiracy to commit murder.
Jacksonville police said the gang-related shooting was in retaliation for another shooting that occurred about a half of a mile away two days before Wyche was killed and Powe was injured.
That's when Daquan Saxton, 20, was shot to death in the 4600 block of Roanoke Boulevard. Porter and Ball believed Powe was responsible and sought revenge, according to reports.

During one of his interviews, Powe described the dangers his newfound success and always having to look over his shoulder.
"I can't even walk to the corner store no more freely," he said. "You can be going to the store for a drink and somebody stop you for a picture, now somebody you don't like pullin' up. In that time frame, you could've been in your car driving home now your ass dead."
Revealing your location on social media can also be deadly, Powe said.
"I be trying to be social, but that can get me fucked up," he said in the Fucious Tv interview. "You can't even really go live nowadays and talk to your fans. N***as might fuck around and see where your background is at."
In August 2020, five months after Wyche's death and the attempt on Powe's life, Jacksonville police were called to a shooting in progress at a convenience store in the 9300 block of Norfolk Boulevard. When they arrived, officers found Powe in a vacant lot nearby with a gunshot wound to his leg.
About 70 yards from him, police found an AR-15 rifle. Investigators found spent shell casing from the firearm nearby. They also found a hoodie sweatshirt with eye holes in the hood which doubles as a mask when worn backwards.
Powe's DNA was found on the rifle and sweatshirt. Investigators said Powe was firing the rifle during the shootout. In February 2021, he was charged with being a gang-related felon in possession of a firearm.
It took a Duval County jury just over an hour to find him guilty of those charges last month. One of the state's key pieces of evidence against Powe was the lyrics of his song "On Yo Ass."
Prosecutors said the song describes precisely what happened.
A portion of the lyrics state:
"I'm shot, I ain't know where to go ... this crazy; Awe shit, how the fuck I drop my blic [slang for gun], I'm losing blood and shit; they still shootin', now I crawl through the bushes,
"I said a prayer for hope ... I'm tellin' God, please I ain't ready to go; I ain't gonna do no more bad; he know I'm lyin'; I said that last time I shot ole boy in the ass; Police sirens come floodin' the block ... look how God works, comin' through saving my ass;
"I gotta stick to the code; I started strippin', had to get rid of that mask, get the fuck away from that pole [slang for gun]."
Powe's sentencing date is scheduled for March 20.
'I'm trying to get out of the shit I'm doing'
While there was no shortage of rivals for Powe to bang on in his music, his biggest nemesis is Noah Williams, another Jacksonville rapper who performs under the name Spinabenz.
Williams is the lead artist in the mega-viral song, "Who I Smoke," which also features his brother, Reginald Williams, aka Whoppa Wit Da Choppa; and Keyanta Bullard, aka Yungeen Ace.
Noah Williams and his cohorts taunt their rivals in the song by calling out the names of several people killed in Jacksonville shootings, including Powe's best friend Bibby.
Powe's most serious charge - murder - followed what happened to Williams on Sept. 28, 2021. He was driving in a car that day with two other rappers, Dasaun Williams, who performs under the name Greenlight and another man named Xavier, who goes by 187 NoFace, or BMG Zay.
Noah Williams went on Instagram posting a live video that gave away his location.

Williams and the two other men were sitting in a Dodge Challenger outside Raceway gas station on Lenox Avenue when a black Range Rover Evoke pulled up and opened fire on them.
Williams and "Greenlight" ran into the gas station, but Noface was left behind.
The Range Rover sped off. Williams and his friend went back to the Dodge Challenger and drove to the emergency room. Noface was shot in the head.
He was pronounced dead at the hospital.
Jacksonville police investigators were on the lookout for the black Range Rover Evoke.
The following day, JSO's gang unit spotted a similar vehicle while surveilling the Woodland Acres community.
Officers pursued the Range Rover which sped off. It crashed into a pole and the occupants exited the vehicle and attempted to run off.
Investigators caught them. They were identified as Powe and his friend Lorano Span, another rapper who goes by the name Lil Kracka.
Police said they found spent shell casings in the Range Rover and Span was wearing clothes that matched the description given the day of the shooting.
Powe was charged with second-degree murder, two counts of attempted murder, and gun possession by a convicted felon. Span was charged with resisting arrest.
A couple of months after the shooting, Williams dropped a new song called "Bad A$$ Day" which includes a likely reference to the shooting and the death of his friend Noface:
"Them sprayed up my whole side, I didn't get hit, I'm still confused, I still hear Face voice in my head, I know he still got some shit to do."

During his Fucious Tv interview, Powe was adamant that he's not a gangster.
"My mamma wouldn't respect me for saying I'm a gangster," he said. "That's not what I was raised to be. It just so happened that this is what I got dragged into."
He was asked what advice he'd give to children who might listen to his music.
"The shit I talk about, that shit true, but don't let that shit influence you to do the same shit," he said as the crew of friends surrounding him during the interview bursts into laughter.
"I'm trying to get out the shit I'm doing," Powe said. "I'm just rapping about the shit 'cause that's what the people want to hear."
Powe is scheduled to be in court for a hearing on March 29 for the murder charge.