When you think of the devastation you see from hurricanes, do you generally think it was caused by wind damage? Cars in trees, roofs ripped off of homes, debris everywhere.
More often than not, that damage was caused by storm surge, actually. The killers of hurricanes like Katrina and Harvey were more the unbridled storm surge than the powerful rains and winds.
But what is it? How does it affect us? And why is every meteorologist warning about it? The National Hurricane Center even has its own Twitter account dedicated to storm surge!
Well....
"Storm surge is an abnormal rise of water generated by a storm over and above the predicted astronomical tides," reads the very interesting NHC explainer. Continuing: "The rise in water level can cause extreme flooding in coastal areas particularly when storm surge coincides with normal high tide."
Think of storm surge as how high the water level of any body of water near you will rise (so long as it's connected to the ocean in some way).
So the St. Johns River may experience storm surge, and so may the coastline of the Jacksonville Beaches. Generally, per the National Weather Service, surge is much worse near the coastline than on rivers.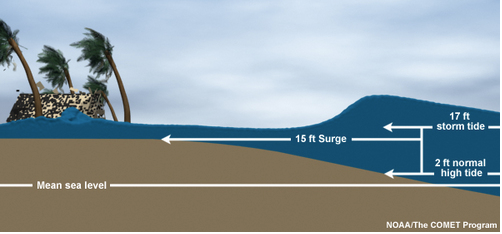 But what's the big deal?
Besides flooding, the water rushes fast. It's not like filling up a bowl of water; this is the ocean we're talking about.
"Adding to the destructive power of surge, battering waves may increase damage to buildings directly along the coast," the National Hurricane Center says. "Water weighs 1,700 pounds per cubic yard."
Which is darn heavy.
And the powerful water - when it leaves - can rip things away. It can pick up cars, erode the sand at beaches and destroy coastal highways (remember U.S. 1 in Flagler County after Hurricane Matthew last year? Think THAT was done by the wind?).
Storm surge can pick up boats and throw them at buildings, it can make stop signs into fast-floating javelins, turn cars into battering rams, and slam you with impossible force against hard objects if you get caught in it.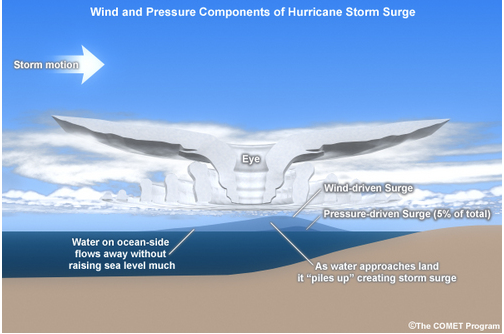 Did you know?
Population density increased along the Gulf Coast by 32 percent, 17 percent in Atlantic coastal counties, and 16 percent in Hawaii from 1999-2008
Most of the U.S.'s Gulf and Atlantic coastlines lie less than 10 feet above sea level
Over HALF the U.S.'s economic productivity is in coastal areas
What can we expect from Irma?
First things first, ALL of Florida, from Tallahassee to Jacksonville, is under a storm surge warning. So is the entire Georgia coast and South Carolina's up to just north of Charleston.
That means we're going to get storm surge, more than likely. A storm surge 'watch' would mean conditions were ripe for surges. A warning means be prepared for it to happen.
Also - when a warning for storm surge is in place, that means the National Weather Service thinks the inundation is life-threatening.
This tells you what areas are affected.
Fernandina Beach all the way south to the Jupiter Inlet is expected to get 3 to 5 feet of storm surge. From Fernandina up to the Santee River in South Carolina, expect surges of 4 to 6 feet.
That will be during the peak - and that's the worst case scenario.
The more you know! Stay safe out there.