ORANGE PARK, Fla. - An Orange Park family with a member who has special needs is in dire need of long term housing after their home flooded following Hurricane Irma.
The Vardas family has a son with special needs and hope to bring attention to other families who may be in their same shoes and in need of help.
"My house is a mess," said Collin Cone who gave First Coast News a tour of the damage in his home after Irma. His mother, Sherri Vardas, said they had approximately 8 inches of water inside. Most of their belongings are at a total loss.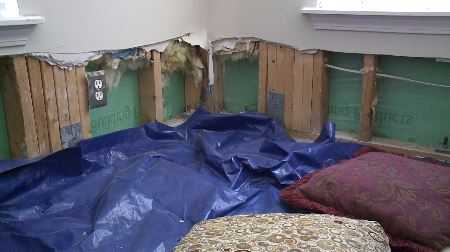 "It's not safe for anybody that has special needs," said Vardas about her son Collin who has Cerebral palsy.
Vardas said they had to start work on the house immediately to salvage whatever they could.
"I've been helping her a lot," Collin said. His mom said he's been a trooper through the whole ordeal.
"You look around and it's not an overnight project it's going to be months," said Sherri about the reconstruction process.
The Clay County Health Department has provided a hotel for one week, but they're in dire need of long term housing where they can also accommodate Collin who requires a special shower and lift to get in and out of bed.
"When she picks me up, it's hard on her and its hard on me," Collin said.
They've been living like this for a week, but while we were there, they got a call from FEMA that someone would come Thursday.
"Were going to get through it, gods going to get us through it, it's been hard," Sherri said.