Jaguars General Manager Dave Caldwell joined Sirius NFL Radio's "Late Hits" with Alex Marvez and Bill Polian on Tuesday.
The interview mostly pertained to depth chart talk, but there were a few interesting nuggets from the chat with the fifth-year decision-maker.
DOWNLOAD THE FREE FIRST COAST FOOTBALL APP FOR MORE JAGUARS COVERAGE
1) The Jaguars need to win now!
"We're kind of in a win-now mode, as we should be," Caldwell said. "And Leonard [Fournette] is a guy that can come in and hopefully make the biggest difference this year."
Caldwell was admitting the obvious, but it was notable that he is publicly acknowledged the reality of the situation on national radio.
2) Jacksonville has a much deep running back group with the addition of Fournette.
"We liked our group to begin with, now we really like it with Leonard," Caldwell said.
Caldwell said Fournette and Chris Ivory would get the majority of the carries. The team wants to see how quickly Fournette transitions to the NFL before giving him a lot of third-down, short-yardage duty.
While Ivory and Fournette will get the bulk of the work, Caldwell was quick to compliment the rest of the running backs on the roster.
"We really like T.J. Yeldon, as far as his pass protection, catching the ball out of the backfield," Caldwell said. "He's one of the best pass-blocking backs that we feel like we have. Then we have the young guy, Corey Grant, who had [122 rushing yards] against Indianapolis in the last game. He's more of an outside zone runner. A guy that can catch the ball out of the backfield. He's got 4.29 speed, also a good special teamer. So as a group, we like it. We feel like we have good depth there now. He feel like we have some difference-makers in Chris Ivory and Leonard Fournette."
3) The Jaguars will play more six-technique this season, according to Caldwell.
The strong-side end will lineup in front of the tight end. He will pass rush and try to re-route the tight end or take on the right tackle and tight end against the run, while setting the edge. It makes sense for Malik Jackson, Calais Campbell and Jonathan Woodard. More importantly, it makes the drafting of Dawuane Smoot even more logical.
Smoot was a strong run defender at Illinois and was constantly in the backfield. He has the ability to set the edge in a wide stance, which will help in stopping running backs from breaking outside. Smoot's ability to power rush will allow him collapse the pocket using outside leverage.
The six-technique will also help in deterring bootleg runs from athletic quarterbacks like Deshaun Watson, Andrew Luck and Marcus Mariota.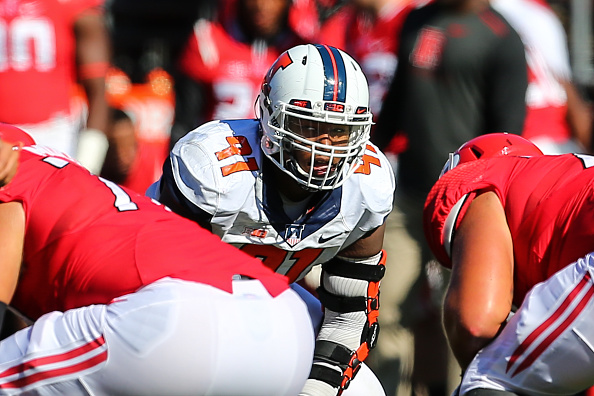 4) Caldwell alluded to Patrick Omameh being the favorite at left guard as of right now.
He said there will be others in the mix like Chris Reed and Jeremiah Poutasi.
Caldwell also made sure to group Yannick Ngakoue and Dante Fowler as the starting weak-side ends. Perhaps that means that they'll rotate starts this year.
The general manager also said Jackson and Campbell can be swapped back-and-forth from three-technique to big end.
5) Speaking to his former boss and Marvez, Caldwell compared working with Jaguars Executive Vice President of Football Operations Tom Coughlin to working with Polian.
That's not a bad comparison to have, as Polian won a Super Bowl as the general manager and team president of the Indianapolis Colts and went to multiple Super Bowls with the Buffalo Bills. He is also a Hall of Fame inductee.
Caldwell said Coughlin has brought accountability, leadership and wisdom to the front office.
Follow Mike Kaye on Twitter at @Mike_E_Kaye.