The Jaguars made big splash free agent signings with defensive end Calais Campbell and cornerback A.J. Bouye.
However, if the team is going to make serious progress this season, some homegrown talent needs to step up.
Superstars are important, but strong role players are essential.
DOWNLOAD THE FREE FIRST COAST FOOTBALL APP FOR MORE JAGUARS COVERAGE
Teams like the New England Patriots, Atlanta Falcons, Denver Broncos and Seattle Seahawks all have strong starters and valuable depth.
This season, the Jaguars need to have some breakout performances from their depth players. The need is not only for this season, but for the long haul.
Developing young talent makes free agency out to be more of a supplemental process, freeing up money for homegrown talent.
The Jaguars have players that they have invested draft picks and time into over the last few seasons.
Now is their time to prove they are worthy investments.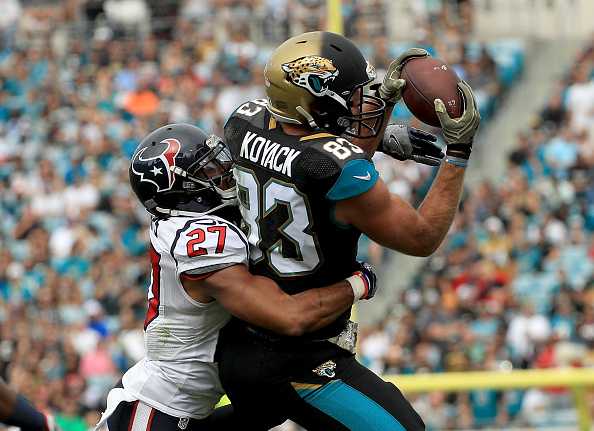 Ben Koyack, Tight End, Second Season
Career Numbers: 14 games (seven starts), 19 receptions for 161 receiving yards and a touchdown
Draft Status: 2015 seventh-round pick
Koyack is a player that seems like he is being groomed for a bigger role. While Marcedes Lewis has served as the blocking inline tight end over the last two seasons, Koyack seems poised for that role in the near future.
Koyack is entering his third season with the Jaguars, but only his second on the active roster. He proved to be a very strong blocker last season and was able to serve as a possession receiver across the middle down the stretch.
He started seven of the final eight games of last season.
He was used sparingly under former offensive coordinator Greg Olson. However, when current offensive coordinator Nathaniel Hackett took over as the interim play-caller, Koyack became a fixture with Lewis and Julius Thomas battling injuries.
With Lewis getting up there in age and the Jaguars having no slam dunk replacement for Thomas following his March trade to the Miami Dolphins, Koyack seems to be in the best position replace either or both in the long-term.
He will likely compete with Neal Sterling and Mychal Rivera for a spot opposite Lewis in 12 personnel (one running back, two tight end) sets this offseason. Koyack is probably the best blocker of the three, which gives the Jaguars some versatility and options with play-calling.
In February, Executive Vice President of Football Operations Tom Coughlin said the following about having a moving tight end:
"Now we all know if your 'move' tight end, if your extra tight end happens to be really 85 percent a receiver, you're going to get the nickel anyway. You're not going to get done what you want to get done. So it helps if that guy can perform in multiple tasks."
Koyack has proven he can block and catch, which would allow for him to take on multiple responsibilities.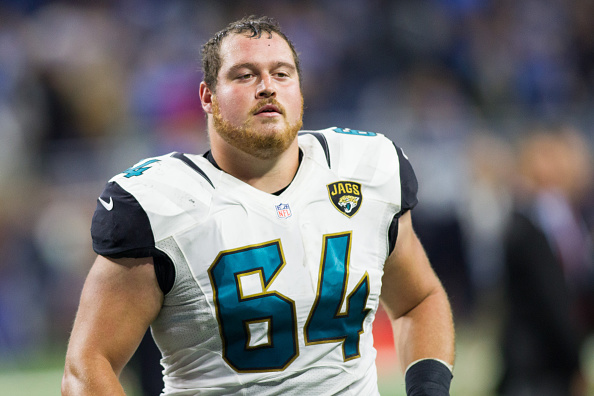 Chris Reed, Guard, Second Season
Career Numbers: 10 games (four starts)
Draft Status: Undrafted free agent signing in 2015
Former third-round pick A.J. Cann may have one guard spot locked up as of right now, but the other job seems to be wide open. The Jaguars have seemingly acknowledged that veteran Patrick Omameh is the front-runner and the team brought in veteran Earl Watford in free agency. However, Reed is a guy that both Head Coach Doug Marrone and General Manager Dave Caldwell have favored in the past.
Reed started four games at left guard last season and seemingly helped improve the running game over the likes of Omameh and the recently departed Luke Joeckel.
Reed was used prominently in the previous offseason and seemed to be a favorite of the staff. That's notable because Marrone was his direct supervisor for the first two years of his career.
Marrone plans to shake up the offensive line to find the best starting five in training camp. With left tackle Branden Albert's status still a mystery and the Jaguars' desire to keep second-round pick Cam Robinson at tackle, Reed's path to a breakout season is easier to define.
Reed, Watford and Omameh will be a triple threat cage match to watch in training camp. If Reed can win, he will be in a position to make a huge leap this season.
Myles Jack, Middle Linebacker, Second Season
Career Numbers: 16 games (10 starts), 24 tackles, 0.5 sacks and two pass breakups
Draft Status: 2016 second-round pick
The talk of the town has been Jack's move to middle linebacker on a full-time basis. Last season, Jack was swimming in several different ponds as a rookie. The youngest player on the roster was cross-trained at all three linebacker positions and never really found his comfort zone, despite making several starts on the strong-side.
This season, the Jaguars plan to make Jack a three-down middle linebacker. He will get significantly more playing time and will be able to play to his strengths in space on nickel downs.
Jack has been considered a draft steal, but now is his time to show what he is really worth.
He studied under veteran Paul Posluszny - who has now been moved to the strong-side - and has an entire offseason to really immerse himself in his new permanent position.
If he is a truly special talent, there should be nothing holding him back this season.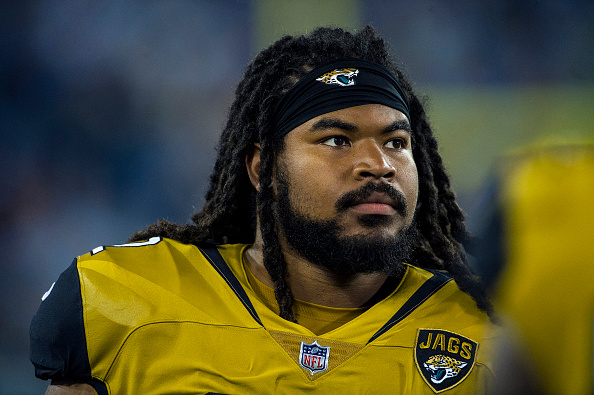 Sheldon Day, Defensive Tackle, Second Season
Career Numbers: 16 games, Eight tackles and one sack
Draft Status: 2016 fourth-round pick
The Jaguars lost the services of Sen'Derrick Marks, Roy Miller, Jared Odrick and Tyson Alualu this offseason. Their only major addition on the interior defensive line was Calais Campbell. They also added some veteran depth with journeyman Stefan Charles.
Doing the math on that, the Jaguars lost four key defensive linemen and only replaced them with two. That should lead to way more playing time for Sheldon Day, who is expected to backup Malik Jackson at the three-technique position.
Day showed flashes as a pass rusher during the early parts of last offseason, but a preseason back injury stunted his growth heading into the regular season.
He was used sparingly as a rookie but now seems to have a clear role moving forward. Depth pass rushers are very important to defensive line rotations and Day seems to be a solid "fastball" to throw at opposing offenses.
Like Jack, Day will have a full offseason to commit to his role on top of his rookie year experience. If he can make the most of his increased opportunities, he could be the next Abry Jones, who broke out last season and was rewarded with a big free agent deal.
Follow Mike Kaye on Twitter at @Mike_E_Kaye.