The Jaguars' roster is finally at its 90-man limit.
After adding seven players in the NFL Draft and another 16 in undrafted free agency, the Jaguars have a legitimate offseason roster.
DOWNLOAD THE FREE FIRST COAST FOOTBALL APP FOR MORE JAGUARS COVERAGE
Let's take a position-by-position look at the group:
Quarterback
Blake Bortles, Chad Henne, Brandon Allen
Kaye's Take: The Jaguars made it clear they are fully behind Bortles on Monday. The team picked up his fifth-year option, but it's only guaranteed for injury. Allen, last year's sixth-round pick, will challenge veteran Chad Henne for the No. 2 gig. Allen winning the competition may make Henne expendable and save the Jaguars some cash.
Running Back
Leonard Fournette, Chris Ivory, T.J. Yeldon, Corey Grant, I'Tavius Mathers, Tim Cook
Kaye's Take: The Jaguars' first-round pick, Fournette, is set to become a legit "bell cow" back. He will be relieved by Ivory for a handful of plays each game. From there, it's kind of a toss up.
Yeldon has been replaced by Fournette just two years after being selected in the second round. His arrow is trending downward and Grant or one of the undrafted free agents could force him off the roster.
Grant won a job on as undrafted rookie two years ago with his kick returner upside. The Jaguars moved him away from that aspect of special teams and eventually used him as a gunner last season. He had a strong performance in Week 17 last year, putting up 122 rushing yards and a touchdown with just 18 carries.
Grant and Yeldon will be challenged by Mathers and Cook during the offseason program. Mathers is the more impressive of the two and could be a dark horse for the 53-man roster. However, housing a fullback may cut into the running back numbers.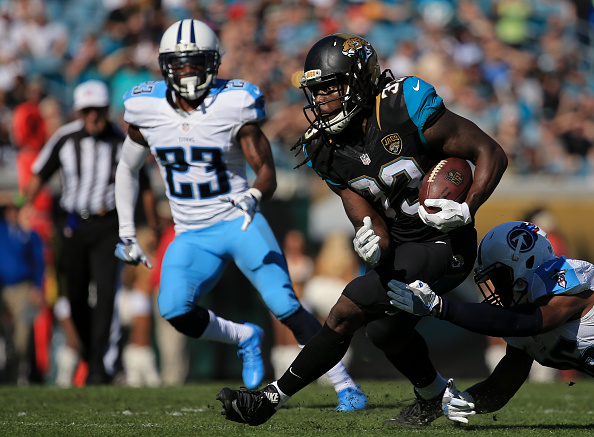 Fullback
Marquez Williams, Tommy Bohanon
Kaye's Take: The Jaguars want to use a true fullback as a lead blocker for Fournette and Ivory. Jacksonville is going old school and Williams, one of the team's two seventh-round picks, fits that mold. He will compete with Bohanon, a former New York Jets lead blocker, for the fullback gig.
Wide Receiver
Allen Robinson, Allen Hurns, Marqise Lee, Bryan Walters, Arrelious Benn, Dede Westbrook, Rashad Greene, Shane Wynn, Amba Etta-Tawo, Keelan Cole, Jamal Robinson, Larry Pinkard, Kenneth Walker
Kaye's Take: Robinson, Hurns and Lee are the top guys and are locked into roster spots. The team brought back Walters and Benn in free agency and they both bring reliable hands and special teams prowess to the fold. While they aren't locks for the roster, they are certainly favorites for the fourth and fifth spots.
Westbrook, the team's fourth-round pick, will compete with Benn, Walters, Greene, Wynn and others for playing time. The Jaguars are likely to keep six wide receivers, so most of the other competitors are playing for jobs elsewhere or on the practice squad. Of the undrafted free agents, Cole may be the diamond in the rough. He put up bonkers numbers at the Division II level.
Tight End
Marcedes Lewis, Ben Koyack, Mychal Rivera, Neal Sterling, Alex Ellis, Caleb Bluiett
Kaye's Take: Lewis is the elder statesman of the bunch. He is as reliable as a blocker as they come.
The receiving tight end in 12 personnel will likely be a battle between Rivera and Sterling. Rivera has plenty of starting experience, while Sterling showed some ability toward the end of last season.
Koyack is likely to backup Lewis, while also battling for playing time with Sterling and Rivera. Ellis played a bit last season but seems to be an underdog heading into the offseason program. The same can be said for Bluiett, who was signed as an undrafted free agent on Monday.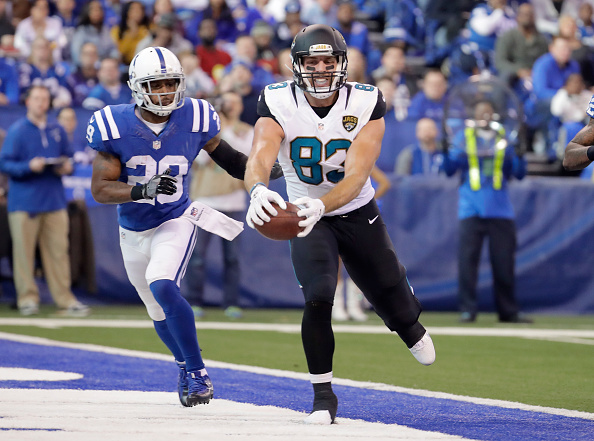 Offensive Tackle
Branden Albert, Jermey Parnell, Cam Robinson, Josh Wells, Jeremiah Poutasi
Kaye's Take: Albert and Parnell are penciled in as the starters at the tackle positions. However, Robinson is set to face off with Albert for the left tackle job this offseason. The loser of that battle could move to right tackle, which would move Parnell to the bench, or move inside to guard. Either way, both Albert (if he ever shows up) and Robinson are likely to start.
Wells was set up to be the swing tackle over the last two seasons, but thumb injuries have constantly interfered. Perhaps, this will be the offseason he wins the gig. He will battle Poutasi - and potentially Parnell - for that honor.
Offensive Guard
A.J. Cann, Patrick Omameh, Chris Reed, Earl Watford, Luke Bowanko, Avery Gennesy, Nila Kasitati
Kaye's Take: This is a packed group but it's not a strong one.
Cann is a favorite to start at one of the guards spots, while Omameh, Reed, Watford and Bowanko (and maybe Robinson or Albert) will compete for the other job. Cann regressed a bit in his second season, but could be poised for a bounce back if he is moved to left guard or plays next to a healthier Parnell.
Gennessy and Kasitati are likely to battle with the losers of the starting jobs for depth positions. Gennesy is a college left tackle, who many thought would be drafted this past weekend. He will be a player to watch this offseason.
Center
Brandon Linder, Tyler Shatley, Patrick Collins
Kaye's Take: Linder is the starting center. He is the lone locked-in spot on the offensive line at this point.
Shatley re-signed as a restricted free agent this offseason. He has been around the team for a few years, but will now compete with Collins. The backup battle should be good, as there are only two contestants.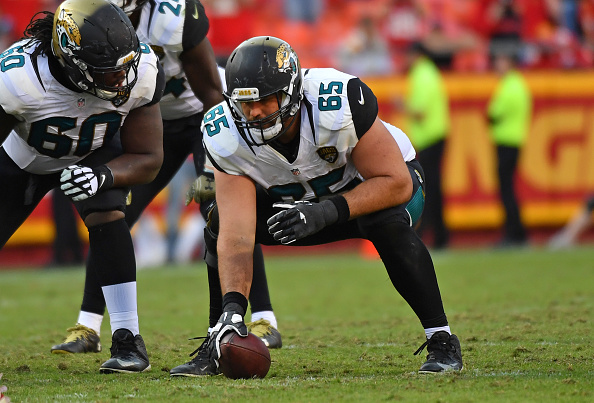 Defensive Tackle
Malik Jackson, Abry Jones, Sheldon Day, Stefan Charles, Louis Nix, Michael Bennett, Tueni Lupeamanu
Kaye's Take: Jones and Jackson will start at defensive tackle this season. They'll most likely be supported by Charles and Day. Those two may be challenged by Bennett and Nix, who both have strong pedigrees. Bennett is coming back from a season-ending calf injury and he will try to bounce back into the lineup as the fifth defensive tackle.
Defensive End
Yannick Ngakoue, Calais Campbell, Dante Fowler, Lerentee McCray, Dawuane Smoot, Jonathan Woodard, Malliciah Goodman, Carroll Phillips, Hunter Dimick, Marcus Rush
Kaye's Take: Ngakoue will start as the Leo and Campbell will start as the strong-side defensive end. After those two, the playing time is wide open. Smoot was a third-round pick this past weekend and Fowler is a former third overall pick. Those four are locks for the roster.
Woodard, Goodman, Phillips, Dimick and Rush will compete for one or two more roster spots. Woodard, Goodman and Rush make more sense for the strong-side, while Phillips and Dimick will likely compete for the third Leo spot. Phillips and Dimick were both very successful in college but went undrafted. Their battle could be a fun low key matchup to watch out for during training camp.
WILL Linebacker
Telvin Smith, Blair Brown, P.J. Davis
Kaye's Take: Smith may be the best defensive player on the team. He will likely be a captain and continue his role as one of the most productive weak-side linebackers in the league. The Jaguars drafted Brown in the fifth round to backup Smith and stand out on special teams. Davis is likely competing for a special teams job.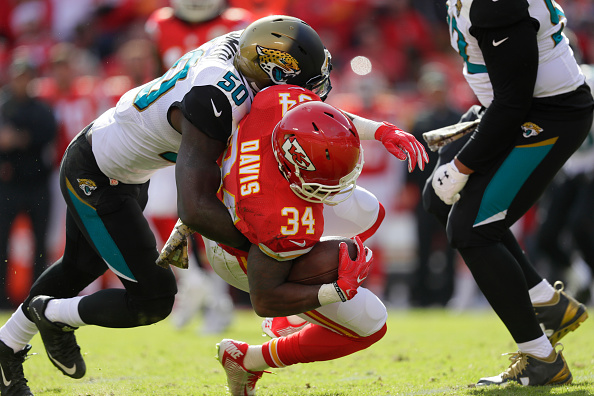 MIKE Linebacker
Myles Jack, Hayes Pullard, Audie Cole, Josh McNary
Kaye's Take: The Jaguars may see all four of these players make the team. Jack, last year's second-round pick, will assume the middle linebacker responsibilities. Jack is rangy and a good tackler, but his strength is coverage. He will be at the center of the defense and be asked to do quite a bit.
Pullard can play all three linebacker positions, while Cole and McNary are true special teams aces. All three will play in the game's third phase. It's likely that the two best special teams players will make the roster and the third will be jettisoned at the end of the preseason.
SAM Linebacker
Paul Posluszny, Justin Horton
Kaye's Take: The Jaguars continue to neglect the SAM linebacker position. Posluszny was basically assigned the position to keep him on the roster. Posluszny has never played the position, despite being in the NFL for 10 years. Hopefully, the Jaguars can teach new tricks to this veteran linebacker.
Horton played college football at nearby Jacksonville University. He has a mix of defensive end and linebacker experience. He has good size for the position. He is a dark horse undrafted free agent, who could steal a job.
Cornerback
Jalen Ramsey, A.J. Bouye, Aaron Colvin, Josh Johnson, Jeremy Cutrer, Akeem Davis, Tracy Howard, Doren Grant, Jalen Myrick, Ezra Robinson.
Kaye's Take: Ramsey and Bouye on the outside with Colvin in the slot forms a terrific trio. However, after those guys, it's all special teams and practice squad fodder.
Jacksonville is likely to keep five to six cornerbacks on the roster this season. With the top three locked in, Johnson is probably the favorite for the backup nickel role behind Colvin. The Jaguars spent a seventh-round pick on Myrick and he should be able to find a role as a gunner and returner on special teams.
The potential sixth spot will likely come down to Cutrer, Davis and Howard. Cutrer was a strong undrafted free agent addition, Howard played quite a bit for the Cleveland Browns last season and Davis is a journeyman defensive back who can also play safety.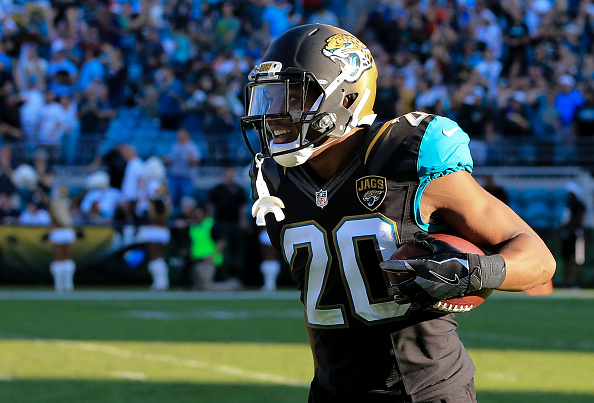 Safety
Barry Church, Tashaun Gipson, James Sample, Peyton Thompson, Jarrod Wilson, Charlie Miller
Kaye's Take: Church and Gipson are surefire starters at strong and free safety, respectively. The depth competition will be between Sample, Thompson, Wilson and Miller. Only two spots are likely to be allocated, unless the fifth safety impresses the coaching staff on special teams.
Thompson led the team in special teams tackles last season. Wilson proved to be a good red zone defender as a rookie. Sample has been held to just four games in his two-year career due to injuries. Miller is a clear Ivy League underdog at this point.
Kicker
Jason Myers
Kaye's Take: As of right now, it doesn't appear that Myers will have much competition. Entering his third NFL season, Myers has proven himself as a distance kicker on field goals and kickoffs. Still, his 82.8 career field goal percentage could stand to improve this offseason.
Punter
Brad Nortman
Kaye's Take: The Jaguars will reportedly bring in Southeast Missouri State punter Alex Knight for a rookie minicamp tryout. Still, while the Jaguars can cut Nortman without penalty, it doesn't make much sense to move on from the veteran just yet.
Long Snapper
Carson Tinker
Kaye's Take: Tinker is consistent and well-liked in the locker room. Still only 27, there's no need to move on from the Alabama alum.
Follow Mike Kaye on Twitter at @Mike_E_Kaye.