JACKSONVILLE, Fla.– Josh Scobee's football career is over. He has already kicked his last field goal.
But his final NFL moment has yet to take place.
The former Jacksonville Jaguars kicker will officially retire on Thursday. After sitting out for the entirety of last season, Scobee has decided to close the book on his playing career.
Scobee will sign a ceremonial one-day contract with the Jaguars to retire as a member of the team that drafted him out of Louisiana Tech in 2004.
"This is where I started," Scobee said.
"I was drafted here in 2004 and this is where I'm retiring. This is where I'm going to live for probably the rest of my life. This is where my family loves to be. The fact that the Jaguars were as accepting as they were to ask me to retire as a Jaguar, I mean it's very humbling."
Scobee served as a key piece of the Jaguars' puzzle for 11 seasons. He only played in a total of four regular season games elsewhere.
He never wanted to leave.
"I was here for so long and my wife [Melissa] and I had so many conversations over the years of just wondering how long I would play and if I would be here the entire time," Scobee said.
"My wife was always the optimist, saying 'you'll never leave here,' so when [the trade to Pittsburgh] did happen we were both shocked. But that's just part of the league and part of the deal. You've got to know this is a business, number one. Friendships, relationships and feelings go out the window whenever money is involved."
Scobee was traded to the Pittsburgh Steelers for a sixth-round pick during the 2015 preseason.
"I never had any ill will toward the Jaguars," Scobee said. "It's a business transaction and that's all there was to it."
Scobee's time in Pittsburgh lasted just over a month. His NFL career didn't last much longer.
Despite being the Jaguars' all-time points leader, Scobee's career failed to take off with the Steelers. He had a short stint with the New Orleans Saints last offseason, but he never played in a regular season game for his third NFL franchise.
"After Pittsburgh, after the bad time I had there and getting released, I just got this overwhelming feeling that I didn't want to play anywhere else but Jacksonville," Scobee said.
"It was hard because I knew that wasn't going to happen again. I just felt like when I was mentally done, that was it. In fact, there wasn't a single time last year, while watching a game, that I wished it was me out there playing. From that standpoint, I knew I was done."
Scobee scored 1,022 points in Jacksonville. He appeared in 168 games for the Jaguars.
His legacy remains intact in Duval County.
The 34-year-old is at peace with his NFL career.
"It's exciting," Scobee said of retirement. "I played 12 years, that's a long time, and now it's time to do something else."
DOWNLOAD THE FREE FIRST COAST FOOTBALL APP FOR MORE JAGUARS COVERAGE
MORE THAN A KICKER
Being an NFL kicker typically allows you to slip under-the-radar. If you do your job consistently well, the need to acknowledge your presence becomes superficial.You're a specialist. Some members of the team don't even consider you to be a true football player.
Scobee was never that guy in Jacksonville.
In fact, in the locker room and in the cheap seats of EverBank Field, Scobee was often viewed as a franchise player and a leader during his time with the Jaguars.
His teammates admired him and Jaguars fans accepted him.
"Josh had a lot of presence," former Jaguars defensive end Jeremy Mincey said. "He had a big personality, a big leg and he was humble. He is a very approachable guy."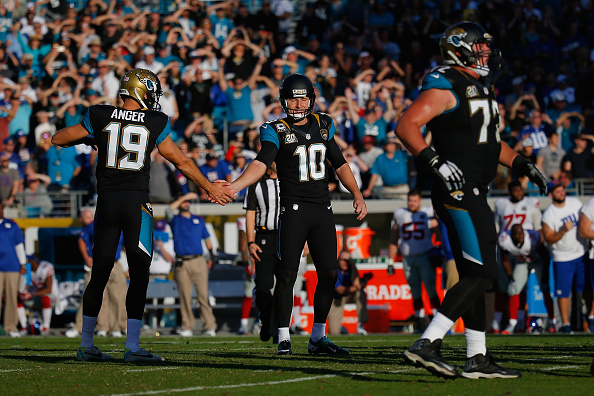 Scobee gained the respect of his peers with his accuracy and longevity at the NFL level. He was more than just a kicker and a special teams captain. He was a face (or foot) of the franchise.
"Josh is almost second to none with all of the kickers I played with in the league," former Jaguars linebacker Kyle Bosworth said during a phone interview. "I played for five different teams in five years and he was just so good. You almost felt like if you didn't keep his ball in the 20 [yard line] or below, you did a disservice to him. He's the highest-scoring placekicker in Jaguars history and he was just unbelievable."
Scobee was able to move past the stigmas that typically come with being a specialist. Unlike most at his position, he was able to see his jerseys in the stands on Sundays.
"This is all in good fun, but you don't normally look at kickers like that," former Jaguars defensive end Jason Babin said in a conversation with First Coast News. "Believe me when I say this: Josh and I are good buddies. We go on vacations together, hang out, we just saw each other last weekend. But I honestly didn't realize what he meant - to not only just the team but to the city - until after football really."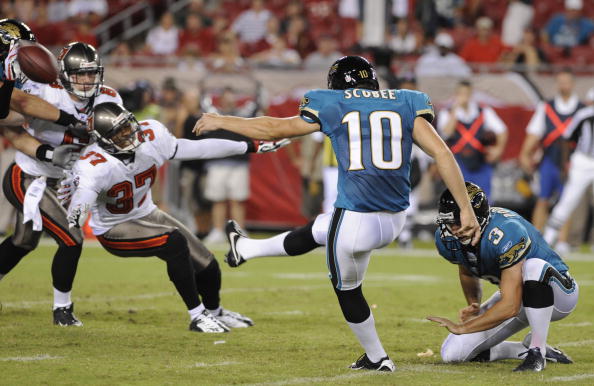 Scobee's teammates knew they could trust him on the field. When the team was in a close game with the clock winding down, the offense knew it only needed to get into Scobee's field goal range and he would handle the rest.
"He always came in clutch in those moments where he needed to be there to win the game," Bosworth said. "We've seen many of those moments where he's been able to do that. His leadership was definitely felt on the field as well as off the field."
One of Scobee's shining moments came during an AFC Wild Card playoff game against the Steelers in 2008. With 37 seconds left on the clock, he nailed a 25-yard field goal to put the Jaguars up, 31-29. The win was the franchise's last playoff victory.
"The Pittsburgh game," Mincey said. "I'll never forget that game. That was big."
Scobee's former teammates attribute his clutch kicking ability to his well-documented work ethic.
"The funny thing about it is Josh works so hard," Mincey said. "He was so good in practice, we used to - if Scobee hit a field goal, we'd get to skip practice sometimes. Moments like that made Josh special and he came through in the clutch. He did it in the game too."
THE LEADER
Scobee set the tone for Jaguars' specialists during his tenure.He wasn't just a standout kicker. He was also a leader and a teacher.
During his career in Jacksonville, he saw a handful of specialists come and go. He was always there to help the new teammates get adjusted.
"Scobee had a huge impact on me in transitioning to the NFL," current Jaguars long snapper Carson Tinker said.
"It's a totally different ball game than college and even though we played different positions he had a huge influence on me in terms of what it takes to be a pro. Even in college, before I thought I had any chance at playing pro ball, I had a lot of respect for Scobee and really looked up to him as a specialist. I was really blessed to have the opportunity to play with him for a couple years."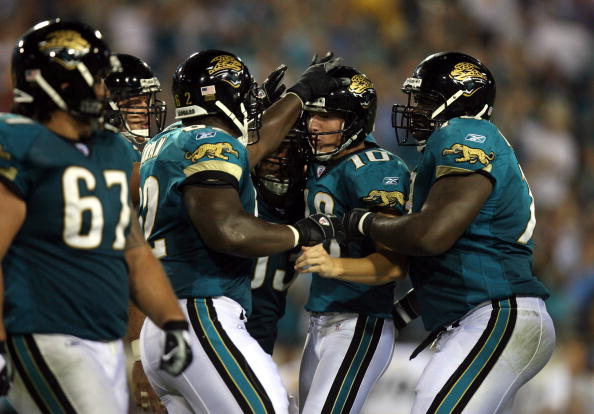 Scobee wasn't a coach on the field, but he understood how to prepare. Whether it was in the offseason or in the week-to-week grind of September or October, Scobee offered a blue print for other specialists to be successful.
Younger players followed his lead and benefited from it.
"Unlike other positions, when a rookie punter joins an NFL team, you only have one person who you can truly shadow and learn from, the kicker," former Jaguars punter Adam Podlesh said. "I am blessed that in my rookie year, this person was Josh. My experiences working and learning from him early on in my career were invaluable and helped mold me into the pro I became."
Even when he was nearing the end of his career and was destined to be traded, Scobee helped those around him. He even mentored his eventual replacement.
"Scobee has been a true pro since I first met him," current Jaguars kicker Jason Myers said. "We were battling, but he never held back any information that would help. Even to this day we have a great relationship. He had a great career that many kickers would take."
THE LEGACY
Two offseasons removed from his Jaguars departure, Scobee will return to the organization where he made so many memories.
Even after being traded, Scobee never left the First Coast. His family remained in Jacksonville, despite his short stops with the Steelers and the Saints.
He is a Jaguar and he has been since moving to the area more than a decade ago.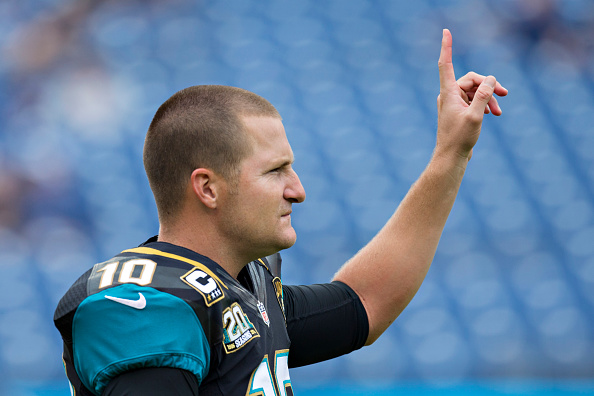 The Jaguars fan base has always been fond of Scobee.
"I want to be remembered as someone who treated people the right way, because that's how I was taught," Scobee said. "Always treat people the way you want to be treated or better than someone would treat you. I think that was or is my appeal to fans. I treat them like normal people because I'm a normal person, just like they are. I always love interacting with fans on Twitter and Facebook and doing autograph signings."
Scobee and his wife are still active in the community and their philanthropic efforts have made an impact.
"My wife and I, years ago, got involved with Wolfson Children's Hospital," Scobee said.
"They have something called the 'Wolfy Wagon' and it's a cart with candy, chips, drinks, balloons, shirts and all kinds of stuff on it. That normally goes around a couple of days a week and the parents can buy them whatever they want off the cart. We would pay for the whole cart and just give out [the treats] to the kids and families for free. That was before we had children and now that I have kids I see how much of an appreciation those parents had for what we were doing. We were doing it as a selfless act but we were gaining so much from it that we didn't even know about."
Scobee is among the elite names in Jaguars history. Along with Jimmy Smith, Keenan McCardell, Tony Boselli, Fred Taylor, Maurice Jones-Drew and Rashean Mathis, Scobee's name holds a certain weight with the franchise.
That's why he is being offered a chance to close out this chapter of his life in grand fashion.
"I am and I'm sure every other guy that never really had that true experience like that is envious," Babin said. "Because when you think about Jacksonville football, he's one of the names that comes into your head. Fred Taylor – there's some other guys too – but [he's] just synonymous with Jacksonville football. It's a really special thing to have that."
Scobee will be joined by his family, former teammates and the Jaguars staff as he closes the door on his playing career at EverBank Field. It'll be a special moment for him and all of those who rooted for him for so many years.
"Someone asked me a while back about what I'll remember the most about my playing time here," Scobee said.
"It's how the fans treated me and just the outpouring of love that I was always shown. I think having that responsibility as a kicker, it doesn't happen that often for most teams, but I embraced it."
Follow Mike Kaye on Twitter at @Mike_E_Kaye.