Jaguars General Manager Dave Caldwell doesn't plan to settle on talent this offseason.
He has assembled a 90-man offseason roster, but he won't rest until he has found the essential grouping of players.
DOWNLOAD THE FREE FIRST COAST FOOTBALL APP FOR MORE JAGUARS COVERAGE
"I don't think we will ever be satisfied with the roster," Caldwell said at his post-draft press conference on Saturday.
"I think we will always look to improve it."
Caldwell has already stayed to true to his word.
Former Buffalo Bills safety Aaron Williams visited with the Jaguars on Thursday, as first reported by NFL Network's Ian Rapoport.
Former Cleveland Browns tight end Gary Barnidge may follow suit, according to NFL Media's Mike Garafolo.
The Jaguars failed to address the tight end and safety positions in the draft, so bringing in proven veterans could curb any concerns regarding the team's defensive depth.
Williams thrived under Head Coach Doug Marrone from 2013-14, but has only played in 10 games over the last two years because of neck injuries. Those ailments are the only reason he is still available in free agency.
However, Rapoport claims Williams is back to full health.
Barnidge was a Pro Bowl selection just two years ago. He was cut because the Browns spent a first-round pick on Miami tight end David Njoku.
Barnidge has local ties, as he played for Middleburg High School.
Both Williams and Barnidge would offer upgraded depth or starting competition.
"We will see where we can upgrade the team, and where we can upgrade the team we will make it happen," Caldwell said.
Apparently, the general manager is doing just that.
Dimick talks school records, draft experience
New Jaguars defensive end Hunter Dimick was a pass rushing force at Utah during his college days.
Dimick, 23, holds the school record for sacks (29.5) and is listed as third all-time in tackles for loss (44). The 6-foot-3, 272-pound pass rusher said setting records was a big goal of his early on his college career.
"A great deal, a very great deal," Dimick said. "Becoming the program's all-time sack leader was a goal I had right when they offered me and right when I got onto campus. So to be able to accomplish that was cool, with the history of defensive linemen [at Utah], it was very special to me.
Despite his production, Dimick wasn't invited to the NFL Combine in Indianapolis. The snub was surprising considering his work in a power conference.
"Yeah, I was a little surprised, I guess that's the word I'd use," Dimick said. "I thought with the production I had and where I stood within the [Pac-12] conference and all-time school standings, that I would get there, but it ended up not being that."
Dimick wasn't just overlooked for the combine. He was also passed over in the NFL Draft.
"I thought I'd get picked up sooner or later," Dimick said. "I didn't really have a round I was expecting. I don't know anybody that says 'I don't think I'm going to get drafted.' Everybody stays pretty hopeful, but that's the situation that ended up happening and we go from here."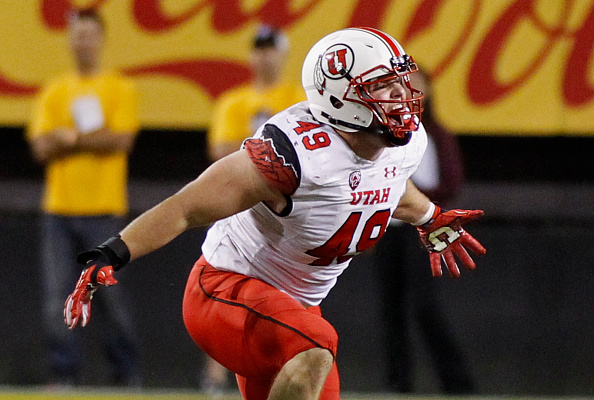 While he went undrafted, Dimick ended up receiving a handful of calls when it came time to sign in post-draft free agency.
He was approached by the New Orleans Saints, Miami Dolphins and Tampa Bay Buccaneers, who were interested in adding him to their rosters.
However, he chose the Jaguars as his first NFL home.
"After conferring with my agent, it just seemed like that was the best opportunity and the best fit for me," Dimick said. "So that's where I ended up pulling the trigger to."
Dimick, a four-year college starter, is looking forward to learning from his news teammates. Calais Campbell and Malik Jackson have both been to Super Bowls and they know what it takes to make it in the NFL.
"That's priceless experience," Dimick said. "Being around a group of guys like that. That experience, you can't buy that opportunity. I see that as you can't put a value on that. The knowledge that gets passed down and I'm excited to be able to learn from a group of guys with so much experience and talent."
More News and Notes
- The Jaguars handed out some jersey numbers to their draft picks on Thursday:
Running back Leonard Fournette was assigned number #27 last week.
Left tackle Cam Robinson will wear #75.
Defensive End Dawuane Smoot will wear #94.
Wide receiver Dede Westbrook will wear #12.
Linebacker Blair Brown will wear #53.
Cornerback Jalen Myrick will wear #31.
Fullback Marquez Williams will wear #37.
The undrafted rookies also received their numbers, which you can check out here.
- Jaguars second-year defensive tackle Sheldon Day is staying active during the offseason program.
He is slated to participate in the HEAL (Healing Every Autistic Life) Foundation's Walk for Autism at the Jacksonville Zoo and Gardens on Sunday.
The event begins at 8:30 a.m. and all proceeds will be distributed through grants to local autism programs and education in Northeast Florida.
Follow Mike Kaye on Twitter at @Mike_E_Kaye.