JACKSONVILLE, Fla. - The Jaguars' annual "new toys" showcase offered something different from the last two years.
While in previous offseasons it appeared the Jaguars were spending tons of cash to build over time, Friday's press conference had a "the time is now" vibe.
Cornerback A.J. Bouye, defensive end Calais Campbell, safety Barry Church and linebacker Lerentee McCray were added in the early hours of free agency on Thursday. They all have played in multiple playoff games.
DOWNLOAD THE FIRST COAST FOOTBALL APP FOR MORE JAGUARS NEWS, NOTES AND ANALYSIS.
The quartet of veteran free agent additions, plus newly traded for left tackle Branden Albert and general manager Dave Caldwell, discussed the potential for the franchise moving forward. While that is typical of most introductory press conferences, the talent in question knows what it's like to win.
"We're just trying to fill holes through free agency and when we're able to fill holes with players like Calais and A.J. and Barry and Branden, that's great," Caldwell said. "Every team has needs and you go into an offseason trying to fill 6-8 of your Top 10 needs and we feel like we filled some of those needs over the last couple of days."
Campbell had spent his entire career to this point in Arizona. While with the Cardinals, the big defensive lineman went to a Super Bowl and took a handful of trips to the playoffs. It was tough for him to leave the desert, but he is excited to return to his college state (he played for the Miami Hurricanes) and join a Jaguars franchise that is eager to turn itself around.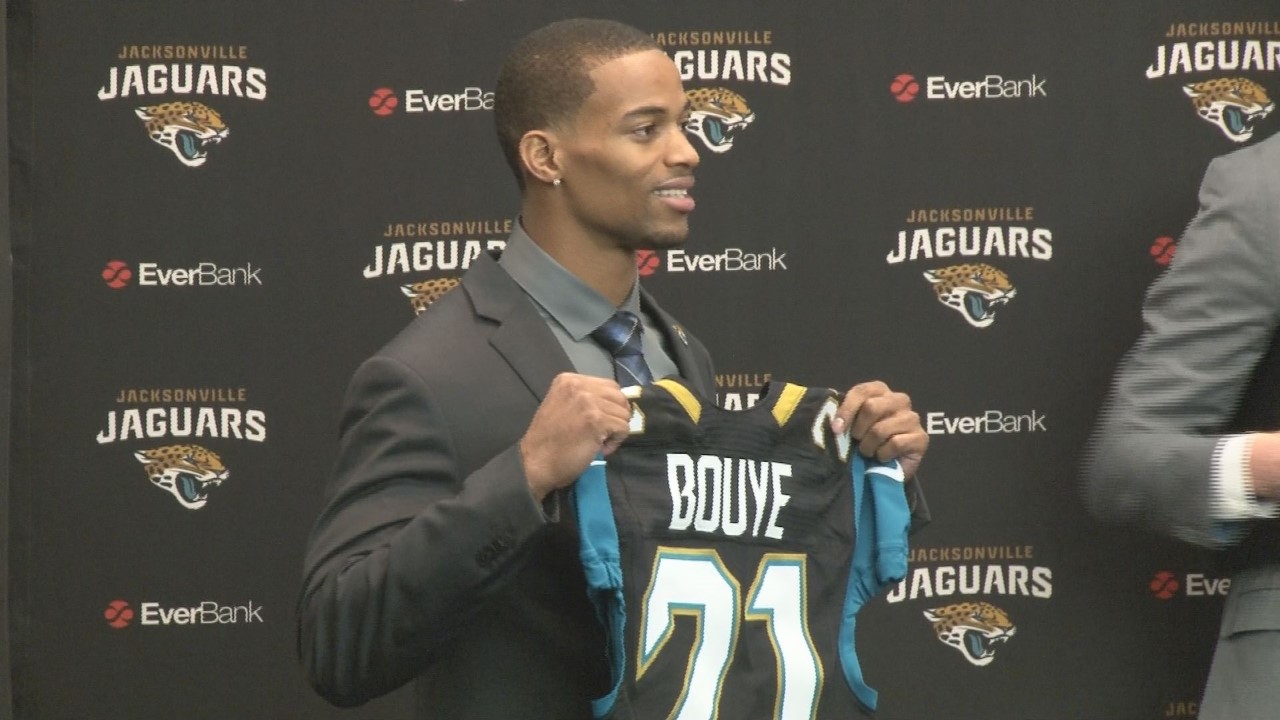 "I went through a process to find the best place to call home," Campbell said. "I saw this team [and] realized it's going in the right direction. [Executive Vice President of Football Operations] Tom Coughlin and Coach Marrone, they've done good things to build a good culture. I've been a fan of Tom Coughlin since I've been in the NFL, having competed against his teams. I really like the way his mindset is and the way he prepares his guys, so I wanted to be part of that."
Bouye knows what he is getting himself into in Jacksonville. The University of Central Florida grad played with quarterback Blake Bortles in college and has spent the last four seasons playing the Jaguars two times per year.
After working his way up the Houston Texans' depth chart, he is now looking to beat them in their bi-annual matchups.
"I'm in it to win, I think we all are," Bouye said. "We're all friends off the field but there's no friends on the field, they'll tell you that. Like we'll shake hands [after the game], but it's war. That's how we all look at it."
Church is coming off a special season with the Dallas Cowboys. With a rookie quarterback at the helm, Church's former team went 13-3 and won the NFC East.
"Colossus" Calais Campbell on how he will be used with the #Jaguars pic.twitter.com/VkttgEWxAa

— Mike Kaye (@mike_e_kaye) March 10, 2017
He hopes the Jaguars can find a similar groove and make a run for the AFC South crown. Church said the team's youth doesn't matter when it comes to winning or losing football games.
"[Youth] is definitely not an excuse," Church said. "You can come in here and have all the accolades in the world, but if you don't put [in] the work on the field, it's not going to mean anything. That's the type of mentality I hope to bring to this team. To be successful in life, you have to put the work in. Nothing is going to be just handed to you so hopefully I can bring that same mentality here."
Coughlin has put a heavy emphasis on special teams within the organization. McCray's inclusion with the Jaguars' initial free agency haul reaffirms the team's commitment to the game's third phase.
"The biggest thing for me was just finding a team that believes in me," McCray said. "It wasn't staying close to home, that didn't matter at all. I just wanted to go to a team that believes in me and a team that was ready to win and that's what we're ready to do here in Jacksonville."
Follow Mike Kaye on Twitter at @Mike_E_Kaye.