The Jaguars added seven players in the NFL Draft this past weekend.
The team will officially add even more via undrafted free agency later this week.
With some of the rookies already in place and others set to join the squad, fans are curious about their roles moving forward.
Luckily, First Coast News has the Jaguars Mailbag to answer some lingering roster questions. This week, we focus on the quarterback position, potential post-draft free agent additions and more.
DOWNLOAD THE FREE FIRST COAST FOOTBALL APP FOR MORE JAGUARS COVERAGE
@Draft_HQ asks: General Manager Dave Caldwell said seventh-round cornerback Jalen Myrick could transfer to free safety. How long would that take? And would he start over Tashaun Gipson if it happens this season?
Mike Kaye: Here is the quote this question is in reference to:
"This is a guy who is versatile," Caldwell said. "He can play nickel corner, maybe grow into a free safety. He can play outside in the game in a pinch, be on coverage units on special teams, be a gunner, be a vice, but also has return skills as punter returner and kick returner."
First off, I was surprised when Myrick fell past the fourth round. I thought with his speed (4.28 40-yard dash) and performance at the East-West Shrine Game that he was likely to go in the third or fourth-round range.
At 5-foot-10 and 200 pounds, Myrick has a free safety build. The Jaguars would probably like for him to get adapted to the physicality of the NFL game before rushing him into a move to safety. He could clearly be a center field guy, but the Jaguars want interchangeable safeties that can also play in the box when needed. I'm not sure he is ready for that this year.
Myrick is of similar build to Peyton Thompson, who was moved from cornerback to free safety last offseason. He took to the position well and served as a backup at that position and the nickel spot. He also offered a special teams impact with a team-leading nine tackles in the third phase.
I think Myrick could eventually handle a similar role. I think as a rookie, he will play mostly on special teams as a gunner and punt returner. Eventually, they could move him over to free safety.
I don't think he impacts Gipson in the slightest as a rookie.
RTC asks: Why do the Jaguars keep ignoring the quarterback problem?
MK: It's unclear if the lack of a quarterback addition was intentional or not.
Sometimes the board doesn't fall the way you want it to. With quarterbacks, you typically want to fall in love with a passer if you're going to invest in him. That's a position that either plays quickly or takes up a roster spot for years without production. You have to feel strongly about the guy.
That said, it was surprising to see Bartram Trail alum Nate Peterman fall like he did on Sunday after the Jaguars showed plenty of interest in him before the selection process. Senior Bowl quarterbacks like Davis Webb and Joshua Dobbs were both available in the third and fourth rounds, respectively.
The Jaguars may not feel like they have a quarterback problem. However, Executive Vice President of Football Operations Tom Coughlin said this on Thursday night:
"[Quarterback] certainly was well discussed throughout the course of our preparations. For us, we had other thoughts."
"Other thoughts" is an interesting note in that quote. We will know those "thoughts" when the deadline comes to pick up quarterback Blake Bortles' fifth-year option in just a matter of days.
Perhaps, there's a surprise veteran quarterback they want to bring into the fold now that the draft is completed.
@IrishJaguar asks: Do you think they have any interest in Gary Barnidge?
MK: The veteran tight end, who played at Middleburg High School, was released by the Cleveland Browns last week.
Barnidge is a bit of a one-year wonder, who made the Pro Bowl in 2015, after producing 79 receptions for 1,043 receiving yards and nine touchdowns for the Browns. His numbers dropped off a bit last season, but were still pretty respectable (55 catches for 612 receiving yards and two touchdowns).
Barnidge was cut after the Browns drafted Miami tight end David Njoku in the first round on Thursday. He wasn't cut for a lack of talent or production. He was likely cut because he is 31 years old.
Barnidge would be a nice featured tight end in Jacksonville. He can block, run routes and has dependable hands. I think he is a veteran the Jaguars should look into.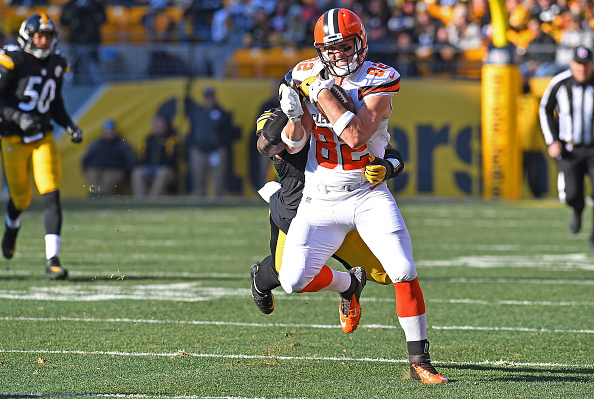 Captain Howdy asks: If Branden Albert comes back and wins the left tackle position, where does that leave Cam Robinson?
MK: The Jaguars seemingly want to keep Robinson at tackle. I asked Caldwell about Robinson's fit at guard and he stood by his initial proclamation that the rookie will play tackle.
Perhaps, he plays well enough to be the right tackle and Jermey Parnell becomes the swing guy. He could potentially play left guard but the Jaguars seem firm in their stance about him playing as a bookend.
For what it's worth, I don't think there is a favorite for the left tackle job and the two will legitimately compete. If I'm the Jaguars, I want Robinson to win that battle handedly. Albert could then play guard or take a walk.
Eric C. asks: Why does this team continue to ignore the left guard and tight end positions?
MK: We touched on both positions above but I think the answer to this question is that they like their young talent.
Chris Reed is highly regarded by some within the organization as a guard. Ben Koyack and Neal Sterling impressed internally at tight end last season. The Jaguars also added veteran guard Earl Watford and tight end Mychal Rivera in free agency.
They may have targeted some rookies in the draft, but the board just didn't play out their way.
Follow Mike Kaye on Twitter and ask him your mailbag questions at @Mike_E_Kaye.