While the big name players in free agency have everyone talking, the under-the-radar gems could make the biggest difference come September.
The Jaguars have plenty of holes to fill and they are already starting to re-sign some of their own depth talent. With small deals here and there, the Jaguars are clearly thinking about their roster as a whole, instead of just focusing on the starting spots.
With an eye on the entire roster, it's important to mix value with fit in free agency. Jason Pierre Paul, Eric Berry and Kevin Zeitler will all get huge deals, but the trio isn't likely to play together next season.
It's important to have backup plans for big additions. It's also vital to sign depth players that can compete to make the roster better.
Here are eight players that could make a difference for the Jaguars without their names being on the marquee of free agency:
Jonathan Meeks
Position: Safety
Age: 27
Ht/Wt: 6-0, 209 lbs.
The Jaguars hired Joe DeCamillis to be the team's new special teams coordinator last month. DeCamillis is known for seeking special teams aces and Meeks has certainly fit that "bill" for the Buffalo Bills. He led the team with 13 special teams tackles last season and could be a nice partner for Arrelious Benn and potentially Peyton Thompson (a restricted free agent) on punt and kick coverage.
GET THE FREE FIRST COAST FOOTBALL APP FOR MORE JAGUARS ANALYSIS, NEWS AND MORE
Chase Reynolds
Position: Running Back
Age: 29
Ht/Wt: 6-0, 205 lbs.
Ignore Reynolds' position, as his work would be done almost exclusively on special teams. Reynolds has made his name on special teams for the Los Angeles Rams and he is one of the best in the league at what he does. DeCamillis - as stated above - is always looking for consistent assets on special teams. Reynolds can attack returns from several different positions and thrived as a special teams linebacker while with Los Angeles.
A.J. Klein
Position: Outside Linebacker
Age: 25
Ht/Wt: 6-1, 240 lbs.
Klein is the youngest player on this list. He would be a very intriguing fit at Otto linebacker if the Jaguars decided to move Myles Jack inside to middle linebacker. Klein fits the makings of the Otto position as he is a good blitzer and plays the run fairly well. He has served as a two-down linebacker throughout his career, so the position would play to his strengths while also keeping his playing time relatively similar.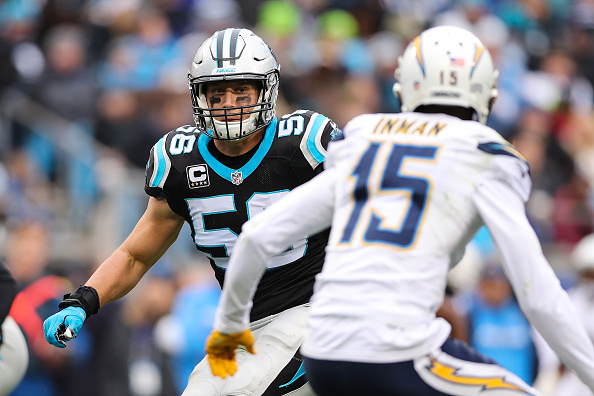 Ryan Griffin
Position: Tight End
Age: 27
Ht/Wt: 6-6, 265 lbs.
With Julius Thomas being shipped out of town, the Jaguars could be looking for a proven receiving threat. The draft class is stocked with tight end talent, but the Jaguars may look to hedge their bets from an experience angle. Griffin has had an under-the-radar career in Houston, quietly collecting 99 catches for 1,028 receiving yards and six touchdowns over the last four seasons. He is due for a bigger role, but isn't likely to get a massive deal on the open market.
Devin Taylor
Position: Defensive End
Age: 27
Ht/Wt: 6-7, 276 lbs.
If the Jaguars miss out on Pierre-Paul or Melvin Ingram, they could just decide to add a rotational piece to the pass rush. Taylor has never been a consistent starter, but his ability to get to the quarterback has been noticeable. He had 10 quarterback hits last season and has collected 11.5 sacks over the last two years. In fact, he excelled more as a rotational end in 2015, producing a career high seven sacks off the bench.
Ted Larsen
Position: Guard
Age: 29
Ht/Wt: 6-2, 305 lbs.
Even after bringing back Josh Wells and Tyler Shatley (and potentially trading for Branden Albert), the Jaguars still have plenty of work to do on the offensive line. Larsen is a veteran who was pursued by the San Francisco 49ers last offseason. Current Jaguars offensive line coach Pat Flaherty served in the same role with the 49ers during that time. Larsen has the ability to start at either guard spot and can also be used as a backup center. Larsen played well in eight starts with the Chicago Bears last season.
James Develin
Position: Fullback
Age: 28
Ht/Wt: 6-3. 255 lbs.
After two years of trotting out random tight ends and defensive tackles in redzone situations, I think it's time for the Jaguars to finally add a fullback. Develin brings a hard nosed style to his game and is a true lead blocker. Pro Football Focus ranked Develin as the No. 2 fullback in the league and he has a Super Bowl pedigree from his time with the New England Patriots. The Jaguars need leaders, winners and a fullback. I just described Develin in the previous sentence.
Perry Riley
Position: Linebacker
Age: 28
Ht/Wt: 6-0, 240 lbs.
The Jaguars need some more experience at linebacker, whether Paul Posluszny is on the roster or not. Riley is a solid special teams presence and is capable of playing middle and weakside linebacker. If the Jaguars move Jack over to middle linebacker, Riley would be a solid veteran backup. After a one-year stint with the Oakland Raiders, Riley may be inclined to shop himself elsewhere.
Teams can begin negotiations with outside free agents starting on March 7. Teams can begin signing outside free agents on March 9 at 4 p.m.
Follow Mike Kaye on Twitter at @Mike_E_Kaye.