JACKSONVILLE, Fla. - The injury prone label is a tough designation to overcome in the NFL.
Two injury-riddled seasons can make it hard to earn a job or even return to form. The business is as brutal as the carnage on the field.
Teams typically don't wait on players for two or more seasons. They typically prefer to cut bait and cast a line elsewhere.
DOWNLOAD THE FREE FIRST COAST FOOTBALL APP FOR MORE JAGUARS COVERAGE
That's why this offseason is so important to Jaguars defensive tackle Michael Bennett.
The third-year player has battled through plenty of injuries since being drafted in the sixth round in 2015.
"This is the first time I've been healthy since I've been here," Bennett said on Wednesday during a phone conversation with First Coast News.
"I had a groin [injury] my rookie year and a hamstring. Then this hip labrum thing, they said it could have been hanging around and it just really flared up last year, but I didn't feel it until last year."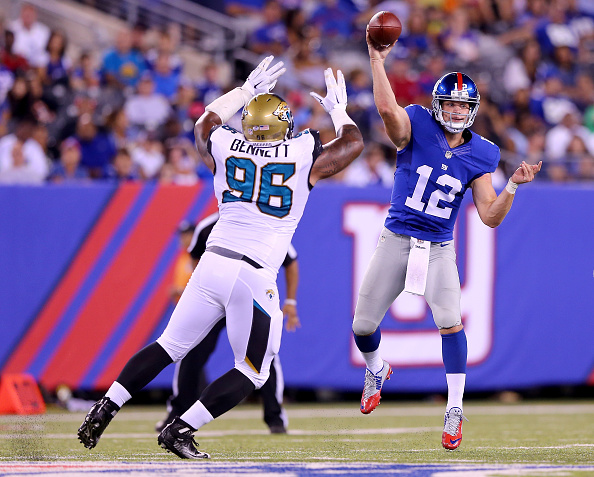 Bennett suffered the worst of his injuries during last year's fourth preseason game against the Atlanta Falcons. He injured his calf early in the game. The injury forced him to miss the entire season.
"I was really frustrated," Bennett said.
"I've had a bunch of soft tissue problems, muscle problems and stuff, so the calf was just frustrating itself. With the hip, I was trying to tough that out, but I wasn't playing the way I knew I could play. I guess the calf was a blessing in disguise. It kind of made me stop and fix both of them."
After eight months of rehab, Bennett was cleared for action when the players returned for the first phase of offseason program in April.
"I'm back, I've been doing everything with the team, I haven't missed a rep or anything like that," Bennett said. "I was cleared as soon as we came back, so now it's just getting back into it."
The former Ohio State lineman has been working to improve his game in several areas. He played in 13 games as a rookie, but injuries and poor conditioning stalled his momentum.
That's why Bennett has worked to improve his strength, speed and football acumen.
"I'm a lot strong than I've ever been, same with my quickness," Bennett said.
"Then just studying football. Going into this year, I'm very optimistic, I feel very good about it, just because I've never been this knowledgeable about football, I've never been this strong or as fast. My technique has never been this good."
Bennett returns to a locker room without the veterans who welcomed him into the NFL. Jared Odrick, Roy Miller, Tyson Alualu and Sen'Derrick Marks have all moved on from Jacksonville.
Those departures should allow Bennett to find a home on the roster in his third year. However, he isn't worried about the numbers game at the moment.
"I don't really look too much at that kind of stuff," Bennett said. "It's just I know where I'm at personally, in my growth and development as a player, and I'm trying to build on that. I see, like you said, kind of blazed a path [for opportunity], but I'm not going to be here if I can't play football the way they want me to."
Bennett has a lot to prove this offseason. While Head Coach Doug Marrone saw him in practices over the last two offseasons, the new boss is now fully in charge of who plays and who sits.
"If I do what I know I can do, then I know I'll have a place here and I'll be very productive and have a good year and all of that stuff," Bennett said. "All I'm trying to focus on is just getting better and taking advantage of the opportunities I have and then I can go and rest of everything will work itself out."
The Jaguars currently have Bennett playing at the three-technique position with starter Malik Jackson and second-year player Sheldon Day. He said he is also comfortable playing nose tackle.
Bennett said the defense hasn't changed much this offseason, but the staff has made some minor tweaks. The familiarity should help Bennett get back into a groove on defense.
If he can pull off a comeback offseason the way he wants, perhaps he can shake the injury prone stigma. He has a chip on his shoulder and he wants to prove he can play in the league.
"I'm tired of being injured and I'm tired of not being what I expect myself to be," Bennett said.
"I've just done a lot of work of improving and I really think this is a good year to show off what I've done and how far I've come and make it an injury-free year."
Follow Mike Kaye on Twitter at @Mike_E_Kaye.
"Like" Mike Kaye's Facebook Page for more Jaguars coverage.