JACKSONVILLE, Fla. - Not content with simply relaxing in the days leading up to training camp, Jaguars defensive end Jonathan Woodard wanted to make an impact in the community before returning to work.
The second-year player spent Tuesday walking the halls of Wolfson Children's Hospital in downtown Jacksonville.
DOWNLOAD THE FIRST COAST FOOTBALL APP FOR MORE JAGUARS COVERAGE
The 23-year-old met with several children, some of whom weren't even Jaguars fans. Still, their smiles were hard to contain, as Woodard answered questions, signed autographs and played games with the youngsters in the Hematology/Oncology unit of the hospital.
"I think it's important to not lose sight of just how fortunate we are, especially being an NFL player, to be in the position that I'm in," Woodard said. "Just to know that we're blessed to be able to do what we do and some people aren't as fortunate and to go and visit with them is something I definitely want to do."
Woodard's first visit was with 7-year-old Anthony Diaz from Fernandina Beach. The little boy was watching a cartoon movie as the Jaguars lineman entered the room.
"I've never seen this one before," Woodard said, referring to the movie.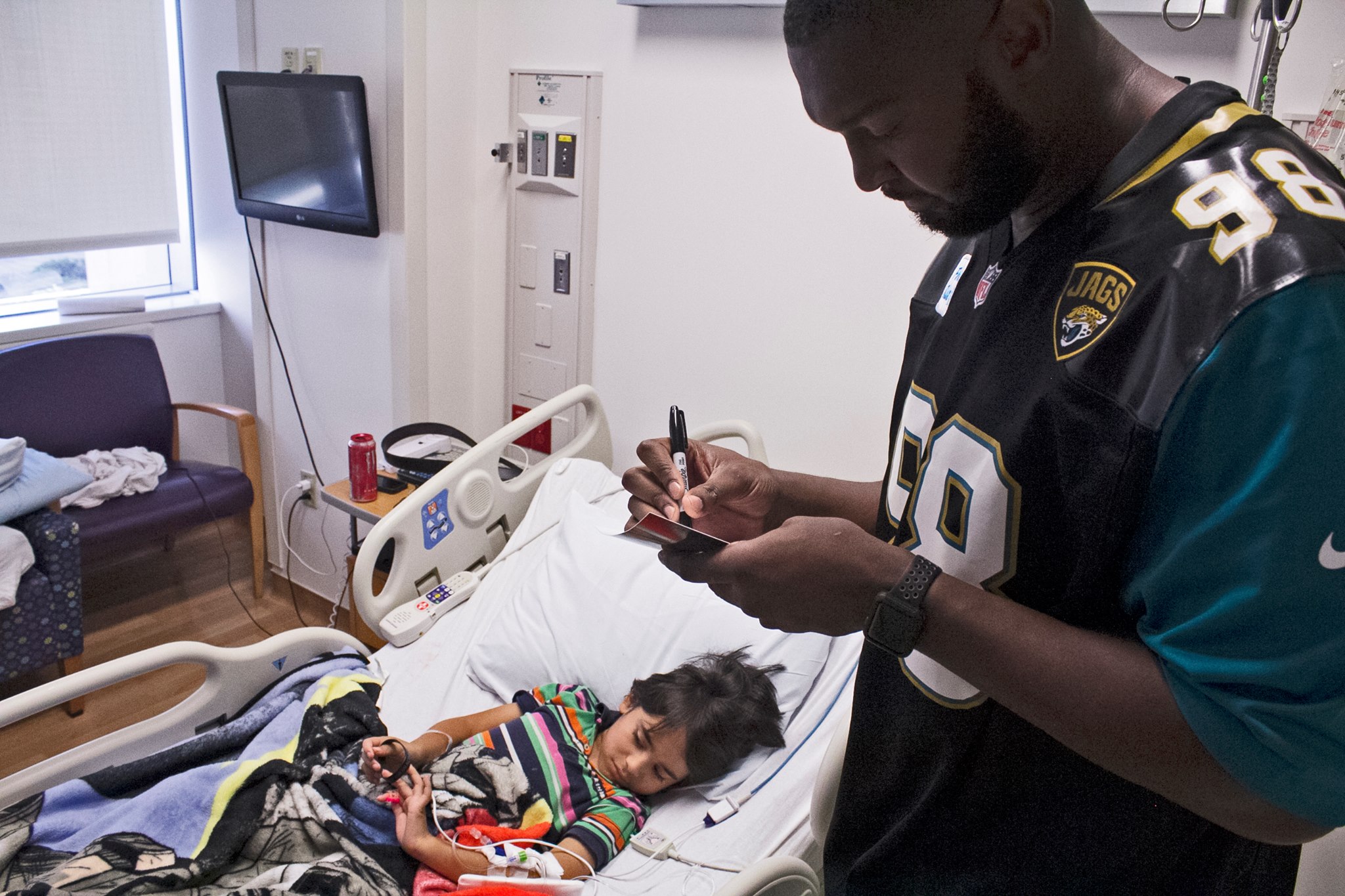 Anthony was quiet but appreciative of the attention, as his father, Carlos, spoke with Woodard about sports and the Jaguars.
Following the quick visit with Anthony and his family, Woodard walked down the hall to meet Addison Johnson from Valdosta, Georgia. Addison started off shy, but quickly made a special connection with Woodard.
The two spoke about football and played catch on a couch to the left of Addison's mother, Lindsee, who said they typically visit the hospital three times a week.
Woodard got to meet with Addison by chance. The young girl, who turns 7-years-old on Wednesday, had been admitted to the hospital from Thursday through Saturday and was forced to come back on Sunday following test results.
Addison was excited to see Woodard and even raced him to her favorite spot in the hospital, Timmy's Playroom, a game center donated by the Tim Tebow Foundation.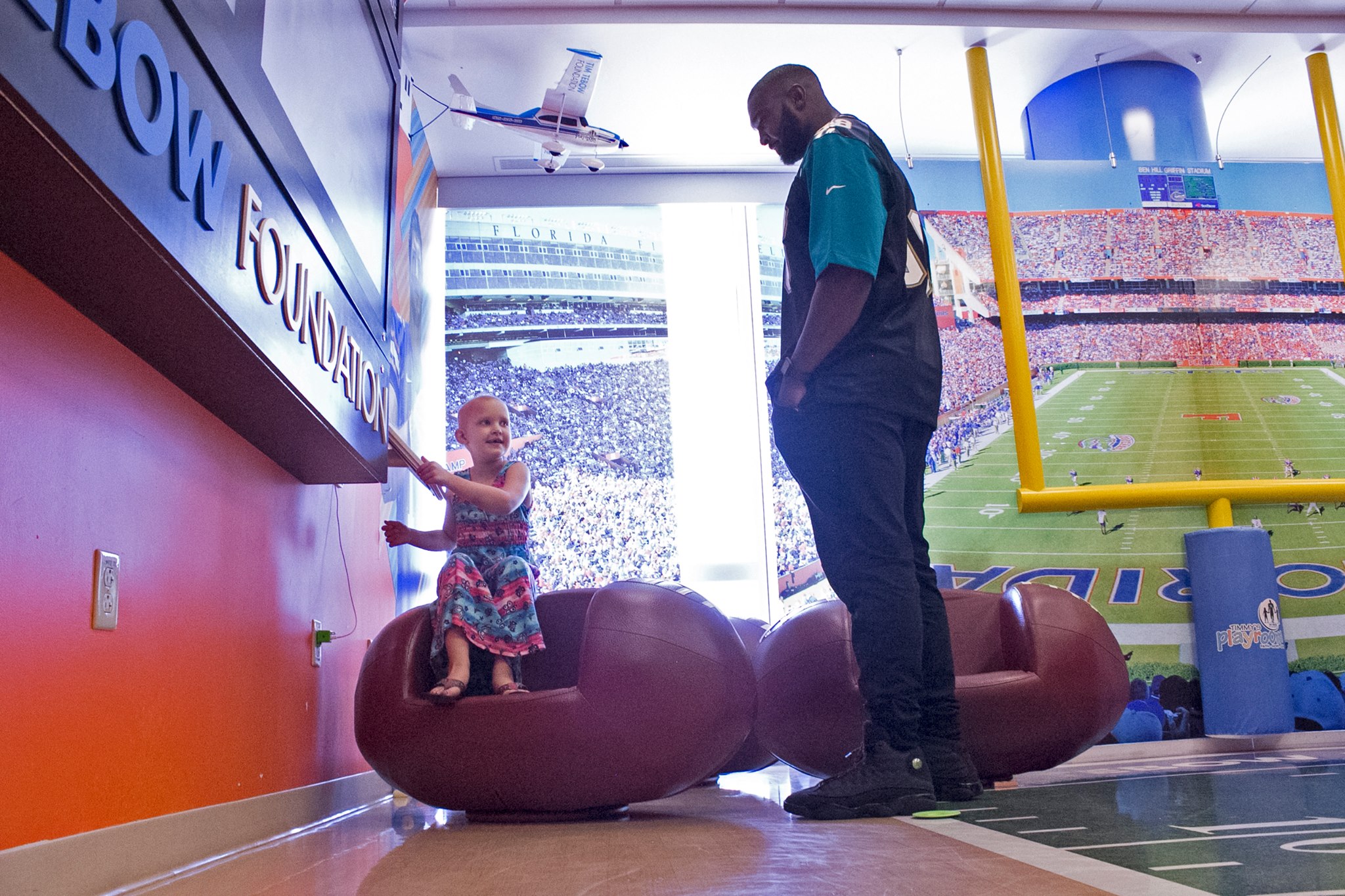 The pair sat and spoke for a little longer inside the colorful room, discussing their interests and answering each other's questions. Addison is a big soccer fan and she said she wants to play while she's still a kid.
Lindsee noted that with Addison's current condition, playing sports has taken a backseat.
Woodard appreciated Addison's love for playing defense, as she said her favorite position is goalie.
The two new pals, with huge smiles on their faces, shared a big hug at the end of their visit. Addison asked Woodard to pick her up and the 6-foot-6, 271-pound lineman did just that.
Addison had made an impression on Woodard.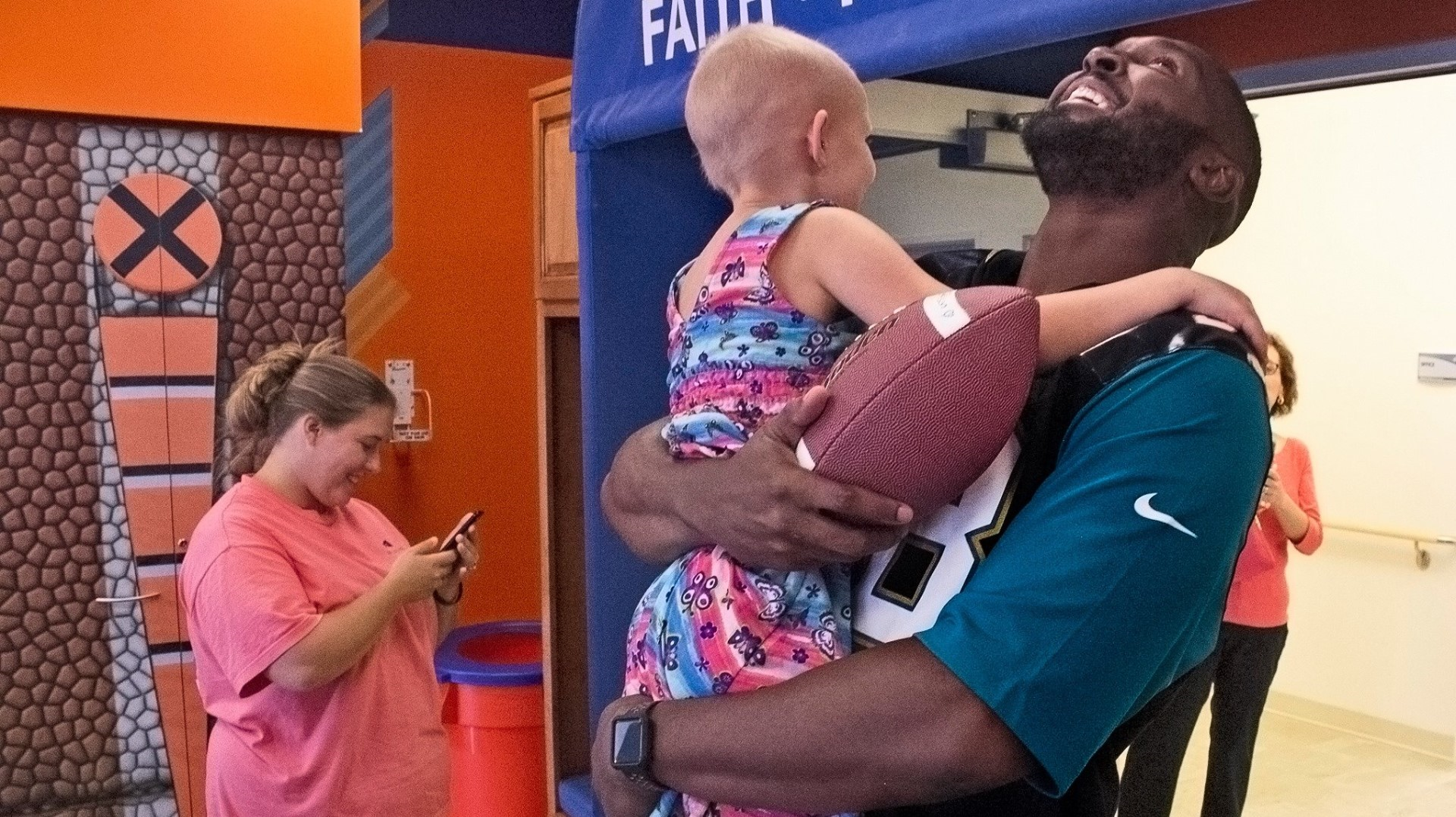 "I think everyone can take a little bit of the attitude that Addison has and use it in their everyday lives," Woodard said. "I think that if people have the attitude that she has, and use that to go through the things they are going through, it would be a lot easier."
Woodard went through some adversity of his own last season. A seventh-round pick out of Central Arkansas, Woodard tore his Achilles during one of his first workouts with the Jaguars.
He spent his entire rookie season on injured reserve and was forced to watch as his teammates took the field throughout the year.
The visit to the children's hospital offered a new outlook on those struggles.
Woodard chose to spend his time with children who are battling medical issues significantly more serious than his ailment last season. He believes it's always important to give back to those who are less fortunate.
"Most of the time, whatever your situation is, there's someone who has a harder time than you do," Woodard said. "No matter how hard I was struggling, there are people who are struggling more than I am. It's important not to lose sight of that, so visiting with them helps me put things in perspective."
Woodard will return to EverBank Field on July 26 with the rest of his teammates for the start of training camp. The Jaguars' first practice is on July 27.
The session will be the first training camp practice of Woodard's career.
While he has yet to offer productivity on the field, Woodard's presence was able to brighten the days of several children looking for a reason to smile this week.
Follow Mike Kaye on Twitter at @Mike_E_Kaye.
Jaguars DE Woodard spends time with patients at Wolfson Children's Hospital
Jaguars defensive end Jonathan Woodard listens as patient Addison Johnson explains a game in Timmy's Playroom at Wolfson Children's Hospital. (Photo Courtesy: Destiny Johnson, First Coast News)
Jaguars defensive end Jonathan Woodard listens as patient Addison Johnson explains a game in Timmy's Playroom at Wolfson Children's Hospital. (Photo Courtesy: Destiny Johnson, First Coast News)