The Blake Bortles Foundation hosted around 150 golfers at King & Bear in World Golf Village on Sunday.
The second annual charity golf tournament benefited the Arc Village Jacksonville and first responders of the Jacksonville Sheriff's Office and Jacksonville Fire and Rescue Department.
Before he hit the course, the Jaguars' starting quarterback met with the media to discuss his offseason.
DOWNLOAD THE FIRST COAST FOOTBALL APP FOR MORE JAGUARS COVERAGE
The fourth-year player recently returned from California, where he had been working with renowned passing coaches Tom House and Adam Dedeaux. The offseason training has been geared toward refining Bortles' throwing motion.
"I really enjoyed the time I spent out there, I think it's really been beneficial," Bortles said. "I feel really good as far as where I'm at mechanically, and how the ball's coming out and how it's spinning and all that. So I think it's been good. I was excited. I'm going to head back out next week for another two weeks or whatever and then I'll be back in [Jacksonville]."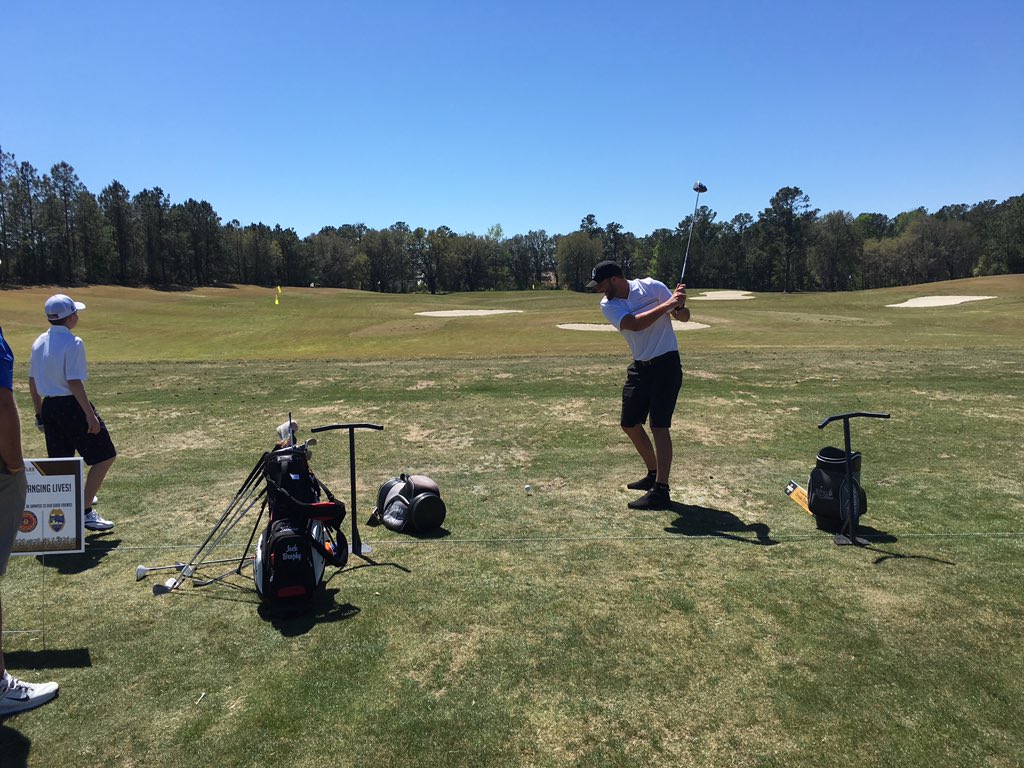 While he was training in California, Bortles threw to teammate Marqise Lee and New England Patriots wide receiver Julian Edelman. He was joined by other NFL quarterbacks, including Carson Wentz of the Philadelphia Eagles.
Bortles plans on meeting up with wide receivers Allen Hurns and Allen Robinson in Arizona over the next few weeks. The wide receivers have been training together in the desert this offseason.
The quarterback said this is the time of year when players work on their technique. He said once those issues get worked out, he can continue to find his groove with offensive coordinator Nathaniel Hackett.
Bortles said his feel for Hackett's play-calling got better as the season went on. With Hackett being held over from the previous regime, it gives Bortles some familiarity as he prepares for the biggest season of his career.
The team will return from the offseason break on April 10. Bortles will have only a few weeks to win over the front office and get them to pickup his fifth-year contract option.
The deadline to pickup the option is in early May.
Bortles will be working with a new quarterbacks coach this year. For the first time in his career, Bortles will be coached by someone who has played the position at its highest level.
Former Tampa Bay Buccaneers quarterback Scott Milanovich will handle Bortles' development moving forward.
"I think it's huge, he's a guy that's been around," Bortles said of Milanovich.
"He's been around a lot of football, he's coached a lot of football, he's won at every level and he's a guy that played the position, which is unique, there's not a whole lot of quarterback coaches in the NFL that have played [in the league]. So I think that's a unique aspect that he has and he brings to the table."
Milanovich will able to work with a healthy Bortles this offseason.
Bortles played most of last season with a separated shoulder. He said he has fully-recovered from the AC joint sprain he suffered in October.
"Yes, everything's good, good to go," Bortles said.
Follow Mike Kaye on Twitter at @Mike_E_Kaye.