A tropical wave in the Open Atlantic may form into a tropical depression in the next 12-24 hours and if it becomes a named system it would be called Don. Thunderstorm activity near its center is flaring up and it is in an area of the Atlantic conducive for tropical development.
The National Hurricane Center as of 8 a.m. on Wednesday gives a 60% chance the storm will become a tropical depression or stronger in the next five days.
It is way too early to speculate on the storm track. If it has slower development it may come closer to land and head further west. If it develops more quickly as the models suggest it would likely re-curve out to sea the middle of next week. Nobody has the all clear so make sure to keep checking back. The latest spaghetti models show its expected path between now and the middle of next week. This could change.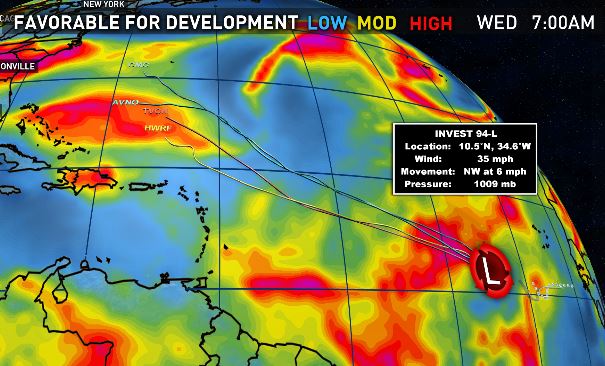 Track hurricanes on our interactive map and get important storm information from our Hurricane Central page.