Just eight days until Election Day, Democrat Hillary Clinton holds a six-point advantage over Republican Donald Trump in the battleground state of North Carolina, while the candidates are essentially deadlocked in Florida, according to two new NBC News/Wall Street Journal/Marist polls.
In Florida, Clinton gets the support of 45 percent of likely voters, while Trump gets 44 percent. Libertarian Gary Johnson gets 5 percent and the Green Party's Jill Stein is at 2 percent.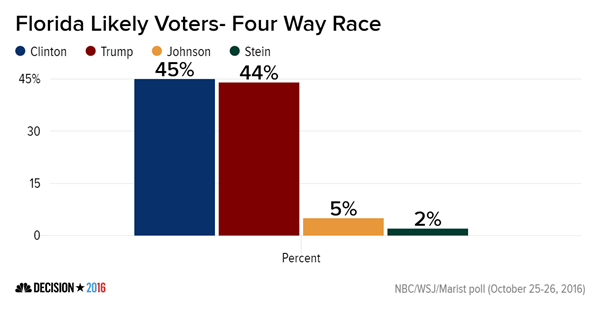 n an earlier NBC/WSJ/Marist poll this month, Clinton was ahead by three points in the four-person race in the Sunshine State, 45 percent to 42 percent. When the contest is reduced to two candidates, Clinton and Trump are tied in the new poll at 46 percent.
In North Carolina, meanwhile, Clinton enjoys a six-point lead over Trump among likely voters, 47 percent to 41 percent, with Johnson at 8 percent. (Stein isn't on the ballot in the Tar Heel State.)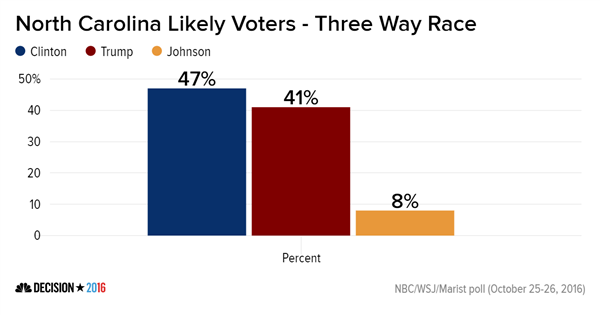 Earlier this month in the poll, Clinton was ahead by four points, 45 percent to 41 percent. In a two-person race in North Carolina, Clinton's lead in this new poll is an equal six points, 50 percent to 44 percent.
Clinton Leads Big Among Early Voters in Both States
The polls - conducted Oct. 25-26 - come as voters are already voting in both states. (The polls also were taken before FBI Director James Comey announced Friday that his organization learned of the existence of new emails that appear "pertinent" to its previous investigation into Clinton's email practices.)
Among the 36 percent of likely voters in Florida who say they've already voted, Clinton is ahead, 54 percent to 37 percent.
Among those who haven't voted in the Sunshine State, Trump is up, 51 percent to 42 percent.
And Clinton leads by a 61 percent-to-33 percent margin among the 29 percent of North Carolinians who say they've already voted.
Down the Ballot: Burr, Ross Tied in North Carolina; Rubio Ahead in Florida
In one of the nation's most important down-ballot contests that will determine control of the U.S. Senate, incumbent Republican Sen. Richard Burr of North Carolina is tied with Democratic challenger Deborah Ross among likely voters, 48 percent to 48 percent.
The two also were tied earlier this month at 46 percent each.
In North Carolina's gubernatorial race, Democratic challenger Roy Cooper leads incumbent Republican Gov. Pat McCrory by six points among likely voters, 51 percent to 45 percent - up from Cooper's one-point advantage earlier this month.
And in Florida's Senate race, incumbent Sen. Marco Rubio is ahead of Democratic challenger Patrick Murphy by eight points, 51 percent to 43 percent - an increase from Rubio's two-point lead in mid-October.
The NBC/WSJ/Marist poll of Florida was conducted Oct. 25-26 of 990 registered voters (which has a margin of error of plus-minus 3.1 percentage points) and 779 likely voters (plus-minus 3.5 percentage points).
The NBC/WSJ/Marist poll of North Carolina was conducted Oct. 25-26 of 1,018 registered voters (which has a margin of error of plus-minus 3.1 percentage points) and 780 likely voters (plus-minus 3.5 percentage points)