Donald Trump started speaking in St. Augustine just 10 minutes after former New York mayor Rudy Giuliani introduced him, and spoke for well over an hour about several different usual suspects and policy questions.
The Republican presidential nominee called the mere fact that Hillary Clinton was allowed to run for president proof the election is being rigged.
He was beloved by the crowd, which boo'd the media and Clinton throughout his speech and cheered on their nominee many times throughout his speech. He was forced to stop speaking several times to let the crowd settle down again.
4,000+ on hand listening to Donald Trump in St. Augustine. @FCN2go pic.twitter.com/fi1IFtLF6u

— Steven Dial (@StevenDialTV) October 24, 2016
"We're winning, we're winning, we're winning," he repeated several times to cheers. He cited a recent Investor's Business Daily poll showing him ahead of Clinton nationally by two points.
After shooting off a list of battleground states where he is going to win, he decried the state of polling and said they were rigged against him.
@realDonaldTrump Just got the crowd to boo the media. Now 4000 people are booing me. @FCN2go pic.twitter.com/uP3fI7R8nl

— Woody's Vlog ☮ (@Tide_Fan_1) October 24, 2016
He called current President Barack Obama an ineffective leader and said that he should be trying to defeat ISIS instead of campaigning for his rival.
As he got into his potential policy plans, he explained he intends to 'drain the swamp,' which is a refrain he's recently begun using at his rallies, referring to the alleged rampant corruption throughout our federal government.
#Trump: I want term limits for congress. Hiring freeze on non essential employees. 5yr ban White House officials to be lobbyists. @FCN2go

— Steven Dial (@StevenDialTV) October 24, 2016
When he got around to illegal immigration, he reiterated again the border wall will be built. "Don't even think about it," he told the cheering crowd.
Trump also promised to build our military back up. He said that Obama and Clinton implemented a 'defense sequester' that's destroyed our military, saying he'll change that.
A central theme of his speech was getting out the vote effort. He reminded attendees that early voting began in Florida Monday and goes through Nov. 5. Throughout his speech he told those at his rally to make sure they vote.
#Trump: Families with two children will get a 35% tax cut.

— Steven Dial (@StevenDialTV) October 24, 2016
Florida is a key state that Trump must win to get to the 270 electoral college votes he needs to win the presidency. He gave shout outs to St. Augustine and the state of Florida, saying it was like a second home to him at the opening of his rally.
"We have to win in November," he said. "Leave here today and vote - just get it over with."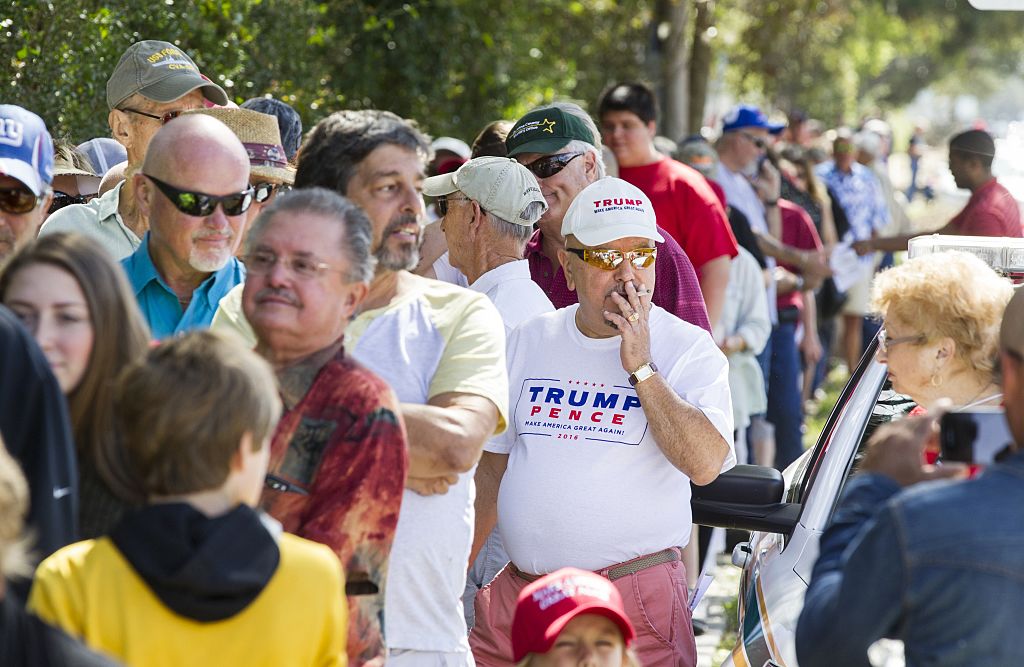 "I will promote life, defend religious liberty and select justices in the mold of Justice [Antonin] Scalia," Trump told supporters. Scalia passed away earlier this year. His replacement has been an important issue on the campaign trail throughout the presidential election.
Taxes also came up, saying that he'll help the middle class and simplify our tax code within his first 100 days.
There are only two weeks to go in the election, and FiveThirtyEight gives Clinton a 69 percent chance of winning Florida. A recent YouGov poll puts Hillary up by three points in the state in a four-way race with Liberterian candidate Gary Johnson and Green candidate Jill Stein.
Trump is headed for a Trump rally in Tampa at 7 p.m. and will head to Sanford, Fla. on Tuesday.