JACKSONVILLE, Fla. - Saturday was the third strike for Jacksonville Sheriff's Officer Timothy Lee James: He was arrested and placed on indefinite suspension for allegedly beating a handcuffed teenager.
It was the third time James has made headlines in the past two months.
On April 26, he was filmed spitting at a mental patient outside UF Health. On May 10, he hit and killed a pedestrian with his squad car. And Saturday, he was arrested by his own agency.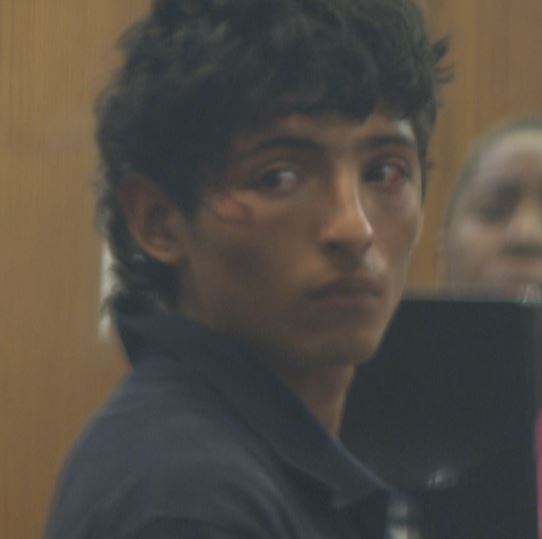 JSO has been reluctant to tie the incidents together. JSO spokesperson Melissa Bujeda declined to identify the officer in the spitting incident, saying the matter was under investigation. Undersheriff Pat Ivey declined to confirm the officer arrested Saturday was the same Officer James in the spitting incident, citing the police officer's bill of rights. Sheriff Mike Williams' spokesperson Lauri-Ellen Smith declined an interview request for clarity, saying, "We have no further comment beyond the news conference of Saturday."
First Coast News has confirmed that it is the same officer in all three incidents, based on his squad car number, video and photo ID, police reports, and a crash report by the Florida Highway Patrol.
James has had a string of other issues since joining JSO in January 2014. Prior to the three recent incidents, his officer history shows 11 discipline matters, including two accidents in his squad car, and six in-house complaints filed by coworkers, including failure to obey an order and failure to be wholly candid, which generated a 10-day suspension.
He was also suspended two days for violating the department's firearm policy, and received three citizen complaints (all three exonerated or not sustained).
The Sheriff's Office has a program to flag troubled officers and get them help. The Early Warning System can be triggered by everything from use of force complaints to excessive sick leave, but in order to start a review, an officer must have multiple issues within a three-month period.
None of Officer James' 11 discipline matters occurred close enough together to trigger the program. While JSO would not say otherwise, it does not appear he was offered help.
The issue comes on the heels of a very high profile – and expensive – settlement with the family of Davinian Williams, an unarmed black man killed in 2012. The officer who killed him, former JSO Officer Jeff Edwards, has said the Early Warning System failed him.
"They should have flagged me," he said in a deposition.
JSO admitted wrongdoing and agreed to pay the Williams' family $1.9 million. Sheriff Williams [no relation] also wrote a letter of apology in which he promised to implement a raft of changes to improve the Early Warning System.
It's not clear how those changes might have affected Officer James. Again, JSO declined an interview request.