JACKSONVILLE, Fla. -- When you get Jaxson de Ville, the ROAR of the Jaguars and hundreds of fans together on a non-game day, you can really leave an imprint.
Which is exactly what fans who turned out for the "Painting of the PawPrints" did this Saturday morning to help kick off the 2017 Jaguars football season.
The event, organized by the JAX Chamber, has been around since 1995 and will continue to thrive with fans of all ages rooting for a turnaround.
Ten years ago, things were looking pretty good for young Fernando Rodriguez. His now favorite team, the Jacksonville Jaguars, made it to the playoffs. That's also when Fernando came into the world. It was a good year.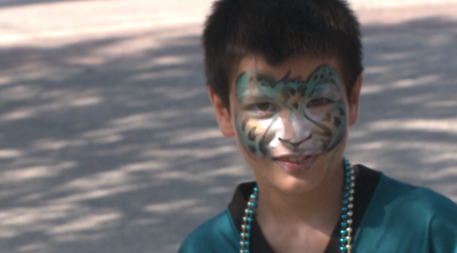 The 10-year-old's love for his home team is contagious.
"I'm always going to be their fan," Rodriguez said. "They're always going to be my favorite team."
The tradition of "Painting of the PawPrints" symbolizes this kind of devotion to a sports team.
A sort of love councilman and longtime volunteer Jim Love said this is what makes Jaguar fans so special.
"They love their jags, thick and thin," Love said. "I think it's going to be a good year. This year Tom Coughlin is awesome. He's not going to allow the team to have a losing season."
This year more than 300 fans of all ages showed up to make their mark from Main Street Bridge to Ever Bank Field, confident, like Fernando, that this road will lead to victory