The University of North Florida is responding to a second high profile incident of racial division in the past few months.
The social media post in question shows Ken Parker, 37, a second-year Political Science student at UNF holding a gun, two swastikas tattooed on his chest, with the comment above the photo reading:
Zack Morse, it is okay to be WHITE!!!!! Let SDS and the other clowns come at me, I will shut them down. F*** the BLM BS!!! I am WHITE and PROUD, and these queer balls have yet to confront me on campus.
Zack Morse is the student who took the controversial racist video depicting two students acting like apes making fun of the Black Lives Movement when it came to UNF's campus.
Parker is also the former Grand Dragon of the Jacksonville chapter of the KKK and an 11-year Navy veteran.
Parker spoke on the phone with First Coast News and said he posted the photo in support of Morse.
"I wanted to let people know that it's okay to be white and proud," said Parker. "And that there are people out there way more extreme than [Morse]."
Parker told First Coast News that the gun was an FN-15, which is a French version of the AR-15 rifle.
He also said he was responding to some fliers posted around campus that said "it's okay to be white." Parker said he had nothing to do with putting up the fliers at UNF. These fliers are cropping up all over the United States at various universities, according to a Washington Post report.
Students are speaking out on social media about yet another racially motivated message spawning from their campus.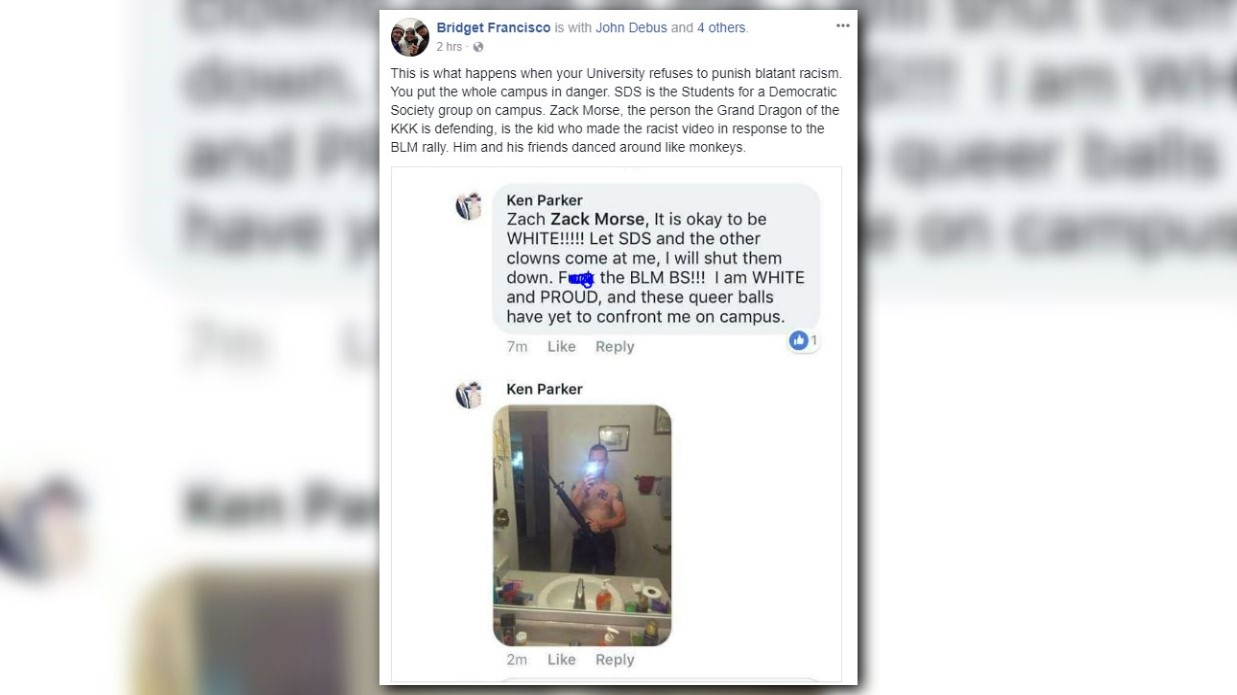 The university sent out a statement from President John Delaney in response to a screen grab of comment and 'disturbing photo' now circulating around social media.
The statement:
"In the past 18 hours, we have seen a flurry of social media posts, including a threatening message and a disturbing image. I want to let the campus community know that we have taken immediate action based upon what we have seen. The safety of our campus is a top priority. FERPA privacy laws prohibit us from indicating whether or not a student has been suspended and truly limit our ability to communicate as broadly as we would like to do.
It appears these posts have spurred numerous and spurious rumors on campus as well. One rumor was that someone had a gun on campus; another was that a building was locked down. Yet another rumor was that classes have been cancelled. None of these are true. Every such rumor is false.
Please know the University Police Department has officers, both in uniform and in plain clothes, throughout our campus ensuring safety. I'm completely satisfied that the campus is safe, and I urge everyone to be calm.
Additionally, it has been brought to our attention that flyers have been posted on campus, along with numerous other campuses throughout the country stating: "It's OK to be white." This is part of a national campus movement, specifically intended to be provocative. Here is an article from The Washington Post.
This last few months have been a particularly tumultuous time for many campuses. Racial tensions and differing views have stirred emotions among students, faculty and staff. I would like to ask the campus to remember our values, which include mutual respect and civility, along with a commitment to diversity. We will all get through this.
As always, if you see something that concerns you, contact the UPD at (904) 620-2800. If you need someone to talk to, contact the UNF Counseling Center at (904) 620-2602."
UNF has stated that there will be police both in uniform and plain clothes on campus in response to this incident.
Parker has been suspended according to a letter sent to him, which he forwarded First Coast News. He has an appeal for this suspension set for 9 a.m. Monday.
Suspension Edit by Destiny Johnson on Scribd