JACKSONVILLE, Fla. — A judge revoked 32-year-old William "Ruben" Ebron's bond on three charges in connection to the disappearance of Lonzie Barton Monday morning.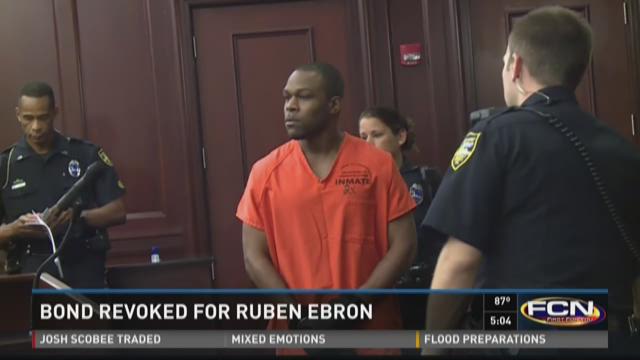 Ebron is now being held without bond on all charges, including attempted escape from jail.
A Nebbia motion, which was filed by the State Attorney's Office to ensure that any money used by Ebron to post bond was obtained legally, wouldn't make any difference and so was denied. The State Attorney's Office can file the motion again if bond is ever given to Ebron on any charge.
Prosecutors say Ebron tried to contact a woman, who is the mother of his children, he was ordered to have no communication with 31 times within his first three weeks in jail.
In a arraignment hearing Monday, Aug. 17, Ebron pleaded not guilty to all three charges – two counts of child neglect and one count of giving false information to investigators – in connection to the case.The State Attorney's Office requested a Nebbia hearing from the court to ensure that any money used to post bond is obtained legally by Ebron. They say he admitted to dealing drugs and admitted to having "no legitimate employment," for quite some time. For those reasons, they are asking for proof.
If Ebron does eventually post bond on his charges out of Duval County, he would then be transferred to Baker County where he would be held without bond in a drug case, according to Assistant State Attorney Richard Mantei.
Police arrested Ebron on July 24 just before midnight on two counts of felony child neglect, charges that are unrelated to the disappearance of Lonzie. He is currently in the Jacksonville Pre-Trial Detention Facility. The following day, the Jacksonville Sheriff's Office announced in a morning press conference that Ebron was the principal suspect in Lonzie's disappearance.
If convicted, Ebron could face 40 years in prison, the State Attorney's Office tells First Coast News. 
At the time of Lonzie Barton's disappearance, Ebron was living with the child's mother, Lonna Lauramore Barton, who was released from Duval County Jail on Monday, one month after the boy was reported missing.
Her bond was set at $50,000.
Lauramore, 25, is charged with one count of child neglect and one count of giving false information to law enforcement after lying to investigators and allowing "unsecured" drugs in the presence of her children, Jacksonville Sheriff's Office Chief of Investigations Tom Hackney said at news conference briefing Tuesday night. She made her first court appearance Wednesday afternoon.
Part of the charges stem from the fact that "Lonna, honestly, is a liar," said Chief Hackney, who told reporters that Lauramore had initially lied to investigators about knowing Ebron the night of Lonzie's disappearance.
"There's been a pattern of deception and lies," the chief added.
The charges are not directly related to the toddler's disappearance, according to JSO.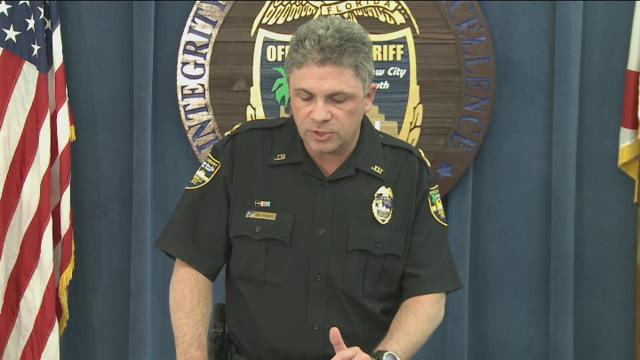 On July 23, the day before Lonzie was reported missing, Lauramore was told about a bruise on the back of his head and confronted Ebron about it, said Hackney. "Lonzie had yellow fluid coming from his ears, he was lethargic and vomiting," he added.
Nonetheless, Hackney said, she left Lonzie and his 5-year-old sister in the care, custody and control of Ebron and left to go to work at Wacko's, an adult entertainment venue.
Ebron, who kept drugs at the apartment Lauramore shared with her children, would routinely take Lauramore with him on drug deals, Chief Hackney told reporters. "She found it in the best interest of Lonzie to have him in the car" too, he said.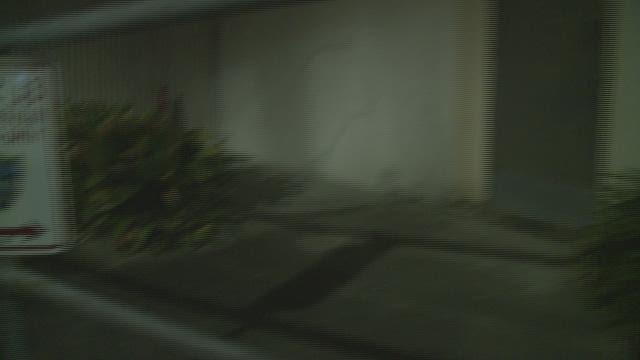 Lauramore has had phone contact with Ebron since Lonzie's disappearance, according to police. Last Friday, she gave an exclusive interview to First Coast News, saying she believed her son was still alive.
That's after investigators announced the child had been murdered, not abducted, as Ebron had told police on July 24 when he reported him missing. Surveillance video obtained from a neighbor's home discredited that narrative, police said.
"We are still full speed ahead at making a murder case, especially against Ruben Ebron," Hackney said. "...I will take the truth from either of them, at any given time."
Large-scale search efforts by authorities to find Lonzie wound down after Sunday, Aug. 2, ten days after he was originally reported missing by Ebron. On Monday, the toddler was added to the Florida Department of Law Enforcement's list of unsolved Amber Alerts alongside 5-year-old Haleigh Cummings.
JSO Chief of Investigations Tom Hackney, in a news briefing on Aug. 3, implored the family and friends of Ebron to get him to tell the police what he knows. Hackney even asked Ebron himself to come forward with the location of Lonzie's body.
"Ruben, you're building this house of cards with a losing hand," Hackney said.
He told police that he'd left Lonzie and the toddler's 5-year-old sister in his car with it running at the Ravenwood Apartments, located on Old Kings Road, while he went inside without them. The 5-year-old, he said, came inside because she said she was scared, and when he returned outside, Ebron reportedly said that the car was driving away.
About 20 minutes later, police had located the orange 1995 Honda Civic just four blocks away. Little Lonzie was not in the car or the immediate vicinity. The car was about a half-mile from the apartment complex.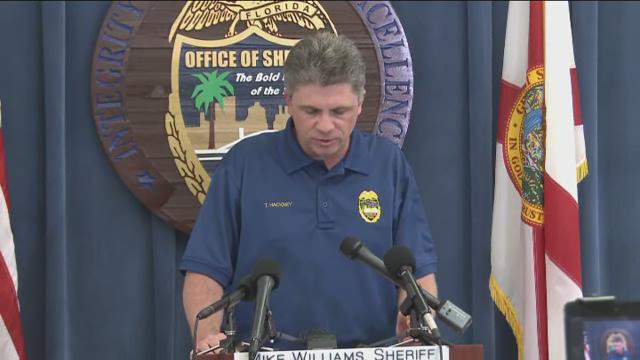 According to Hackney, the video below was obtained from home surveillance video from a home a few houses away from where police located the Civic. The video is from just minutes before Ebron called police at 2:19 a.m., police said.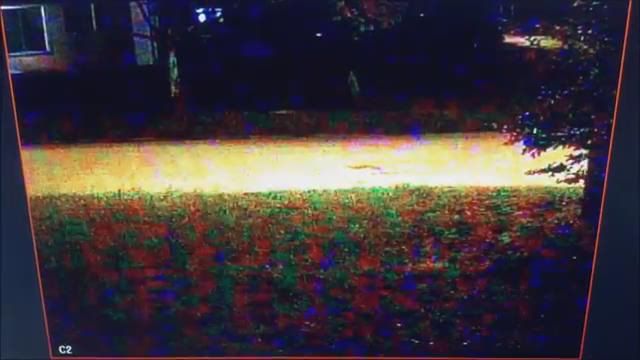 In the video, Lonzie is not seen. Police said it appears Ebron was alone. They have also said that the clothes he is wearing in the video match the clothes he was wearing when they responded to the call about him missing. Hackney said the shirt he is carrying while he's running is the one he was wearing when officers met him.
FDLE issued an Amber Alert for Lonzie a few hours after police found the car, and authorities began coordinating efforts to find the child. However, on Aug. 3, Hackney informed the media that JSO was working with FDLE to cancel the Amber Alert. They said their reasoning was that they believe Lonzie was killed and was never abducted or missing.
Hackney said that Ebron's lie has been going on since 2:19 a.m. when he first reported the toddler missing. He also said the video shows them that Ebron's the man with the answers.
Police have been searching for Lonzie for over a week, and countless man hours have gone into locating Lonzie.
"I want the child's body," Hackney said. "I want the child's body to be taken back to his family to be put to rest properly."
Crime Stoppers of Northeast Florida is offering a reward of $13,200 as of Aug. 3 for anyone with information that leads authorities to Lonzie. The reward was increased by community and anonymous donations.
Hackney has said repeatedly in the ten-day search for the toddler that it was an intelligence-based investigation, and as of July 31 the over-300 officers involved had followed up on over 400 tips.
Sheriff Mike Williams, who was out of town on a cruise during the search, returned to brief the media on Aug. 2 and asked that the public continue to send in tips, as that's the only way authorities will be able to find Lonzie unless Ebron comes forward.
Police have said that just because large-scale efforts will wind down, that does not mean they would not ramp up the search at a moment's notice.
The tips JSO has been given has led them from the Southside of Jacksonville, near the Philips and Interstate-95/295 interchange area by the Avenues Mall, to Old Kings Road, to the Northside of the city. Authorities have searched well over 40-square miles and 61 bodies of water to find Lonzie.
Ebron is not Lonzie's father, but he was staying with the child's mother in a room they rented from a friend at the apartment complex off Old Kings Road. Lonzie's mother had been dropped off at work at Wacko's Gentleman's Club at 8:30 p.m. Thursday night. Ebron is the last known person to have seen Lonzie alive. He told police he was with the child for the near six hours from the time he took Barton to work to the time that he called police.
Lonzie's 5-year-old sister spoke to authorities, but Hackney said her information couldn't be counted on for concrete evidence.
JSO has since said that they believe Ebron's timeline of events in Lonzie's disappearance as he said them to be false and have named him as the principal suspect.
Chief Hackney with JSO said that Ebron has every right to skillful representation, but explained that police had every right to build a 'spectacular' case against him.
Police, in their ongoing investigation, have worked to build the timeline of where Ebron's orange Civic had gone in that six-hour period. Hackney explained at multiple press conferences that through businesses' surveillance camera footage and other cameras in the area officers were able to paint a picture of where Ebron had gone. However, he said there were still large chunks of time they were could not account for.
"This is no magic act. This child didn't just - POOF! - just disappear," Hackney said.
That Saturday was also the day that search efforts for Lonzie expanded to the Southside area around the I-95/295 interchange and Philips Highway.
Dive teams searched the retention ponds in the area for days following the initial attempts. They ended up searching over 60 bodies of water to recover Lonzie.
Officers from over a dozen state and nation-wide law enforcement agencies have assisted JSO in the search, including the Jacksonville-branch of the FBI and the Florida Fish and Wildlife Commission, multiple nearby county Sheriff's offices, the Miami-Dade Police, and the US Navy sent 75 personnel.
Texas Equusearch was also called in to help.
At nearly every press conference, Hackney said that there was one person who could help end the search and lead authorities to where Lonzie was.
Ebron was the last person to see Lonzie alive, and JSO has said they believe that he knows where the 21-month-old could be found.
JSO said that Ebron was helpful with their investigation at first, but after his arrest, police said he went from helpful to a 'self-preservation' kind of attitude. He has not had any contact with police since sometime well into the first week of searching for Lonzie, and has since obtained legal representation.
Ebron's parents have visited him multiple times. William Ebron Sr. and his wife have spoken to First Coast News. They said they've encouraged their son to tell the authorities everything he knows about Lonzie's disappearance. Since initially speaking to FCN last Saturday, July 25, and then against this past week, Ebron Sr. reiterated his desire to see his son tell police everything.
However, Ebron's parents also began to question the police's version of events. They specifically questioned why Ebron, whom they know to love children, would kill Lonzie. They said they don't know what he would have to gain by murdering the toddler.
Regardless of how his parents' feel, Ebron's past run-ins with the law include multiple arrests for drug use and violence.
His most recent arrest was on May 30 of this year. Court documents show that he was ordered to have no with Lonzie's mother and a 7 p.m. curfew.
Ebron was out on bond in Baker County, court documents show. A detective with JSO asked the State Attorney's Office to revoke his bond there before he was arrested for child neglect on July 24. On Aug. 14, he was also charged with giving false information to police, court records show.
Ebron has previous convictions for battery, including a guilty verdict for domestic battery in 2012 after Ebron pleaded no contest.
Ebron has also pleaded guilty to grand theft, court records show.
In early July of this year, Lonzie's mother filed a third domestic violence injunction against Ebron. The injunction also said that he stalked and cracked the ribs of an ex-girlfriend.
The records show that Ebron's accused of threatening to kill his niece and accused of raping an ex-girlfriend.
"Ebron leaving the children turned him into part of a monster," Hackney said early into the investigation.
On Saturday, Hackney stated that he'd been told not to call Ebron a monster, but added that the community-at-large was allowed to come up with a suitable adjective to describe him.
Local attorney Harry Shorstein spoke to FCN about JSO's case against Ebron - and if a body is needed to prosecute him. Shortstein has prosecuted and won more than 30 murder cases while working as a state attorney. He is not connected to the Lonzie case at all.
Shorstein explained that it's not uncommon for prosecutors to try a case without a body and win, but it can be difficult.
"Even though the suspect is denying everything, the police will try to get him to talk as much as possible and develop contradictions, which can go a long way in convincing a jury that, 'I don't think that person is telling the truth," he said.
Lonzie's biological father has not been named as a suspect either. Chris Barton spoke to FCN's Jeannie Blaylock on Wednesday.
"He lit up the room from the time he woke up," Chris said of his missing son.
Lonna Barton's sister-in-law, Brittni Lauramore, spoke to First Coast News and said that Lonzie stole everyone's heart.
"He was a very happy baby with beautiful blue eyes, loved the water, loved animals," she said. "The last time I saw him and spent time with him, we were at a splash park in Lake Butler and he was just in awe over the water."
She said that she just wants peace for her family. "I hope everyone knows we're grieving," she said. "We want him home, and we miss him, and we love him and we want him home."
There have been multiple prayer vigils for Lonzie in the time since he went missing, organized by members of the community. At a vigil in Macclenny, hundreds showed up and emotions ran high.
"I don't know what to do except pray. All we can do is pray," said Lonzie's great-aunt Shirley Barton at the vigil.
Besides community vigils, local residents and businesses have also contributed to the search efforts by donating food and water to the many officers involved in trying to find Lonzie.
In a statement to the press, JSO said they've seen a tremendous response from local businesses and citizens in the efforts to search for Lonzie Barton. "The assistance has been offered by way of helping with the searches as well as by donations of food, drink and supplies," the statement continued.
JSO has since asked that donations of food and water stop - they received more than enough food and water, but still welcome any tips from the community.
A private group called police about 8:40 p.m. Sunday, Aug. 23, after finding porcelain angel figurines while searching for Lonzie Cuba Hunter Park.
The next morning, Aug. 24, JSO determined the discovery was not related to the 21-month-old and "looks like a buried pet grave."
In their search for Lonzie, JSO has found the remains of two different people - unrelated to the search for Lonzie Barton - and a set of animal bones. No information has been provided yet as to the remains' identities.
Police, into their tenth straight day of searching, double-checked the area in the Southside and the area around Lonzie's apartment.
Much like the community, Hackney has said this ordeal has broken his heart. At a press conference on Aug. 1, Hackney walked up to reporters holding a teddy bear.
He spotted a memorial to Lonzie Barton near Baker Skinner Park where he gave the conference. Hackney saw the toys there - and he said it got him thinking.
"Seeing that out there and all those toys, I kind of started getting mad," he said. "I've been heartbroken and I've been a lot of things and I started getting really mad this morning because I realized that little Lonzie Arin Barton is probably not gonna play with his toys again."
While anger and heartbreak have certainly come into a lot of hearts in the search for Lonzie, Hackney also stated again the attitude of his officers:
"The dedication that we have - again, to the media, to the citizens - your interest, concern, thoughts and prayers have been instrumental, but we're not done; it's not over. We will continue forward."
Authorities have said that as officers move from a search to a murder investigation, officers will be working more behind the scenes, but that does not mean they are not working.
Hackney said that if they receive any more tips on where Lonzie might be, they would always track those tips down. He said that every day they get a new group of tips.
Lonzie was last seen by someone other than Ebron at 8:30 p.m. on Thursday, July 23. If anyone has any information related to Lonzie's whereabouts, you are urged to contact the Jacksonville Sheriff's Office at 904-630-0500 or, to remain anonymous and receive a possible cash reward, call Crime Stoppers at 1-866-845-TIPS.
Moving forward, Hackney has said that he normally wouldn't have shared the surveillance video disproving Lonzie's story with the public, but he said he thinks it may help encourage Ebron to come forward.
Anyone who has anything to do with the death of Lonzie Barton will face charges, Hackney has said. Police have said that the public can decide on what happened and if Ebron is telling the truth to make their own determination of this case.
Stay with First Coast News for any updates on attempts to find Lonzie Barton and the police's case against Ruben Ebron in what police call the toddler's murder.