JACKSONVILLE, Fla. – Petitions to decriminalize the possession of marijuana are cropping up in Northeast Florida amid a nascent state-run medical cannabis program and a growing patient registry base.
Despite its medical status in the state, marijuana is currently putting more people behind bars than heroin, methamphetamines or any other controlled substance in Northeast Florida.
For the eight-month period between January and August 2017, there were a total of 1,273 marijuana-related arrests in all of Clay, Duval and St. Johns Counties. Of those arrests, 947 were misdemeanor charges for possessing up to 20 grams of marijuana.
Consequently, more taxpayer money is being spent on arresting marijuana offenders than on those responsible for an increasing number accidental overdoses associated with the opioid epidemic sweeping the country.
It's estimated that more than $230,000 from the three counties has already been spent on jailing those as young as 18 for marijuana-related crimes. The estimate takes into account average police officer salaries, the number of hours and officers per arrest, fuel costs and the average cost for one day in jail.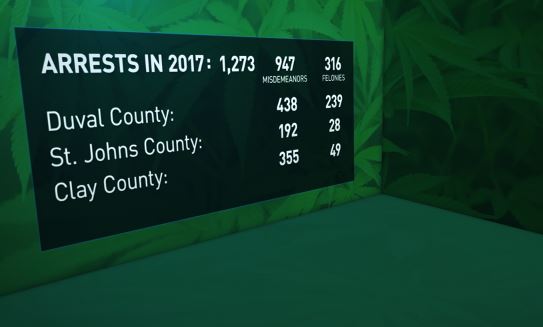 "I know that every day there are arrests for simple possession in our paper," said Pam Linder, a semi-retired nurse practitioner living in St. Augustine. "I mean, there were two today."
Linder started petitioning for the decriminalization of marijuana – along with two other local issues – after the election in November 2016. For each topic, Linder created petitions for both the City of St. Augustine and St. Johns County.
"I wanted to pick things that were not politically divisive, things that I thought everybody would be in favor of and that would help the working class the most," said Linder.
With a tote bag, stuffed with petitions, each one affixed to a separate clipboard, and her picket signs fashioned after classic roadside advertisements, Linder hit the streets of St. Augustine. Little did she know at the time, her petition proposing civil citations for the possession of marijuana would be the most popular amongst St. Johns County residents.
"I mean, there are drugs that are much more harmful that are legal," Linder said, defending her stance on decriminalizing marijuana. "You know, alcohol and tobacco are legal and marijuana does not kill people."
Months later, Linder now has pages of petitions and hundreds of signatures in support of giving local authorities the option to write civil citations for minor possession rather than arresting offenders. This being a decision, according to Linder, that would ultimately still rest in the hands of the arresting officer.
"It's not like the petitions for ex-felons to vote again where it is a legal document," Linder said. "These aren't legal documents, these are just saying that people want this to happen in the county. It's not a controversial thing."
Linder's petitions for marijuana civil citations are modeled after other city ordinances already in effect. Northeast Florida is one of the few remaining areas in the state that has yet to approach the issue of decriminalization. Miami-Dade, Broward, Palm Beach, Volusia and Alachua Counties, as well as the City of Tampa and Orlando have all enacted a marijuana citation system with varying fines accompanying each.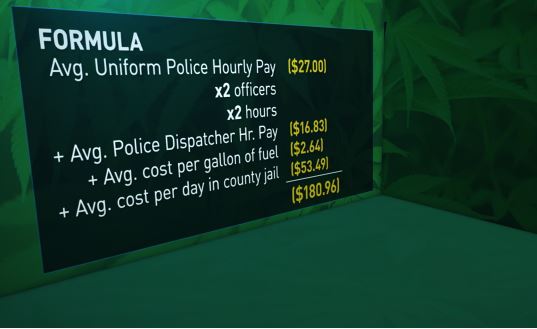 The Orlando Police Department has issued over 100 civil citations for the possession of small amounts of marijuana since the city-wide ordinance was enacted last year. Orlando Police Chief John Mina told First Coast News he believes the ordinances have freed up some of the department's resources that would have otherwise been expended on arresting, booking and jailing minor drug offenders.
"We want to reduce crime, we want to make safe and livable neighborhoods and going out there and making a bunch of low-level misdemeanor drug arrests is really not going to accomplish that goal," said Mina.
While Mina admits the civil citations have helped, he said they aren't an option for every drug offender. Mina believes the citations are best utilized on first-time or young offenders, as well as college students who could be drastically affected by a misdemeanor marijuana arrest.
"What I tell my officers what it's not for, is for people who are combative or not cooperative, or you know, someone that we've arrested a hundred times for selling illegal drugs," said Mina.
Linder presented her petitions and signatures to the St. Johns County Board of Commissioners at a meeting in August, hoping they would introduce an ordinance or at least start to discuss one. St. Johns County commissioners have been silent on the topic ever since, but Linder said she believes it is only a matter of time before the commissioners come around.
Linder was unaware she had ally in the audience at the meeting last month, who is fighting for the same cause: decriminalize small amounts of marijuana.
"I like the way Pam is presenting it because it's a two-headed front," said criminal defense attorney Jonathan Luca. "She's bringing it to their attention and then we're going to come around and bring the other information to the table."
Luca has a law practice in St. Augustine where, among other things, he represents clients on both misdemeanor and felony marijuana-related charges. Luca's youngest client he represented for a marijuana charge was 14-years-old. The teen's case was processed through a pre-trial diversion program and the charges were eventually dropped, but not all of Luca's clients get off so easy.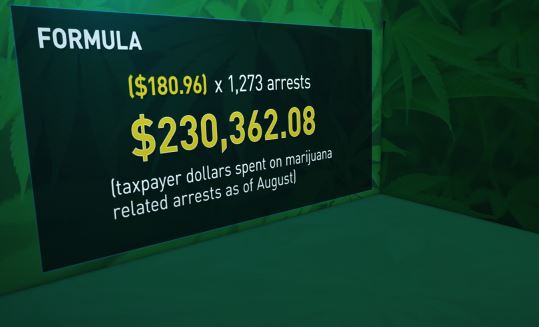 "The stigma of having the arrest and the record, even though it's a withhold of adjudication, remains with you forever," Luca said. "There is also law that with an adjudication of possession of marijuana, along with any other drug, the information is sent to the DMV and you are subject to a suspension of your driver's license just for the conviction."
As of late, Luca has been focused on working with local authorities in the City of St. Augustine and St. Augustine Beach to try and finally bring marijuana decriminalization to the First Coast.
"Basically, what I've done is I've looked at all the other counties that have these ordinances and I'm bringing them all with me and we're going to go through and redline or circle what we want and they're going to have the lead on this," said Luca.
Regardless of potential medicinal properties, marijuana remains a controversial topic, one which law enforcement is hesitant to fully embrace. According to Mark Baughman, former DEA agent and retired narcotics captain for the Pinellas County Sheriff's Office, marijuana's medical status begs the question.
"The argument from the other side is always going to be, is marijuana the gateway drug to other drug use or abuse?" Baughman said. "At this point, there's no signs to say that it isn't, there's some to support that it is."
Baughman said he can see where it would be effective to issue citations rather than arresting offenders, but only under certain circumstances. One of the immediate effects Baughman foresees is relief to an already packed jail system.
However, Baughman said that without looking at all the arrests reports from the three counties, other factors are most likely at play in a majority of the arrests, as well as additional charges that go along with the misdemeanor marijuana infraction.
"If it's just solely a possession case, I would go along with the infraction or the citation," Baughman said. "Now, if there are accompanying charges that go with it, you don't have any choice but to incarcerate them and probably lay that charge on them as well."
The decriminalization movement has now spread to Jacksonville, where a similar online petition was launched by a marijuana advocacy Facebook group called Route 420. The petition, which currently has around 500 signatures, is asking city council members to consider decriminalizing misdemeanor amounts of marijuana.
Jacksonville Beach attorney Carrie McClain, who's been an advocate for the smoking of medical marijuana since Amendment 2 passed in Florida last November, said she agrees with the petition but believes it must start by getting the local authorities on board.
"It's going to take people in Atlantic Beach, people in Neptune Beach, people in Jacksonville Beach stepping up and talking to their Sheriff's office and saying, 'Hey, we want you to, we want to know your views, we want you to realize that we think our tax dollars can go to more important crimes in our small area,'" said McClain
And for McClain who is also a resident of Jacksonville Beach, she'd like to see her tax dollars go towards crimes that are hitting closer to home.
"All of our news casts are about murder, rape, you know, theft," McClain said. "I don't want to hear about a joint that was confiscated in Jacksonville Beach. No, not when there was a murder at Seawalk Pavilion on July 4th."
First Coast News reached out to the Jacksonville Sheriff's Office for comment regarding the petition but has yet to get a response at the time this article was published.