It's no secret that the NFL has developed a fascination with converting former basketball players into offensive weapons on the football field.
From Antonio Gates to Jimmy Graham to Julius Thomas, the league has found a way to make the most of athletes with superior leaping ability.
Virginia Tech wide receiver Isaiah Ford won't be lumped into that group. His basketball fame was finalized at Trinity Christian Academy in Jacksonville.
The three-year starter for the Hokies was primed to be a dual-sport athlete in college. However, a few bumps in the road forced Ford to pick the gridiron over the hardwood.
The Jacksonville native averaged 37 points per game at Trinity Christian during his high school career. He played point guard and shooting guard for the school.
After a successful prep career, Ford committed to Louisville to play both football and basketball.
However, when then-Louisville head football coach Charlie Strong left the program for the Texas Longhorns job, Ford decided to de-commit and head to Virginia Tech.
Ford didn't gel with the Hokies' basketball coaches, so he decided to stick to just football.
The decision has paid off, as Ford is expected to be a Day 2 draft pick later this month.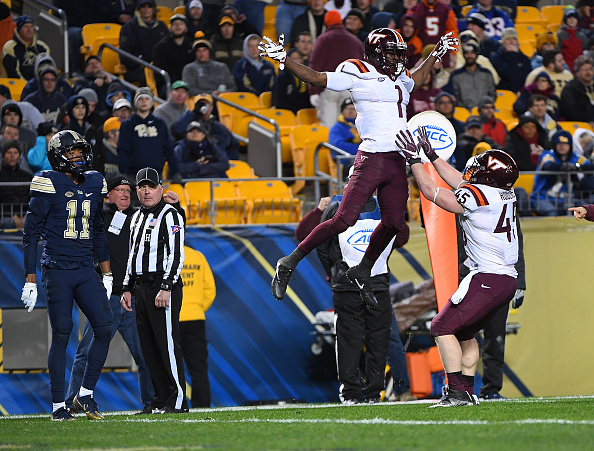 With basketball in his rearview mirror, Ford believes that experience has helped him on the football field.
"I think it helps me a lot, especially on those 50-50 balls," Ford said. "I like to pride myself on going for a pass, like going up for an ally-oop or catching a rebound off the board. There's a lot of similarities in it and I think that's what I think helps me out so much."
Ford's athleticism helped him get on the field immediately at Virginia Tech. As a true freshman, Ford started 11 games and caught 56 receptions for 709 yards and six touchdowns.
"I had to grow up fast but it's what I wanted to do," Ford said. "I had set the goal out to go there and start as a true freshman from Day 1 and that's what I did. I think the coaching staff did a great job at making sure I was comfortable and getting me comfortable. My teammates that grew around me, I kind of grew close to them so we became a family."
Ford's production exploded during his sophomore season. He received first team All-ACC honors after setting school records for receptions, receiving yards and receiving touchdowns.
Ford was the first receiver in Virginia Tech history to produce more than 1,000 receiving yards.
"I put in a lot of work," Ford said. "I pride myself on my work ethic. I feel like it's second to none. Just putting in the time when no one else was around. I was going to the indoor [facility] every night after workouts, doing drills. Doing cone drills, doing ladder drills by myself and even throwing with my quarterbacks until midnight or past midnight sometimes. I got to add some muscle in the weight room and it really helped me a lot."
He ended up with 75 receptions for 1,164 receiving yards and 11 touchdowns during his second college season. He followed that campaign with another solid year.
As a junior last season, Ford had 79 receptions for 1,094 receiving yards and seven touchdowns. His production during his final two seasons at Virginia Tech played into his decision to leave school early for the draft.
"It took a lot of thought to be completely honest," Ford said. "I sat with my family for a bit and talked about it. [We] weighed the pros and the cons of [staying] versus coming out. Especially the two years that I put back-to-back, we felt it was time to come out."
Ford has spent the last few months preparing for his professional career. He was invited to the NFL Combine in Indianapolis in February.
His test in front of NFL scouts didn't go that well. He ran a 4.61-second 40-yard dash, which was slower than most expected.
"It was a disaster," Ford said with a laugh.
"It was stressful, it was completely stressful. It was hard to sleep, didn't get much sleep, didn't get much food either. It was a lot of meetings, a lot of talking, which was the fun part for me. Sitting down and talking football with the coaches. There's a lot of poking at you with the doctors. They pick you up, put you on the table, then pry you and poke you and pull you in different places. Then on the last day, we did the field stuff."
Ford actually performed at the combine with a hamstring strain. The injury occurred a few weeks before the event, but Ford didn't want to make excuses or back out.
Ford was able to receive treatment and recover from the hamstring injury in the weeks following the combine.
At his pro day, Ford was able to improve his timed tests from Indianapolis, running a 4.52-second 40-yard dash.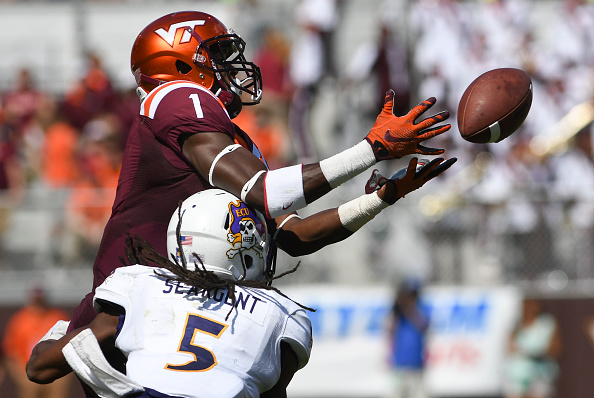 With a little over two weeks left until the draft, Ford now must wait for his opportunity.
"At this point, it's about controlling what I can control," Ford said. "I'm going to continue to do the same things I've been doing that's got me to this point. I've spent a lot of time working on the details of my route running and things like that, making sure that my iron is sharp and that I'm at my best right now."
The 6-foot-1, 194-pound wide receiver will continue to train in Blacksburg, Va. until the week of the draft. He won't stop working.
"Continuing to get stronger in the weight room," Ford said. "Adding muscle mass and getting back into shape. I'm doing everything I can control on my end and letting everything else take care of itself."
Ford knows his next challenge will come in a new town. His time at Virginia Tech has prepared him for that next phase.
"I think moving away for college definitely helped me a lot," Ford said. "It helped me grow up and kind of do things on my own. It helped me become a man. That's something I'll always be thankful for, for being in Blacksburg. It kind of raised me and shaped me into who I am today."
While he is likely to head elsewhere in the coming months, Ford does plan to spend draft weekend in Jacksonville with his family. His big moment will come with him returning (temporarily) to the First Coast.
Follow Mike Kaye on Twitter at @Mike_E_Kaye.