Drew Kohn was a football star. An Oakleaf High graduate and a football standout, he was contemplating playing in a Canadian League.
Yolanda and David Kohn, Drew's parents, say he was a natural-born athlete.
"Drew was very gifted. I don't think he crawled when he was a baby. When it was time for him to start walking he was running," David said.
Things came skidding to a halt when Drew was in a near-fatal motorcycle accident in July, just days before his 23rd birthday.
The impact of the crash knocked his helmet off and left him barely breathing as strangers rushed to his aid. Ben and Casey Kambach were 40 yards away from the scene when they heard a car plow into Drew's bike.
They immediately pulled over and rushed to help him, but when they reached him they say Drew wasn't breathing.
"I just knelt down to him and told him to keep breathing and doing what he was doing and he took a really deep breath in," Casey said. "I just remember watching his stomach and I could see it rising and falling but I knew that was enough that he was breathing," she said. "I just remember saying dude, they're coming, just keep breathing and he did until they go there and got him loaded up and could take him to the hospital."
Drew was badly injured. He suffered a traumatic brain injury, a spinal cord injury, broken ribs, a broken pelvis and collapsed lungs. He has been in a coma since July.
Drew's parents were initially told he would never come out of a vegetative state, and that he was braindead.
But his parents knew their son would fight. And he did.
"I began praying for him and his condition and letting him know 'we are here for you and we are not going anywhere as long as you are breathing and want to fight we are going to fight with you,'" Yolanda said.
Scans of Drew's brain later showed he was not braindead as doctors had originally diagnosed though damage to his brain was severe.

Drew has made remarkable progress and is now off the ventilator and breathing on his own, but he remains in a coma.
"Right now he is still in an alternate state of consciousness, but his physical body has healed like a 5-year-old. He's 23, so it's amazing," Yolanda said, "The road rash, the broken ribs, the broken pelvis, the collapsed lungs. These are serious injuries and he's healing from them like nothing happened, but his brain is not functioning on the level we would like, and he's coming around and that takes time."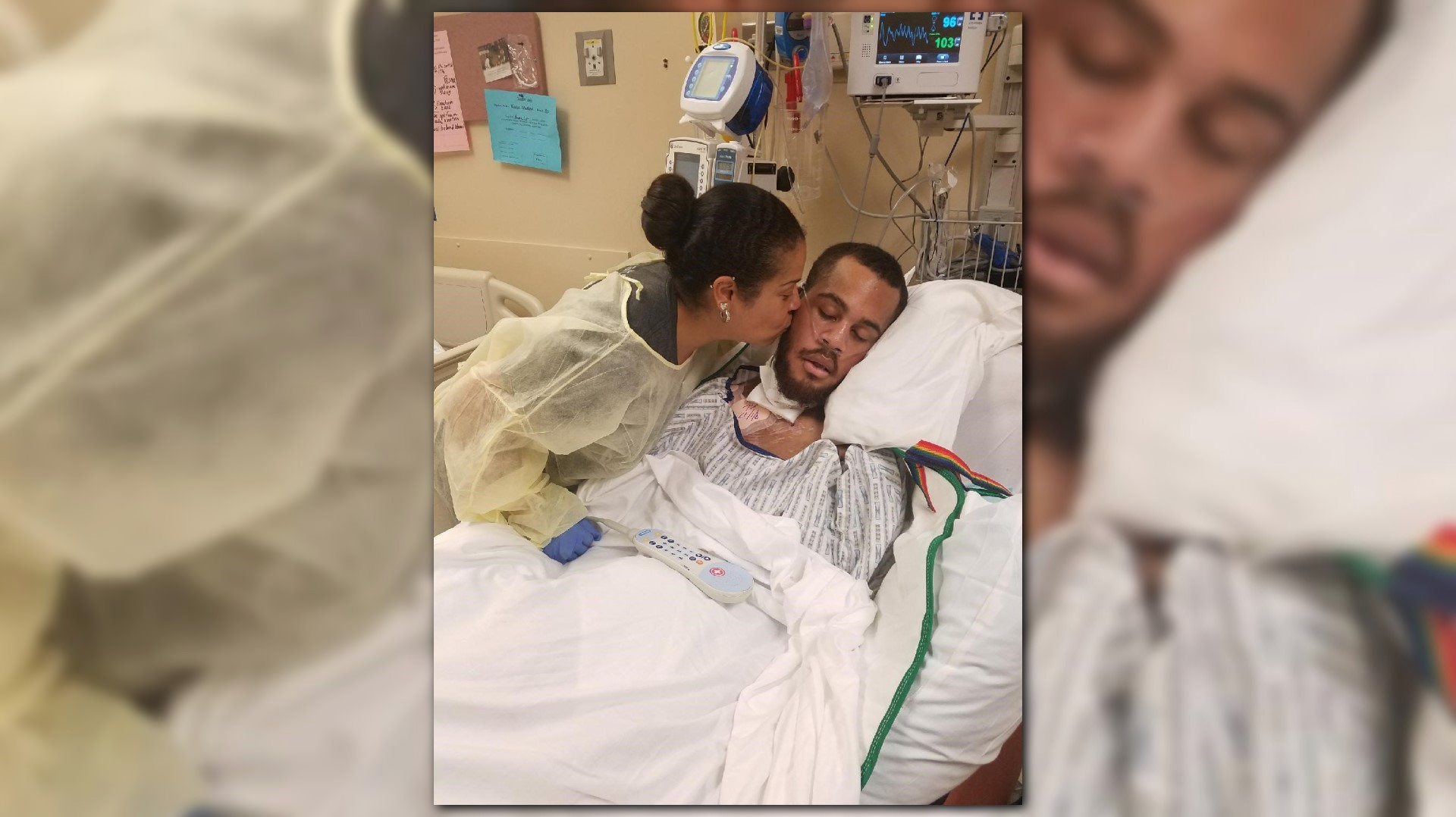 Despite all the progress Drew has made he still needs care around the clock. His recovery process will be years-long. The Kohn's insurance, Anthem Blue Cross and Blue Shield, which is not a part of Florida Blue, will not pay out for Drew to go to another facility that can help him with his needs, like the world-renowned Shepherd Center in Atlanta which specializes in rehabilitation for people with spinal cord and brain injuries. He has been accepted into the center's four to six-week program, but his insurance deemed it experimental medically unnecessary.
Mitch Fillhaber, Senior Vice President of Corporate Development at the Shepherd Center, says they see this happen all the time.
"It is just heartbreaking when people's benefit plans don't allow them to get the care they need."
He says there is mounting evidence showing programs like those offered at the Shepherd Center work.
"We've tracked for multiple years based on the number of patients submitted for that level of care how many of these patients have awakened during that four to six week period and have been able to enter our regular rehab program," said Fillhaber. "That percentage virtually in every case is better than 50 – 60 percent. We think that's a pretty good indicator we are having success here with this particular program," Fillhaber said. "We feel anybody, any medical director or case manager and a payer who takes the time to look at these results really would not be able to consider it an experimental process."
But the program at the not-for-profit hospital is expensive - $6-10 thousand dollars per day and the Kohn's insurance denied their request.
"Them [the insurance company] not knowing you as a person but making decisions in the boardroom or behind closed doors," David said. "My child is not a number. He's my son and I know him. You can't make decisions in a closed room about my child and what was best for him because I know what's best for him."
Any day now, Drew is expected to be released from the hospital and sent home. The Kohn's home was impacted by Irma and is still being repaired as they work to accommodate Drew's new needs.
"There are so many moving parts like using your savings, having to make accommodations to your home like he has a lung condition and can't have carpet, adding ramps and rails and these are things that have to be done immediately. If the doors aren't wide enough you have to widen hallways, doorways, change his room," Yolanda said.
Not only is Drew fighting to get better every day, but his family is fighting for him to ensure that he has the best care possible to make a strong recovery.
Drew is loved. His family is behind him and he has the Kambachs who have been beside him and his family since they held his hand and begged him to breathe the day of his accident.
"He is a person I just want every opportunity he has to get better to be given to him and for him to be able to get better and for him to get the necessary things he needs to get him back on the right track," Casey said.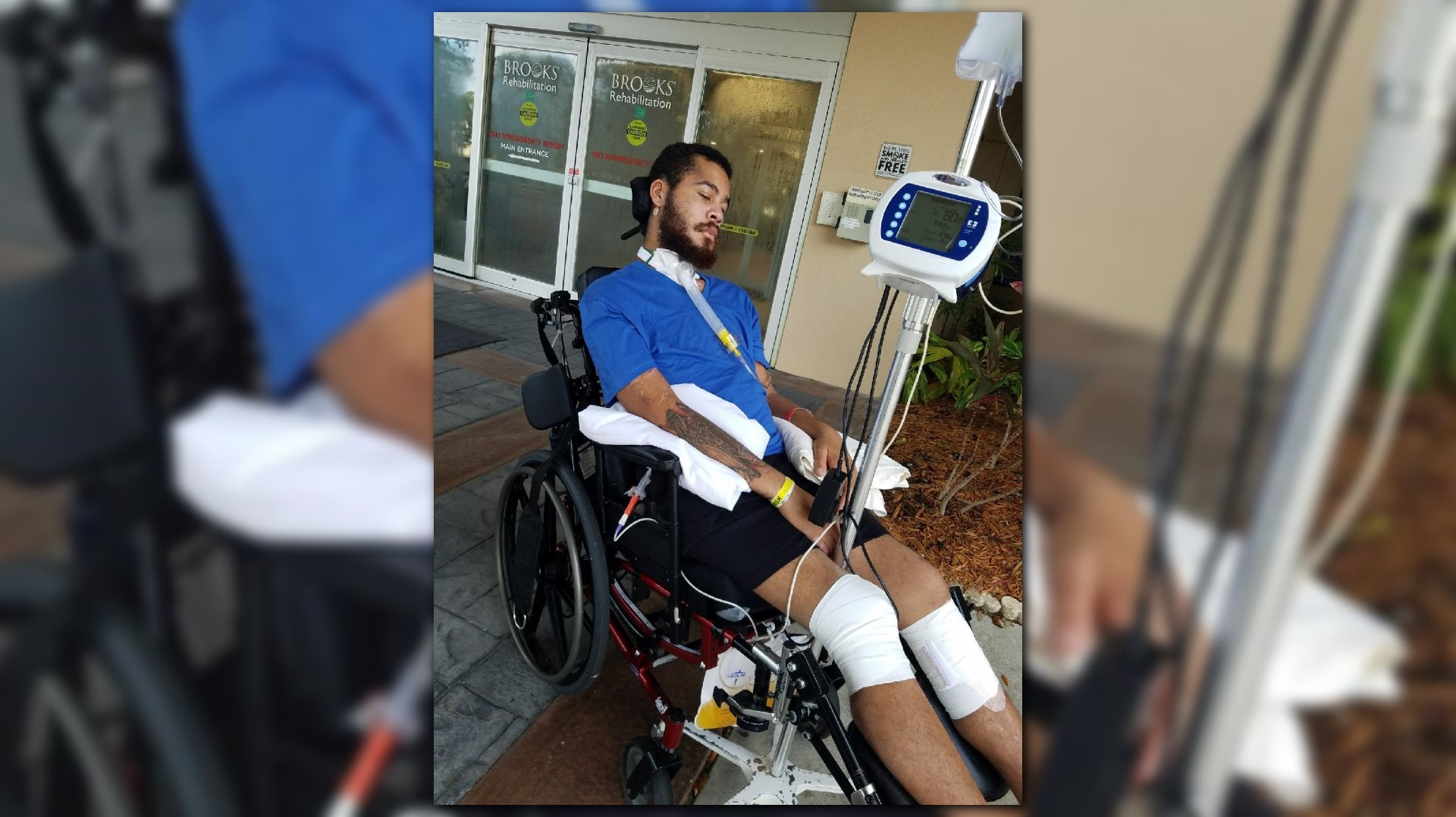 The Kohn's have one more chance to file an appeal with their insurance company.
However, that's not their only battle. Drew was also denied Social Security Disability benefits because the state says it's still awaiting information they've requested from Memorial and Specialty Hospital showing he is disabled.
First Coast News reached out to both hospitals. They said they are looking into it.
"We need help," said Yolanda. We are battling time. I don't have time for them to keep telling me no, no, no."
Anthem Blue Cross and Blue Shield said in a statement, "Federal privacy laws prohibit us from commenting on this story."
"We've been told sometimes the brain rechannels itself and makes ways to find its way back but the brain has a way of healing itself and so we just have to believe that's what's going to happen," said Yolanda.
If you would like to help out the Kohns you can donate here.