JACKSONVILLE, Fla. — Ruben Ebron, law enforcement's chief suspect in the disappearance of missing toddler Lonzie Barton, led the Jacksonville Sheriff's Office to the believed remains of the child found in a wooded area on the city's Southside Monday, authorities said.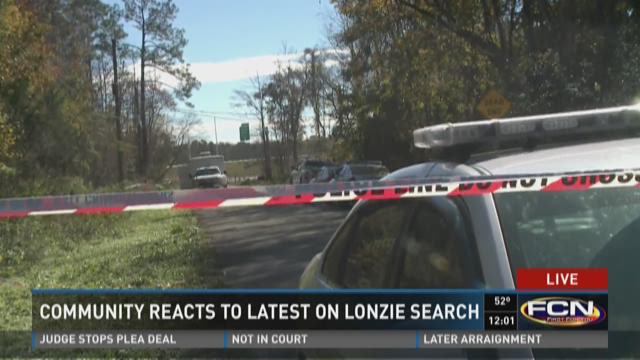 The sheriff's office held a news conference just after 4 p.m. Monday – 172 days since the search for Lonzie began – with Sheriff Mike Williams, JSO Chief of Investigations Tom Hackney and State Attorney Angela Corey to announce the somber discovery made shortly after midnight
"We believe we have found the remains of 21-month-old Lonzie Barton," Williams said.
Ebron cooperated in finding the remains that investigators strongly feel belong to Lonzie, Williams revealed. 
The sheriff's office had been investigating the area near Snyder Street in the Bayard neighborhood since Sunday evening. Neighbors described the area as "very swampy."
The search, Williams said, was situated "probably a few miles south of our most southern locations of our original searches." 
It was located approximately 9 miles from the formerly named Ravenwood Apartments, where police say Lonzie was reported missing by Ebron, his caregiver, July 24. The scene was less than 2.5 miles away from the industrial area off Greenland Road and Philips Highway where First Coast News captured JSO searching just days after the child's reported disappearance. 
"This case isn't over," said a visibly emotional Hackney. "This is the first step in justice. We've worked with Ruben Ebron and his attorneys throughout." 
Lonzie was first reported missing by Ebron Friday, July 24, Williams said, which led JSO on an extensive search for many days throughout Jacksonville.
According to Williams, 425 officers were searching on a daily basis for Lonzie, along with assistance from 38 agencies throughout the southeast, until the search was scaled back on Aug. 2.
"Today is not the end," Hackney said. "It is just another step."
First Coast News has learned Chris Barton, the husband of the child's mother Lonna Lauramore Barton, was informed of the search by Baker County officials and will be receiving medical attention. 
Lonna's brother released a statement on behalf of the Lauramore family.
"We have been praying for our nephew  to be found and we our heartbroken and thankful he is found. We will continue  to pray  for justice  and the truth. On behalf of the lauramore family..thankful for all the prayers" 
The search took place on the same day the trial of Ebron was delayed after his attorney's waived his right to a speedy trial.
Police had been in that same area the night before, but did not mention Lonzie or a search for him then. Instead, JSO said investigators were searching for a man in the area and gave information about another missing baby, Nehemiah Weedon.
Officers told First Coast News that this child was also believed to have been harmed by the man charged with caring for him – his father, Dwayne Weedon, Jr. 
But, at about 4 p.m. Monday, just hours after investigators discovered the remains believed to belong to Lonzie, reports surfaced that attorneys for Ebron were working on an agreement that would have their client plead guilty to aggravated manslaughter in the death of Barton, who went missing in July. Less than an hour later, however, the deal had apparently fallen through.
Ebron is charged with two counts of child neglect, one count of giving false information to investigators and a count of evidence tampering after reporting the toddler missing last July, court records show."The search led us to the body and that changes things somewhat," said Corey referring to the case against Ebron. 
He's also charged with conspiracy to escape, possession of a concealed handcuff key and introduction of contraband to a county detention facility after he was accused in August of concocting a plan to break free from police custody.
Ebron was arrested on child neglect charges hours after he reported Lonzie Barton, his then-girlfriend's son, missing July 24. Just days later, on Aug. 3, he was also charged with lying to police after JSO released surveillance video that they said discredits Ebron's story about how exactly Lonzie disappeared.
Ebron had left both Lonzie and his 5-year-old sister in his car parked outside his apartment July 24 while he went inside, he initially told police. Moments later, the 5-year-old wandered inside, Ebron said, and he ran outside to find someone driving off in his car with Lonzie still inside.
Surveillance video from a neighboring residence, however, showed Ebron driving past the night Lonzie went missing and minutes later running past in the opposite direction, according to JSO.
Lonna Barton was arrested a month later on charges of lying to police and child neglect. 
That's after she allegedly acknowledged that she noticed her son had some kind of head injury in the days leading up to his disappearance, but left him in Ebron's care anyway.
Barton, police said, also initially lied when confronted by investigators the morning Lonzie went missing July 24, allegedly saying she did not know Ebron, whom investigators have since concluded she had a romantic relationship with.
Barton pleaded guilty to child neglect and lying to police charges Thursday. Judge Borello had been set to rule Monday on whether Barton would be allowed to testify against Ebron, however, that ruling has been delayed as well.
First Coast News is on the scene and this story will be updated as new details become available.