Temperatures are heating up all around the First Coast, but one Florida family has a warning about a supposedly easy and affordable way to cool off.
Above-ground pools are cheap and quick to set up. But can they be prone to disaster if you're not careful? The mom you're about to read about says two things went wrong:
First, she took her eyes off of her son. Second, she left a ladder in place that allowed access to her backyard pool.
The worst may have happened fast, but the effects will linger for the rest of their lives.
Blake Sutor's adventurous early days are well-documented.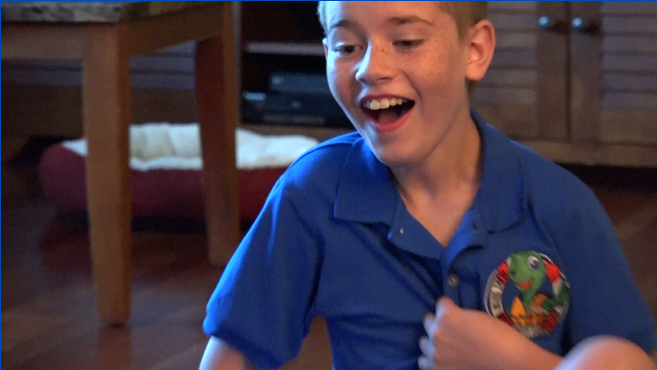 "Happy, active, healthy," his parents say. "Running around and loved to play outside."
When Blake was younger, Eric and Trina Sutor decided an above-ground pool was a good idea for their family.
"He knew his routine and wanted to go swimming, so he went outside while I was putting a movie on," Trina says.
What happened next was all over the news - a reported drowning at their home.
"My heart sunk," Trina says. "So I went to the pool and I screamed. My scream was what alerted Eric. By then, I had jumped in the pool and got him out and started CPR on him."
Detectives say they believe Blake was in the water for three to five minutes. He'd remain in the pediatric intensive care unit for 42 days.
Blake was only able to get into the pool because of a plastic A-frame ladder provided with the above-ground pool kit. That A-frame ladder is central to a lawsuit the Sutors filed and have since settled with their pool's manufacturer, Intex.
"This has been a problem that's been recognized for 50-plus years and how long are we going to let this go on?" asks Alex Gillen, the Sutor's attorney. He worked on Blake's case.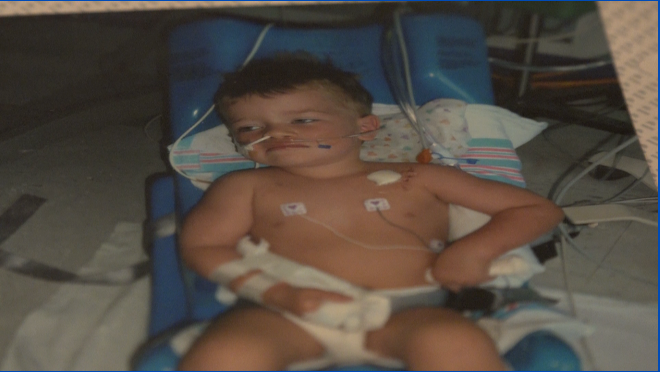 The lawsuit says the ladder had a "faulty safety system with negligent design and inadequate warnings."
"These above-ground pools are typically pretty inexpensive," Gillen says. "The majority of them are made in China. They set up in about an hour and they're sold all over the place."
A quick search and a couple clicks online show big box stores and online retailers selling tons of these pools, with all sorts of different sizes and shapes. On sites like YouTube, hundreds of families have posted videos celebrating their new purchases.
Most above-ground pool kits sell for under $1,000 and come with pumps, cleaning supplies and the A-frame ladder.
"There are plenty of alternative designs out there that can prevent this unintended access to the pools," Gillen says.
One type allows an adult to actually flip the ladder high in the air and lock it in place and the rungs are too far off the ground for an infant to get in the water. Another type has a cover that pulls down over the rungs making them impossible to climb.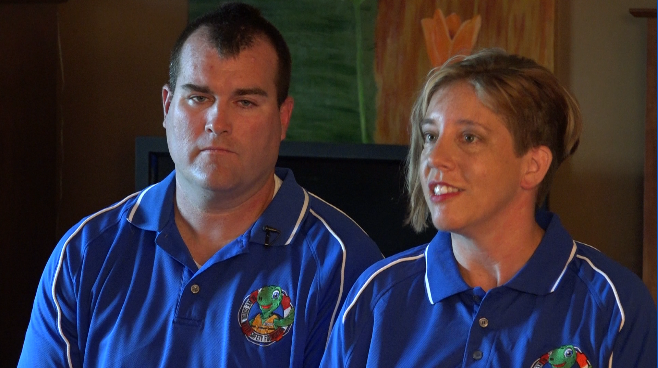 Any Pritchett of Infant Swimming Resource teaches kids to swim as young as 6 months old. She has some suggestions for parents.
"No ladders, no flotation devices, keeping water levels at certain heights so if they did fall in, could they reach around and grab the edge of the pool," she explains.
She recommends parents using an above-ground pool to remove the ladder when no one is swimming or purchase an after-market design that has added safety measures.
"You still want to think your child is Houdini and they can get through things, under things, over things a lot quicker than we give them credit for sometimes," she says.
The Sutors have started a non-profit to educate parents about keeping their pool safe and offer 'water watcher' tags hoping families will have a designated set of eyes on the backyard pool.
"Everybody is in denial about it happening to them because nobody thinks a tragedy is going to strike them," Trina says.
After what happened, tragedy is well-documented in their home.
"He booty-scoots everywhere now," his parents say. "He's able to maneuver himself around the house on the floor. He's recently begun pulling himself up onto the couch by himself."
With Blake as their motivation, the Sutors are working to alert parents to the dangers of above-ground pools and keeping kids safe while they swim.
Before the Sutors settled their lawsuit for an undisclosed amount of money, Intex answered the complaint and denied their pool or ladder product was defective.