Since the solar amendment failed this past November, big electric has been making some changes in their approach to offering power, starting with the opening of investor-owned solar farms across the state.
While companies like Jacksonville Electric Authority and Florida Power & Light have had their hands in photovoltaic (solar) energy for quite some time, there now seems to be a race against the clock to open as many new solar facilities as possible. Both FPL and JEA have plans to open eight solar farms apiece in the near future.
Last week, JEA made good on their intentions by opening one of those facilities. The $15 million solar farm located near the airport in Northwest Jacksonville is operated by the company groSolar and owned by the publicly traded, electric utility conglomerate American Electric Power.
"This is an asset that will continue to bring value to this community for a long, long time." AEP Executive Vice President Chuck Zebula said during a cloudy ribbon cutting ceremony last week. "This is something that I think you'll be proud of for a long time."
This is one of 20 similar renewable energy projects AEP has been involved in over the past two years. The 7-megawatt solar farm in Jacksonville is the first investment the $56 billion Fortune 500 company has made in the Sunshine State.
The facility consists of 30,000 solar panels strung together on solar arrays that track the sun from east to west throughout the day, maximizing the amount of solar energy that can be harvested. It's estimated that the new facility will produce 17,000 megawatt-hours of electricity within the first year.
That's enough energy, according to JEA, to power more than 1,000 homes in Jacksonville or reduce the carbon emissions from approximately 2,250 cars currently on the road.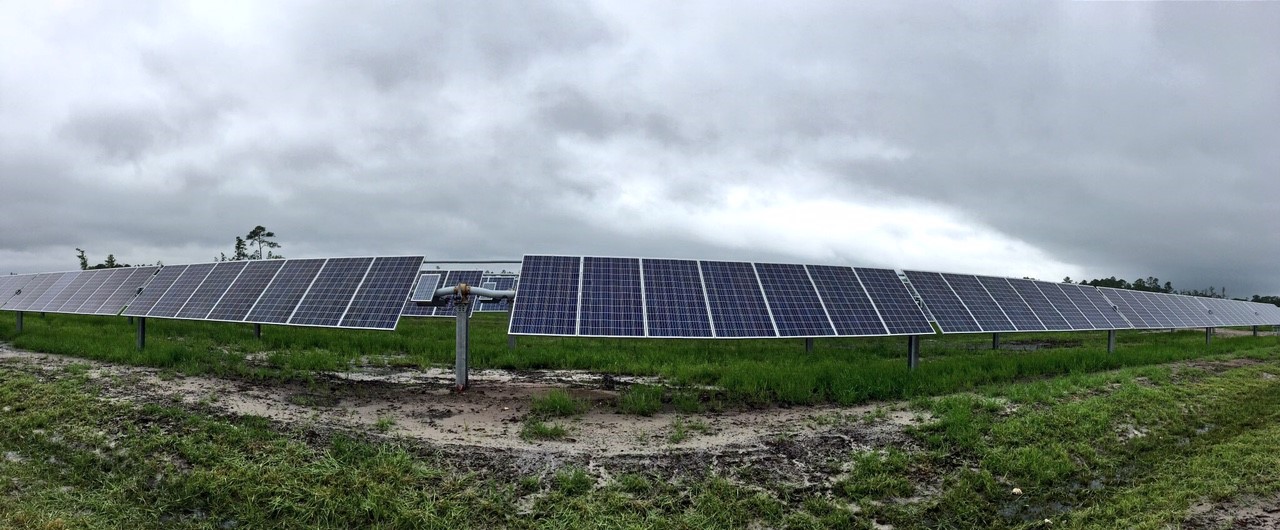 This is the second solar project JEA has been involved in over the past decade. Back in 2010, JEA ventured into the solar farming industry with the opening of a 12-megawatt facility near Baldwin. The facility consists of 213,000 fixed solar panels and is said to produce around 22,400 megawatt-hours annually.
"JEA is very interested in making solar accessible to everyone in Jacksonville," JEA Vice President Mike Brost said during the ceremony. "Earlier this year, our board approved a new solar program that will offer access to solar energy to all of our customers without them having to put in their own panels and own systems on their homes and business."
JEA's SolarSmart Rate
Starting in June, JEA began offering "clean" energy "at cost" to customers through the new optional rate plan referred to as SolarSmart. Both commercial and residential customers can now supplement anywhere from one percent all the way up 100 percent of traditional solid-fuel energy for a cleaner option harvested from these solar farms.
JEA will charge its customers $0.075 per kWh for the solar energy they subscribe to through the SolarSmart program. When compared to traditional solid-fuel costs at $0.0325 per kWh, the consumer will see a premium of about $0.0425 per kWh for the clean energy they elect to use.
JEA Director of Financial Planning Ryan Wannemacher said this is "simply the cost that it costs us to get that energy from solar."
The 25-year purchase power agreement between the two companies stipulates that the Jacksonville utility company will purchase photovoltaic energy from groSolar at a rate of $69.30 per megawatt-hour, according to JEA Media Coordinator Gerri Boyce.
"We are going to be monitoring the energy that we get from those solar facilities and we will be reserving that energy for those customers who subscribe to this program," said Wannemacher.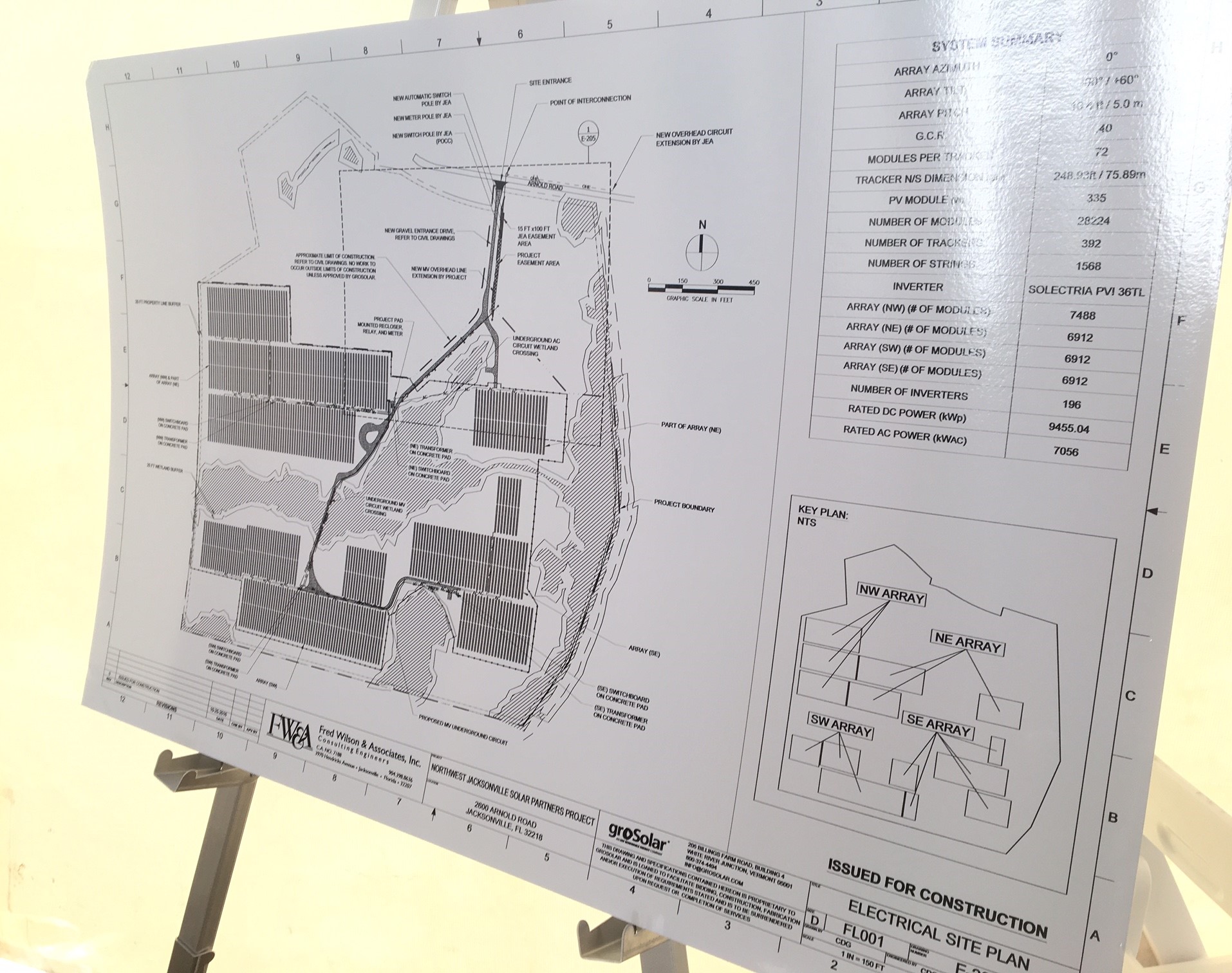 This is where it all gets a little confusing. According to Boyce, JEA is currently unable to determine exactly what type of energy goes where. Once the electrons hit the power grid, it all gets lost in conversion.
"When we produce energy we can't say, 'These electrons go to this house and these electrons go to this house,'" Boyce said. "We can't say you are only getting solar electricity."
Outside of a monthly bill showing that you are purchasing a certain percentage of solar energy through the SolarSmart program, there is no way to know for sure if the energy powering your home is actually clean.
You can rest assured though that you are helping push along the expansion of utility-scale solar in Jacksonville, which was approved by the JEA Board of Directors in 2014. As the SolarSmart program grows in popularity among consumers, the more solar facilities can be built and the more affordable it will become.
"We've seen the cost of those new facilities come down quite a bit in terms of price over the last couple years," Wannemacher said. "We expect that to continue and so that price for that SolarSmart rate will trend down over time as we add those additional cheaper resources."
Rooftop Solar & Net Metering
The alternative to JEA's new solar program is to go with the tried-and-true, but not necessarily cheaper option, rooftop solar. Whether you own, rent or lease solar panels on your home, you will most likely remain connected to JEA's electrical grid and therefore be required to participate in net metering.
There are currently 1,125 customers in Jacksonville who have rooftop solar and participate in net metering, according to Brost. Those customers contribute approximately 10 megawatts of excess clean energy to the grid. This energy, however, will not be used or sold as part of the new SolarSmart program.
One of the consumer appeals to rooftop solar is those who participate in net metering can offset their monthly bill by selling the excess energy they derive from the sun to a utility company, like JEA. What effect the expansion of utility-scale solar may have on current net metering programs around the state remains to be seen. Wannemacher hinted though that this is something JEA has begun to look at.
"The board is evaluating our net metering program at this time," Wannemacher said. "And so, that'll be up to them when we need to make that change."
Nevertheless, local proponents who were staunchly against the utility-backed amendment in November believe this plan is a big step in the right direction.
"It's there way of giving customers who don't have the opportunity to put solar on their own house to choose clean solar at a price." A1A Solar's Pete Wilking said. "So, it's a good program and it gives people choice and I think that's a good thing."
It's not always sunny in the Sunshine State, but big electric's movement towards distributed generation through photovoltaics should be a comforting notion for those concerned with Florida's carbon emissions, which ranked sixth highest in the nation in 2014.
"I hope it's obvious to all that JEA is a strong supporter of solar and having a clean environment," Brost said, looking out at the overcast sky. "Let's all look forward to lots and lots of Florida sunshine starting tomorrow."