Firefighters knocked on doors Tuesday handing out free food and water to pockets of powerless homes where people remained in need after Hurricane Matthew's assault days earlier.
Distribution began Sunday by National Guard and local police and firefighters. Jacksonville Fire and Rescue administrators joined a surface water rescue unit loaded with water and meals Tuesday to search north of UF Health Jacksonville for people in need.
As soon as he saw firefighters with supplies, Orison Butler came out of his dark house on West 18th Street, then carried back two boxes of meals.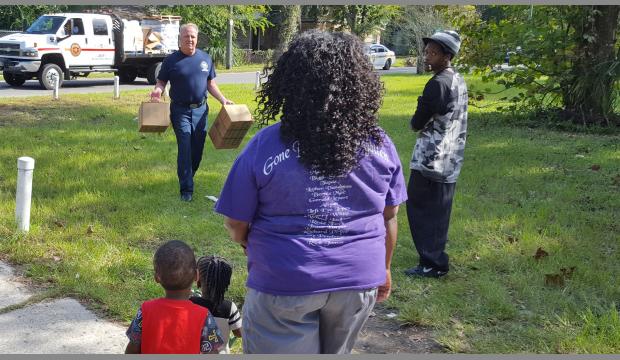 "It's great and wonderful," he said. "No power and no lights. I wasn't expecting this. They did a good job. Thank you all!"
Similar thanks rang out as firefighters took the supplies from the state to others on West 18th and Venus streets. Jacksonville Fire Chief Kurt Wilson joined the Springfield crew to help.
"The bad news is that they are still out there," Wilson said. "It's important that we find those folks and make sure they get a hot meal and fresh water."
The day after the hurricane battered Florida, almost a million customers statewide, including about 250,000 in Jacksonville, were without power Saturday morning. As part of the recovery effort, 18 distribution sites were set up in the city with bottled water and MREs (meals ready to eat) to give out. About 1,600 cases of water, 1,200 cases of meals and hundreds of tarpaulins were handed out Sunday and Monday. When Tuesday dawned, JEA said about 90 percent of its customers had power, so the decision was made to load up 15 teams with food and water and bring it to those in the dark.
"If you are without power for two days, nothing is working," Wilson said. "So we are going to the areas where JEA says there is no power and we are knocking on doors."
The Springfield crew headed west. Venus-Mars Court had power; so did the area around North Davis Street and Lincoln Court. But when the truck turned onto East 18th Street, the need was there and the power wasn't.
Assistant Chief Todd Smith walked up to a little house with bottled water, his knock answered by a thankful Barbara Wilcox.
"Are you passing out water?" she said in her warm living room. "We have no lights yet. It went out after the storm."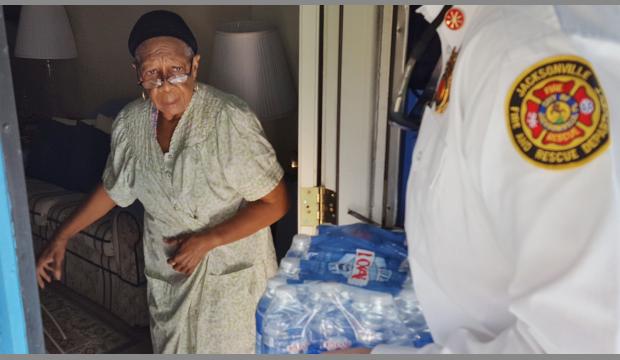 "Hey guys, get some more water and a box of food," Smith yelled back to the truck.
Theresa Raglin went to her son's house on Venus Street because she lost power at her home. Then more family arrived, 15 adults and children stuck when the power died. Firefighters gave them multiple supplies.
"I sure appreciate it," she said. "We were without anything. And a lot of our food went bad too, especially at my house because mine was one of the first to lose power."
Iris McMillian, standing on North Davis Street with her 1- and 2-year-old grandchildren, felt the same way.
"We are very grateful for it because we need it," she said. "… We have been without power for two or three days now."