Hurricane Preparedness Week (May 7-13) is your time to prepare for a potential land-falling tropical storm or hurricane, according to the National Weather Service.
The Atlantic hurricane season runs from June 1 through November 30.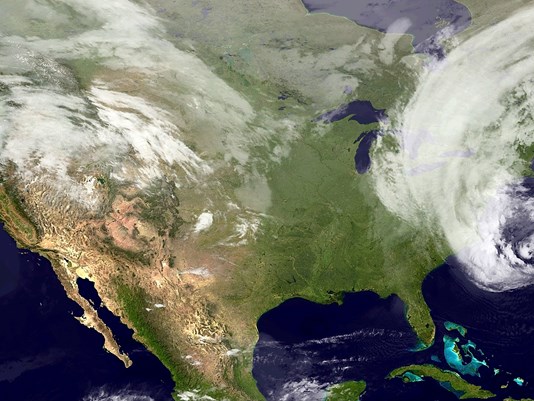 Colorado State University, one of the most recognized hurricane forecasting groups, predicts the 2017 hurricane season to be "slightly below average."
The university released their 2017 Atlantic Hurricane Forecast in April. It called for 11 named storms during this hurricane season, four of which will become hurricanes and two of which would be considered "major" storms (Category 3 or above with sustained winds of 111 miles an hour or greater).
A "normal" hurricane season sees 12 named storms with, on average, 6.5 of them becoming hurricanes.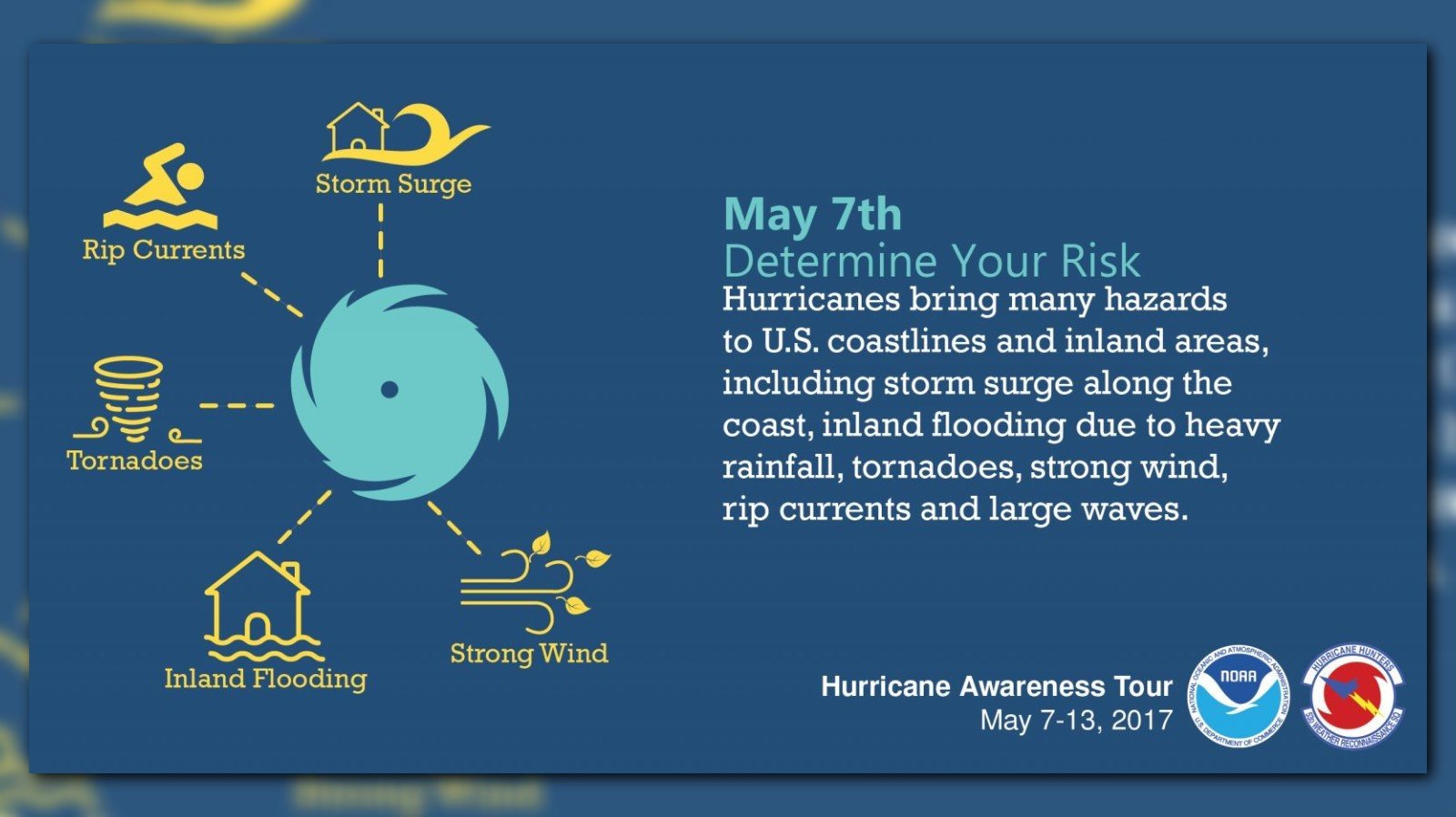 May 7: "Determine your risk"
The National Weather Service suggests that people determine the types of wind and water hazards in their area.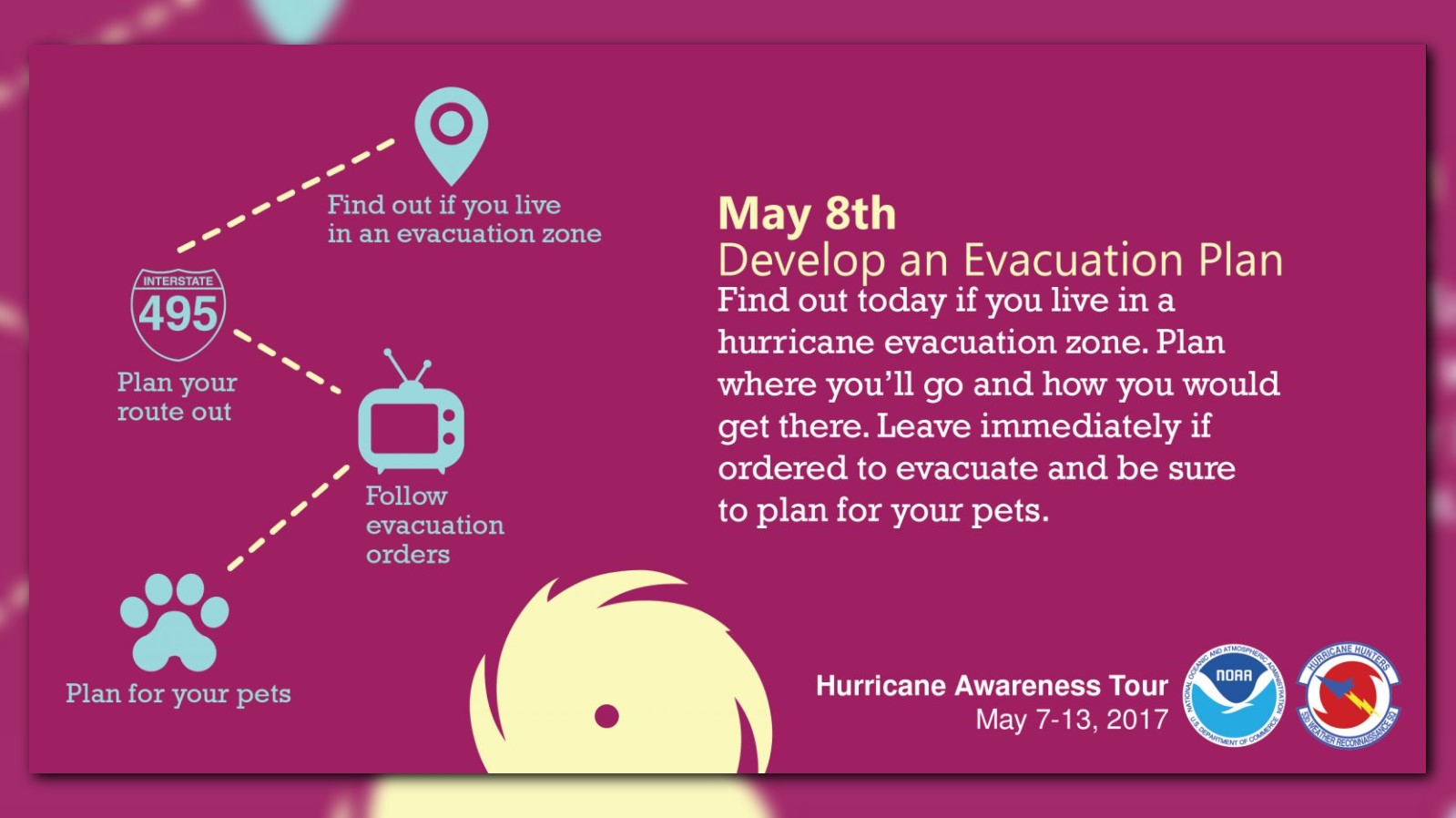 May 8: "Develop an evacuation plan"
You are supposed to find out if you live in a storm surge hurricane evacuation zone or if your home would be safe during a hurricane.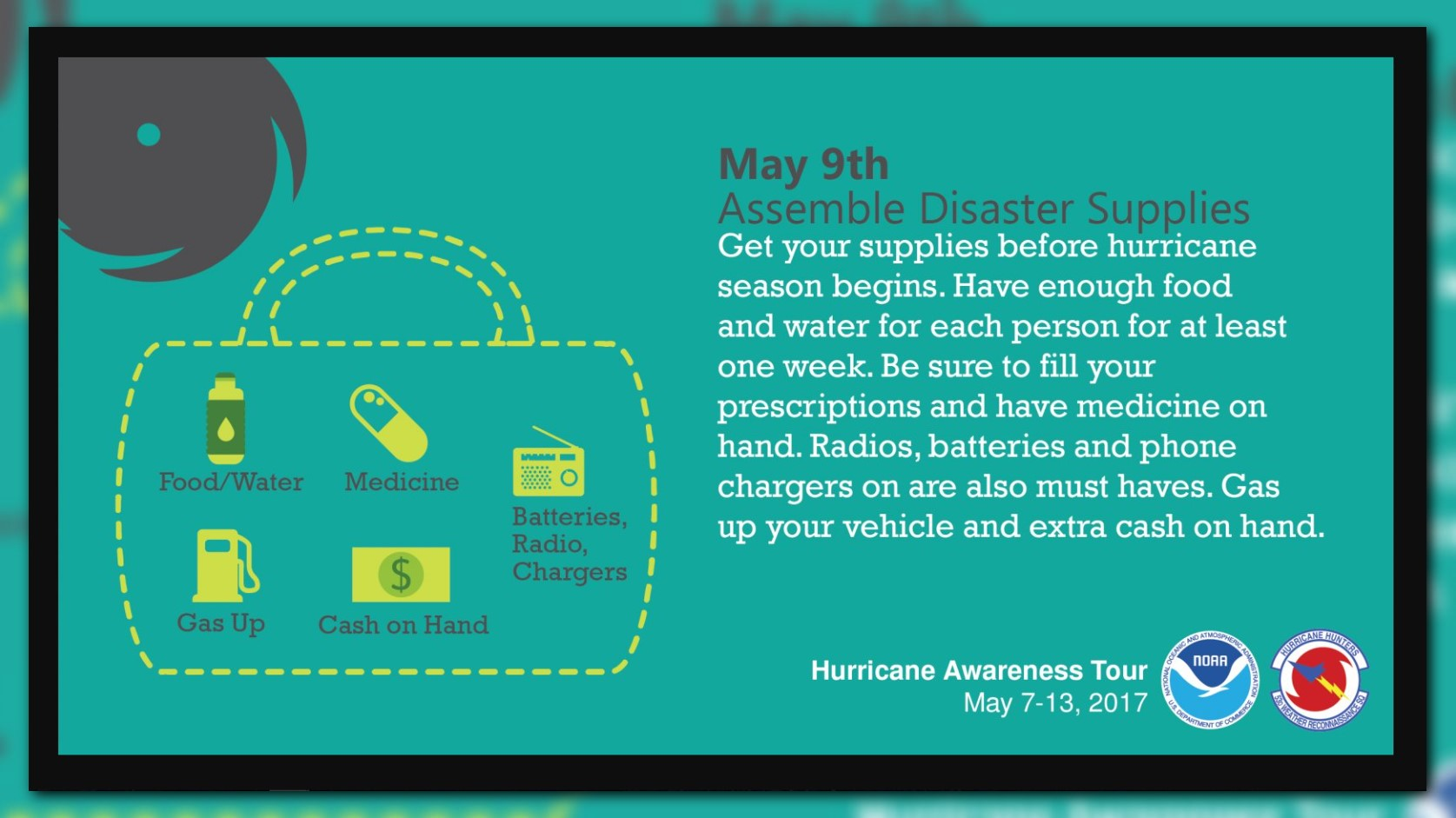 May 9: "Assemble disaster supplies"
Cash -- Banks or ATMs may not be open or available for extended periods.
Water -- at least one gallon per person per day for three to seven days, plus water for pets.
Food -- at least enough for three to seven days, including: non-perishable packaged or canned food and juices, food for infants and the elderly, snack food, non-electric can opener, vitamins, paper plates, plastic utensils.
Radio -- battery powered and NOAA weather radio with extra batteries.
Blankets, pillows etc.
Clothing -- seasonal, rain gear/ sturdy shoes.
First Aid Kit -- plus medicines, prescription drugs.
Toiletries -- hygiene items, moisture wipes, sanitizer.
Flashlight and batteries.
Keys.
Toys, books, games.
Pet care items, proper identification, immunization records, ample food and water, medicine, a carrier or cage, leash.
Store important documents in a fire and water proof container:
Insurance papers
Medical records
Bank account numbers
Social Security cards
Deeds or mortgages
Birth and marriage certificates
Stocks and bonds
Recent tax returns
Wills
May 10: "Secure an insurance check-up"
National Weather Service reminds people that standard homeowners insurance doesn't cover flooding. You can find available coverage at www.floodsmart.gov.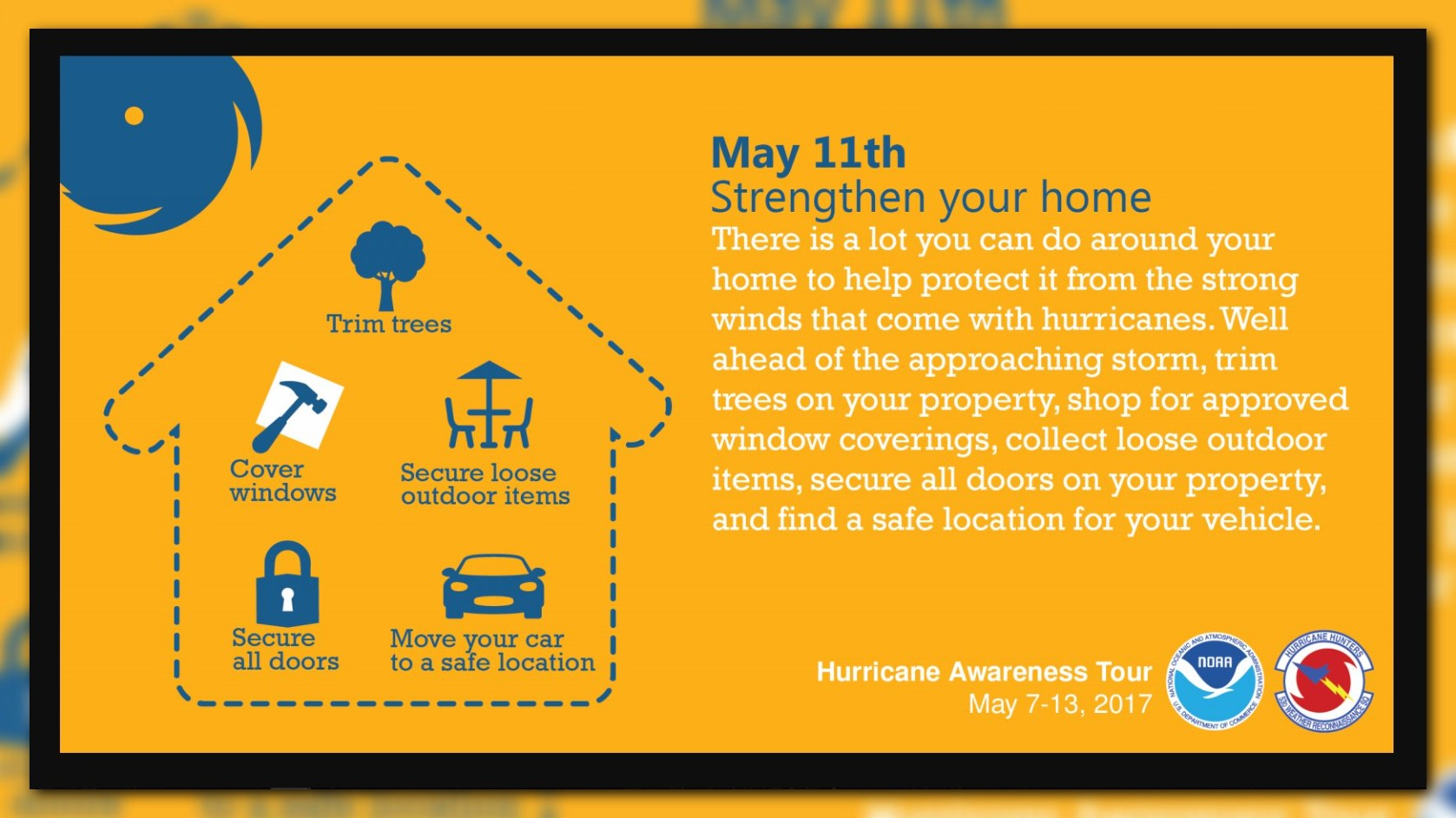 May 11: "Strengthen your home"
The most vulnerable part of a home is the garage door.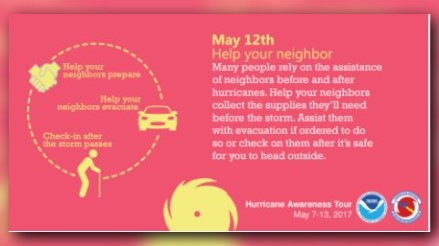 May 12: "Check on your neighbor"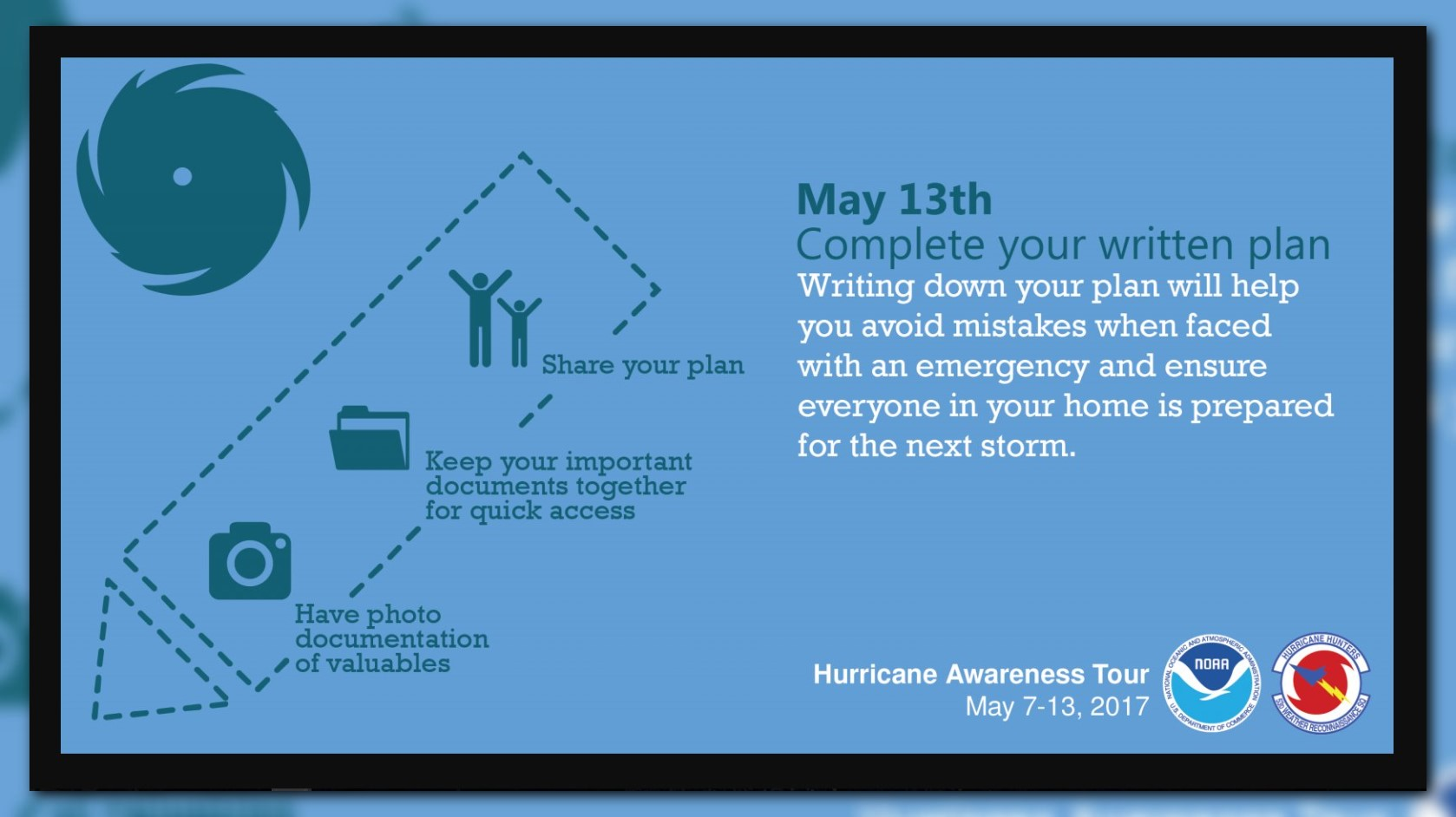 May 13: "Complete your written hurricane plan"
The National Weather Service wants everyone to "know where you will ride out the storm and get your supplies now. You don't want to be standing in long lines when a hurricane warning is issued. Being prepared, before a hurricane threatens, makes you resilient to the hurricane impacts of wind and water. It will mean the difference between your being a hurricane victim and a hurricane survivor."
Colorado State University also created a Landfall Probability Website where you can check the probability of a storm actually making landfall where you live.
Duval County has a 0.4 percent of one or more hurricanes making landfall this year in the county and a 0.9 percent of a named storm making landfall. Florida has a 45.4% probability of a hurricane impact and an 18.1% probability of a major hurricane impact.